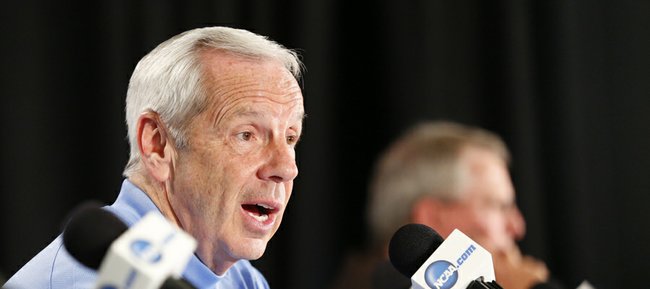 Photo Gallery
Kansas and North Carolina (practice day)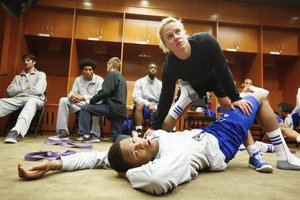 Images from a day of meeting the press at the Sprint Center in Kansas City.
Kansas City, Mo. — Bill Self doesn't see today's Kansas-North Carolina basketball game as a battle between the current and former head coaches of the Jayhawks.
"I don't know if there's any importance at all about the coaches, at least from my perspective. I think if coach (Roy) Williams and I were to go out there and play 1-on-1, I think I could back him down on the post pretty good," said KU coach Self, a 50-year-old former starting point guard at Oklahoma State. Williams, 62, was a point guard on the JV team at North Carolina.
"Of course, he could beat me on the golf course," Self added of Williams. "This is two good teams playing each other."
Hype being what it is, however … today's third-round NCAA Tournament game between Self's No. 1-seeded Jayhawks (30-5) and Williams' No. 8-seeded Tar Heels (25-10) — tipoff is 4:15 p.m. at Sprint Center — has the focus square on the coaches' shoulders.
Williams, who went 418-101 in 15 years at KU, picked up his 700th coaching victory (against 179 losses in 25 years) Friday, courtesy of the Tar Heels' 78-71 second-round NCAA win over Villanova.
Self, who won his 500th game earlier this year — he's 506-163 in 20 seasons — today goes for his 300th victory in 10 seasons at KU. He's 299-58.
"There are good players on both teams," Self said.
The Tar Heels, in fact, start five McDonald's All-Americans (guards Reggie Bullock, P.J. Hairston, Marcus Paige, Dexter Strickland and center James Michael McAdoo), while KU brings All-American Perry Ellis off the bench.
"They (teams) are tradition-rich, intertwined with coach (Dean) Smith playing on the (KU) 1952 national championship team and him being maybe as innovative and great a leader of a program we've ever seen at North Carolina and coach (Larry) Brown being a great player there and winning a national championship here. Coach Williams obviously had 15 great years here, now being the head coach there," Self added.
"There are some bitter rivalries out there, but I don't see anything bitter about this at all. What's unbelievable (is) in the tradition-rich years of both our programs, we've only played 10 times, and almost all have been in the NCAA Tournament. They (meetings) are few and far between, so I'm sure the fan base of both programs will enjoy the game."
UNC is 6-4 against KU all-time. Five of the meetings have come in NCAAs.
Most fans remember the two games involving UNC coach Williams against his former school. KU won, 80-67, in last year's Elite Eight in St. Louis and also prevailed, 84-66, in the 2008 Final Four semis in San Antonio.
Self went 1-1 versus Williams' Jayhawks when Self coached at Illinois.
"I thought McAdoo was the best big guy in the game (last year). He's a load," Self said of 6-9 sophomore McAdoo (14.5 ppg, 7.3 rpg), who is the only big man in UNC's four-guard lineup.
"They are playing small with Hairston (6-5, 220 soph., 14.5 ppg) at the 4. He's still a good-sized guy. They will try to take advantage of taking our bigs away from the basket. We have to take advantage of scoring the ball inside."
The two teams played to a 47-47 halftime tie a year ago.
"I remember the second half coming out and creating some separation," KU senior point guard Elijah Johnson said. "It was back-and-forth the whole time. We finally got the separation we wanted."
McAdoo had 15 points and four boards in that game. Of KU's returning players, Jeff Withey had the best game with 15 points, eight rebounds and three blocks.
"They have four guards, can stretch the floor. We can do that math, and we know how to go about it," Johnson said. "We can also stretch the floor. I don't think it (four-guard lineup) is something we haven't seen. We also played Iowa State three times this year (and won three against the smaller, three-point-shooting Cyclones)."
The Jayhawks, who edged No. 16-seed Western Kentucky, 64-57, in Friday's second round, say they totally respect UNC, despite the 8 seed. A year ago, KU was seeded second and UNC first when KU prevailed.
"That number doesn't matter. It's two teams, 10 players, and they've got to play," Johnson said.
The Jayhawks are extra-enthused playing a tradition-rich program such as Carolina. KU enters second in all-time victories with 2,100. UNC is third at 2,090, with Kentucky leading the pack at 2,111.
"North Carolina and Kansas ... just seeing these two great programs and now being able to play at Kansas and play against another great program is what I'm looking forward to," KU freshman Ben McLemore said. "I'm really excited about this game."
It was suggested he might have had a case of the jitters Friday when his NCAA debut resulted in 11 points, four turnovers and two assists.
"Not at all. I definitely wasn't nervous," McLemore said. "My shots weren't falling (2-of-5), but I got to the line (7-of-8) and got an alley-oop. I was trying to get in the game and help my team any way I could. I don't want to rush anything, force anything, just play my game and have fun like I've been doing."
As far as today's game, to be shown on CBS, Johnson said: "Yes, it's a big game. It's what you come to Kansas for. You don't sit back and want it to happen. You've got to make it happen.
"When coach offers you a scholarship, you know you come here to play against teams like this, the Dukes, the Carolinas, the Kentuckys. That there is enough. You've got to be ready to play. You get a chance to advance."
Today's winner will advance to next Friday's Sweet 16 and a game against Michigan at a yet-to-be -determined time in Dallas.