Photo Gallery
NCAA practices in Kansas City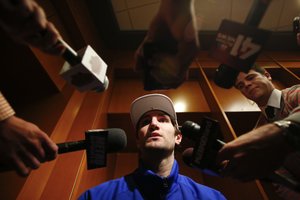 Images from Thursday's practices and press conferences on Thursday, March 22, 2013 at the Sprint Center in Kansas City, Mo.
Kansas City, Mo. — Sitting at the same Sprint Center locker he used in the Big 12 tournament, Kansas University senior center Jeff Withey thought back to a play during the regular season. He couldn't remember the game. He just remembered not liking the play. Freshman teammate Perry Ellis missed another short shot, frittering away another two points.
"I'm not a guy who is going to grab you by the neck or anything like that, but I was like, 'Dunk the ball!' I just got in his face and told him to be aggressive," Withey said. "I think everybody on the team has done that with Perry at one time or another."
Nobody knows an athlete's talent level more deeply than a teammate who alternately shares the floor and battles against him daily in practice. Long before Ellis shocked the world by scoring 23 points against Iowa State in a Big 12 tournament semifinal, teammates knew he had serious ability. His most impressive athletic trait?
"The way that he runs," Withey said. "He runs like a guard. He's brought the ball up the court so many times in practice and even some in games. He's just an athlete, and it's annoying when he doesn't put it into play."
He's putting it into play now, and as Withey said, "It couldn't be at a more perfect time."
Ellis, a 6-foot-8, 220-pound reserve power forward, led Wichita Heights to four consecutive state titles and set the City League career scoring record since broken by KU recruit Conner Frankamp. Often during the first few months of the season, Ellis looked like just another freshman struggling to find his way. He dunked the ball twice in his first 34 games, four times in the past two, during which he made 15 of 18 field-goal attempts and averaged 17.5 points and six rebounds.
Early in their KU careers, Marcus and Markieff Morris drew the ire of coach Bill Self for not dunking close shots, but in their case it was more a case of not wanting to exert the energy. In Ellis' case, his mind was so cluttered with information he didn't see the simple plays.
"The hardest part adjusting from high school to college was just mentally," Ellis said. "It's just a lot more. There are just a lot more details, a lot more specific details. It can be overwhelming as a freshman. Just getting over that was the best thing for me. You kind of get used to what you have to do and know what you have to do, and it makes you feel comfortable."
Sophomore guard Naadir Tharpe is a year removed from his time as an overwhelmed freshman, and he has enjoyed watching Ellis come so far, so quickly.
"He wasn't dunking as much as he should," Tharpe said. "He would lay it up at times when we would prefer him to dunk it. I'm seeing him trying to dunk everything now, and that's how he should be because he's a great athlete, and he's a great player."
Tharpe said he saw a change in Ellis in the practices leading up to the Big 12 tourney. Withey saw him begin to blossom then as well, but even at that Ellis exceeded Withey's short-term expectations.
"He just started being more aggressive. You could see him going after the ball with two hands. He was getting more rebounds and stuff, but honestly it wasn't until that breakout game that I saw him put everything into play, be ultra-aggressive, finally dunk the ball, do everything we wanted him to do early on," Withey said. "It just clicked, I guess."
So did the team.
Ellis explained the change by saying, "I've just been trying to get in the gym and working on really attacking the rim, and it's really benefited me."
Withey said he has seen Ellis getting used to finishing plays with dunks for the past couple of weeks, "and that's why we're seeing it more in games, just because when you do it all the time it doesn't become a thought, it becomes a habit. You do have to put in a little extra effort to get up there and make sure you slam it down. The outcome is you get more energy because of it."
Ellis is an intriguing prospect in that he brings a little bit of everything from the forward position, and he shared which former KU players' games he has tried to model.
"I like the twins' game," he said, meaning Marcus and Markieff Morris. "I watched a lot of them when I was in high school."
Ellis said he incorporated "short jump shots" into his game after watching them score so many points with them: "They really had a nice touch. That's something I've really been working on since seeing them, and I feel like I have some of that."
What else?
"When they had a bigger defender on them, they could pull it out and shoot some jump shots on him," Ellis said. "When they had a smaller defender on them, they could take him to the hole and post up."
And they came to appreciate the joy in dunking, as has Ellis to the benefit of his team's hopes of winning a fourth NCAA Tournament.