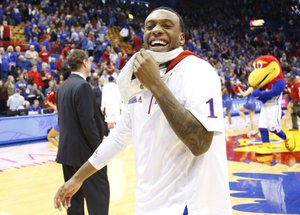 During Kansas University's six games in the 2012 NCAA Tournament, then-freshman point guard Naadir Tharpe did not play during the final four games of KU's run to the national title game and logged just 17 minutes of combined court time against KU's first two opponents.
He still thinks about it often.
"Definitely," said Tharpe, following KU's victory against Iowa State in the semifinals of the Big 12 tournament last week. "I was sitting on the bench, and I felt like I was useless to my team. At the end of the day, I tried to keep a good attitude, but I definitely think about that all the time, being on that bench. I don't want that to ever happen again."
Fortunately for Tharpe, that has not been the case this season, as the sophomore from Worcester, Mass., has become top-seeded KU's top guard off the bench and logged six points and three assists per game while averaging 19 minutes per contest. The 5-foot-11 guard who ranks second on the team in assists (101) and fourth in three-point shooting (32-for-97, 33 percent) has appeared in all 34 games and filled a crucial role throughout the season.
"It's definitely fun," he said. "It's what I wanted to do and why I came to this school. Just getting the chance to come out on the court and play, I'm just excited about that and try to produce as much as I can."
As he prepares for his second NCAA experience, Tharpe admits to being excited about what lies ahead and understands he never would have reached this point had he not learned from the past.
"It's all about timing," Tharpe said. "When it's time for you and (KU coach Bill Self) calls your name, you gotta be ready to step up and take on the challenge. Seeing the dudes from last year who didn't play as much (before that), that was their year that they stepped up. Jeff (Withey), Elijah (Johnson), even (former KU guard Conner) Teahan. That's what I learned the most. Your name's gonna get called, it's all a matter of what you do when it's called."
Asked what he thought helped Tharpe bridge the gap between bench warmer and first guard off the bench, Johnson answered with words that sounded as if they came from Tharpe himself.
"Opportunity, really," Johnson said. "He got his opportunity, and he's taking advantage of it."
Johnson said he remembered Tharpe's struggles as a true freshman.
"He was confused, and I think that most freshmen who come through here are confused. That would be Anrio Adams this year," Johnson said. "Either you let that make you, or you let it break you. I let it make me, and right now, Naadir's letting it make him. I'm proud of him, honestly."
Asked where his confidence is heading into Friday's 8:50 p.m. tipoff against No. 16 seed Western Kentucky, Tharpe did not hold back.
"Extremely high," he said with a smile. "I feel like I can go out there and play with anybody. With coach giving me that confidence and my teammates, it's hard not to be confident when I step out there now."