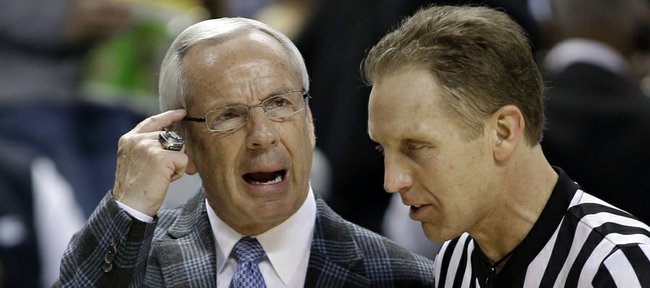 Roy Williams nearly spit out his Coca-Cola when CBS announcer Greg Gumbel reported Sunday that his North Carolina Tar Heels had been handed a No. 8 seed in the NCAA Tournament and would be headed to Kansas City, Mo., for second- and possible third-round games.
Williams, needless to say, figured UNC (24-10) deserved a better scenario than that.
"I don't mind telling you I was stunned," said Williams, the former Kansas University coach, who is staring at a possible third-round match-up with KU on Sunday in Sprint Center if the Heels beat Villanova and the No. 1-seeded Jayhawks stop Western Kentucky on Friday night.
"When I saw North Carolina and the No. 8, I was stunned. It took me a couple seconds ... 'Hey, that's us. It's not somebody else, that's us.' I was disappointed for our league (ACC) — two 2s (Duke, Miami) and two 8s (UNC and N.C. State). I don't think that was good for our league. I don't think it was necessarily fair for our league, but you've heard me say this 100 times. It is what it is, so we've got to go play," Williams added.
As far as possibly playing KU ... "It's the same thing. You say 'Wow,'" Williams said in a news conference Tuesday in Chapel Hill, N.C. "But I'm thinking about Villanova. I really am. It was a surprise being No. 8. It was a little surprise going to play (KU) in Kansas City if we win one game, but if you start thinking about playing Kansas in Kansas City you forget about the biggest duty and that's to win a game to even get there."
Williams was asked if he "buys" the NCAA Tournament committee's assertion it does not set match-ups or potential match-ups like KU-UNC for TV.
"I am not much of a buyer right now, guys," Williams told the media. "They can say anything they want to say and they've got numbers to substantiate it. You can sit right across the table from them and substantiate with some other numbers. I will say this ... they didn't put North Carolina in Kansas City to fill the arena. The arena is going to be filled anyway if Kansas plays Slippery Rock. I don't know what goes through their mind. It was a confusing (selection) show and I'm still confused and I'm a fairly intelligent person."
Expressing disappointment ACC champ Miami didn't earn a No. 1 seed, Williams said: "Guys, everything you say right now gets blown out of proportion. Everybody says you're whining and all that stuff. You've still got to frickin' play. Did I like it? No. Did I think it was fair? No. I happen to think they (Hurricanes) are a ensational basketball team. Those guys that are in the room ... they get to make those decisions."
Regarding his own team's No. 8 seed, Williams stated that his team's RPI was in the top 20.
"I think the RPI is beneficial if that committee member wants it to be beneficial. I mean, our RPI is 17 or 18 something like that," Williams said. "They've got a thousand things they can use. They can use what they want to use. I think at one point the RPI was probably — probably — more important than it is now. But again guys, our RPI was 17, 18 or 19. I'm good in math. Divide that by four and you don't get to eight."
Self on possible match-up: KU coach Bill Self again was asked about possibly going against Williams and UNC Tuesday, this time on KC radio station 810-WHB.
"Personally I don't think it would be that tough (for Williams to coach in KC) because it's been 10 years," Self said. "Maybe the first time we met it would have been a different deal."
KU defeated the Tar Heels in the 2008 Final Four and 2012 regional finals.
"There have been too many that were important games since then. If we are both fortunate enough to win it'd be another important game," Self said. "Looking back, if I were going to go to Chicago and we were playing Illinois (where he coached three years), yes there may be some emotion, but not anything close to what it would have been seven, eight years ago from that respect. I know I wouldn't use that as motivation for my team because none of these players ... they were in fifth, sixth grade back then, maybe seventh grade when that stuff was happening. I don't think it's as big a deal as maybe the media will play it out to be (if both win)."
Upcoming foe: Self, who has watched a lot of tape on Western Kentucky (20-15) this week, said he has great respect for the Hilltoppers, Friday's 8:50 p.m., second-round foe in Sprint Center.
"We are playing a team ... Western Kentucky may be a 16 seed ... weren't they in the Sweet 16 just five years ago? And that's a program that's won games in the NCAA Tournament the last three appearances. They are not a typical 16 seed, and we know that," Self said.
Decision day for Randle: Julius Randle, a 6-9 senior power forward from Prestonwood Christian Academy in Plano, Texas, will announce his college decision today during a noon NCAA Tournament program on ESPNU. ESPN's website said the actual announcement will be at 12:15 p.m.
The announcement will take place during an assembly in the high school gym. Randle has a final list of KU, Kentucky, Florida and Texas.
An ESPN panel of recruiting experts made their predictions Tuesday on ESPN's website. Four chose KU, one Kentucky and one Florida.
Randle, who missed most of the season with a foot injury, averaged 28.8 points, 15 rebounds and four blocks in five state playoff games while leading Prestonwood Christian to the 5A state title. He averaged 32.5 points and 15.5 rebounds in the Final Four. Randle, a McDonald's All-American who is ranked No. 2 nationally by Rivals.com, attended the KU-Texas game on Feb. 16 as part of his official recruiting visit.
KU also is in the running for the country's No. 1 player, Andrew Wiggins, a 6-7 forward from Huntington (W.Va.) Prep, who has a list of KU, Kentucky, North Carolina and Florida State.