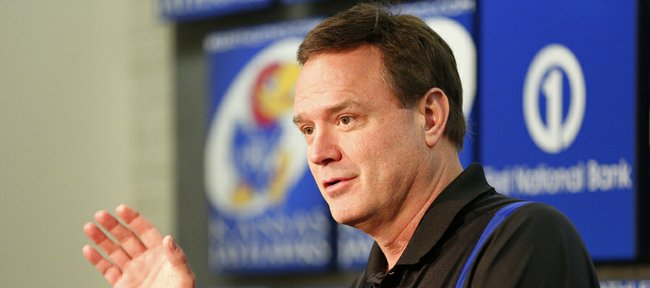 Bill Self is in his 10th season as Kansas University basketball coach but just his seventh without players who also played under predecessor Roy Williams.
Based on that, the 2006-2007 season is the best place to start for a true evaluation of how Self has performed in his dream job. (Jeremy Case, who was not in the 2006-07 or subsequent rotations, was the only player recruited by Williams.)
In that seven-year span, Self's teams entered the NCAA Tournament as the No. 1 seed five times, a phenomenal total in any era and even more impressive in the age of one-and-done elite players and impatient high school stars who impulsively transfer more now than ever. Only North Carolina can compare, with four No. 1 seeds in the past seven seasons.
The only other schools with multiple top seeds in the past seven seasons: Duke, Kentucky, Louisville, Ohio State and Syracuse have two apiece. Connecticut, Florida, Gonzaga, Indiana, Memphis, Michigan State and UCLA each have had one.
Self's No. 1 seeds came in 2006-07, 2007-08, 2009-10, 2010-11 and this season, when KU earned the No. 2 overall seed, ranking behind only Louisville.
Self's two teams out of the past seven that didn't earn No. 1 seeds were the 2008-09 squad that entered the tournament as a No. 3 seed and lost in the Sweet 16 to Michigan State and last season's team, which was a No. 2 and lost to Kentucky in the national-title game.
Another way to look at this remarkable run that could continue next year if Kansas is able to add Andrew Wiggins and Julius Randle to an already-loaded recruiting class: Self has more No. 1 seeds in the past seven seasons than Billy Donovan, Tom Izzo and Mike Krzyzewski combined, more than Izzo and John Calipari (three, one with Memphis, two with Kentucky) combined.
How has he done it? Obviously, he and his staff recruit well and create an environment that encourages unselfish, intense play. They come to learn that their coach isn't going to change what he wants so they might as well change what they're giving him. Great athletes such as the ones Kansas recruits tend to be stubborn. In time they learn their coach makes mules seem open to change by comparison.
Players improve a great deal under Self, in part because they are held to such high standards and are constantly dragged out of their comfort zones, in part because they practice daily against a lot of talent.
Also, athletes who have to wait their turn usually can look at players ahead of them who had to do the same and proved that it's worth the wait. Travis Releford's 3.6 points-per-game scoring average as a sophomore is higher than the top scoring averages of fellow starters Jeff Withey and Elijah Johnson two years into their careers.
When KU tips off approximately 8:50 p.m. Friday against Western Kentucky in Sprint Center, there will have been 20 different players who started the opening game of the NCAA Tournament on the five KU teams that earned No. 1 seeds in the past seven seasons: Cole Aldrich, Darrell Arthur, Mario Chalmers (2), Sherron Collins, Xavier Henry, Darnell Jackson, Elijah Johnson, Sasha Kaun, Ben McLemore, Brady Morningstar, Marcus Morris (2), Markieff Morris, Tyrel Reed, Travis Releford, Russell Robinson (2), Brandon Rush (2), Tyshawn Taylor, Jeff Withey, Julian Wright and Kevin Young.
The names change. The individual styles and talent levels fluctuate, but the results vary so little from year to year. Self has the most consistently excellent college basketball program in the nation.
Others have won more national titles, but it's not a stretch to say that among active coaches not named Krzyzewski, Self has done the most impressive work.