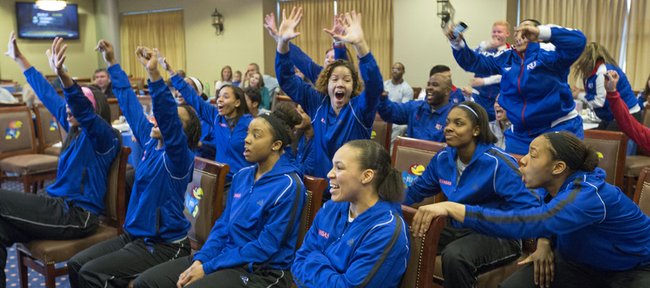 When the Kansas University women's basketball team bowed out of the 2012 NCAA Tournament after an impressive battle against perennial power Tennessee in the Sweet 16, the talk shifted to recreating the magic in 2013.
It may not have been what the 18-13 Jayhawks expected when this season began, but Monday certainly had that feeling of déjà vu as Kansas, for the second year in a row, learned that it had made the tournament as a double-digit seed.
"The drama of it (was) similar to last year," said KU coach Bonnie Henrickson, whose Jayhawks earned the No. 12 seed in the Norfolk region and will play fifth-seeded and 19th-ranked Colorado at 5:30 p.m. Saturday in Boulder, Colo. "It feels a little different, but it's a clean slate and let's go."
Although there was some doubt about whether the Jayhawks would be included in this year's field, Henrickson said she believed her team, which finished 8-10 in conference play, got in because of the Big 12's powerhouse reputation.
"We did, West Virginia did and then all the other seedings (were) based on the strength of the Big 12," Henrickson said. "We talk about how important that is and we want to build on the challenge and competitiveness of the league once we get into postseason."
The Jayhawks did exactly that in 2012. As an 11 seed and one of the last teams in, Kansas won back-to-back games against sixth-seeded Nebraska and third-seeded Delaware before falling to second-seeded Tennessee. Henrickson said she would not talk much about last year's run but would emphasize what made it happen.
"History doesn't have any impact on success in the future," she said. "If we do anything, we'll embrace how hungry we were, how excited we were, how much energy we played with and, defensively, how good we were."
One of the true feel-good story lines of the Jayhawks' inclusion in this year's field is the fact that senior Carolyn Davis will finally get her shot to play in the Big Dance. Out with a knee injury during last year's run, the emotions from that heartbreak came rushing back as soon as Davis heard Kansas announced on the ESPN broadcast, 21 minutes after the selection show began.
"I was sweating a lot," Davis said. "I was nervous, my heart was racing and I was just really excited to see our name. I had a lot of emotions. Just to know that you've worked so hard for this, and this is what I've wanted since my freshman year."
Asked if she expected the tears to flow on Monday, Davis was honest.
"Either way I was probably gonna cry," she said.
Although the Jayhawks did not cruise into the field as many expected they would, the mere fact that they got in was enough to put the memories of a rough season behind them.
Senior point guard Angel Goodrich, who carried the Jayhawks during last year's postseason run, said hearing KU's name called also lifted a weight off of her shoulders. In addition, she said she was thrilled to go into battle beside Davis and fellow senior Monica Engelman this time around.
"I'm just looking to go out there and play my game, whatever I have to do to help us get a win," Goodrich said. "We have three good senior leaders who can go out there and help us, and I feel like I don't have it all on my shoulders now."
As for the first-round opponent, that, too, is similar to last year, when KU faced former Big 12 foe Nebraska in the first round in Little Rock, Ark. The Jayhawks know a little about Colorado (25-6), which left the Big 12 for the Pac-12 in 2011, and are looking forward to learning more. Asked about their memories of playing at Coors Event Center in Boulder, Davis and Goodrich both pointed to the high altitude.
"We were kind of laughing about the last time we were there and someone mentioned electrolytes and stuff like that," Goodrich said. "But it's a tough place to play and it's going to be a challenge."
Added Davis: "I was tired."
Monday was a long, nerve-wracking day for everyone involved with the KU program. At the end of the day, though, the Jayhawks got in and became the first KU women's squad to make back-to-back appearances in the NCAA Tournament since qualifying nine straight times from 1992-2000.
"It's where we think we belong," said Henrickson, making her second appearance in nine seasons at Kansas. "It's where we need to be, where we aspire to be."