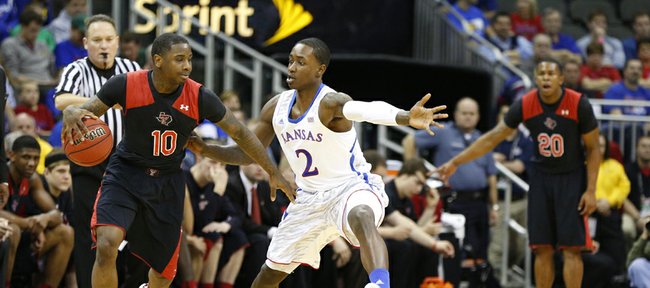 Photo Gallery
KU basketball v. Texas Tech (Big 12 tournament)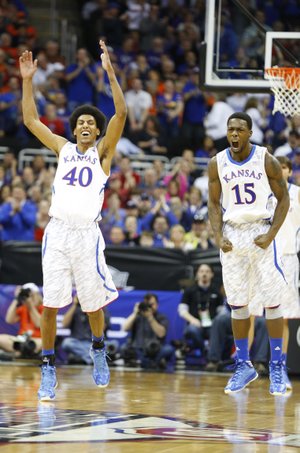 Images from Thursday's second-round game against Texas Tech at the Sprint Center in Kansas City.
Podcast episode
Kansas coach Bill Self talks after his team's 91-63 win over Texas Tech on March 14, 2013.
Podcast episode
Kansas players Jeff Withey and Ben McLemore talk to reporters following the Jayhawks' 91-63 victory over Texas Tech on March 14, 2013.
Kansas City, Mo. — Kansas University freshman guard Rio Adams made the most of his five minutes of playing time on Thursday in Sprint Center.
The 6-foot-3 Seattle native, who scored just 16 points total during the regular season, erupted for a career-high 11 points off 4-of-5 shooting (2-of-2 from three) in the Jayhawks' 91-63 rout of Texas Tech.
"It was something I've been working on in practice and it showed up in the game," Adams said after Thursday's late-game scoring spree.
"A lot of shooting, working on my technique and getting right for next year," Adams added when asked for more details on what's been going on at practice.
"I'm starting to become a lot more comfortable on the floor," he said. "I've learned from watching the older guys and taking the experiences we have in practice and putting them in the game."
Adams agreed with a reporter's assertion that he was "in a zone."
"It feels good," he said, "to let my coach know I can give something when he needs it to keep us going, just a little bit of energy. We don't have a weak link on our team. That's what makes us a great team. I went out and had fun."
Adams said he's happy to be a Jayhawk despite the fact he entered having played just 77 minutes in 21 games.
"Definitely," he said. "This program is all about waiting your turn. Right now I'm waiting my turn. It's all about adjusting. I've got to adjust. That's what I'm doing right now. I'm trying to find my way and making sure I'm comfortable when I do what I do.
"It's been a decent year, a great learning experience. I'm happy with it. I'm definitely happy here."
Third meeting vs. ISU: KU's 6:30 p.m. semifinal foe is Iowa State, a team the Jayhawks defeated, 97-89, in overtime on Jan. 9 in Allen Fieldhouse and again, 108-96, in OT on Feb. 25 in Hilton Coliseum.
Ben McLemore banked in a three to force overtime in the first game. Elijah Johnson had 39 points in the second game. That's the game in which the Big 12 office admitted officiating mistakes were made at the end of the game, ostensibly referring to a no-call on a possible charge by Elijah Johnson into Georges Niang.
The officials also apparently awarded a foul committed by Jeff Withey to Kevin Young late in the game.
"I just play basketball. I don't worry about calls," Withey bristled, asked about that situation by a reporter from Iowa.
Told Iowa State's players have a chip on their shoulder, Withey said: "We have a chip on our shoulder, too. We want to win this thing, too. Every team is a dangerous team. We've got to come ready every day.
"We've always been a target. Everybody wants to play against us. It's nothing new. It was the same last year, the year before that, the year before that. We're ready. If we come to play, we should win."
Withey was asked if KU-ISU was a "rivalry."
"I wouldn't say we have a rivalry going. We are used to it. They can keep on talking. It'll be a fun game to play."
KU coach Bill Self was asked about ISU still complaining about the officiating in Ames, Iowa.
"I can see how they could feel that way because certainly there was a call or no-call that got a lot of attention, really both late that we benefited from," Self said. "The thing about it is ... as a coach, I learned this from coach (Eddie) Sutton who has done this a long time. Over the course of a season, over a course of a career, those calls balance out over time.
"We've lost some tough games that came down to one call late, maybe not a bang-bang play like that one was. I understand their players and how they would feel. The bottom line is that's not on us. They can use whatever as motivation which they should do. Our guys just play. They don't have anything to do with how the game is called. I don't have anything to do with how the game is called. They'll just go out and play. The officials in our league are pros. We've got the best our league has calling the games. It should be a fun game. It'll be hotly contested. I'm sure both teams will get after it."
Bombs away: Iowa State hit 17 of 41 threes versus KU in Ames; 14 of 38 in Lawrence.
"They will spread it, set a ton of ball screens, play pick and pop, drive and kick. They are great at what they do," Self said. "The negate our biggest strength by taking Jeff (Withey) away form the basket. It's the way it should be. We've had two great games. There's no reason we shouldn't have a third."
Practice makes perfect: Some of the Jayhawks said they've had a couple rough practices of late in the wake of Saturday's 23-point loss at Baylor.
"We practice 80 minutes and they think it's cranked up," Self said with a smile. "The intensity has been good. This time of year it's easier to yell at them than practice hard because bodies are tired. Practices are no different than what they'd normally be. We turned it up in practice the last couple days. They are not long or grueling."
This, that: KU freshman walk-on Evan Manning sat in the stands instead of on the bench because of a rule limiting the number of players and staff members on the bench at 17. KU's walk-ons will take turns sitting out games the rest of the postseason. ... Former KU players Sherron Collins, Walt Wesley and Tyrel Reed attended as did new Chiefs quarterback Alex Smith.
Stats, facts: KU (27-5) has won 27 games seven straight seasons. ... KU is 18-4 all-time at Sprint Center, including 4-0 this season. ... Self's record is 296-58 at KU and 503-163 overall. ... KU is 25-4 versus Texas Tech. ... KU's 66-percent shooting was best ever in the Big 12 tournament. KU's previous best was 61.4-percent effort against Texas A&M; in last season's quarterfinals. ... KU's 91 points were most in the Big 12 championship since the 94-69 win over Missouri in 2004. The 28-point victory was the largest margin of victory since the 90-50 win over Texas Tech in the 2002 semifinals. ... Ben McLemore's 24 points were more than his two-game total of 23 against Texas Tech during the regular season. ... Jamari Traylor posted a career-high seven points, topping his six points against Michigan State on Nov. 13, 2012. ... With his three blocked shots, Jeff Withey moved into the No. 2 spot for blocks in a season in KU history with 127 rejections. He also owns the top spot with his 140 blocks last season.