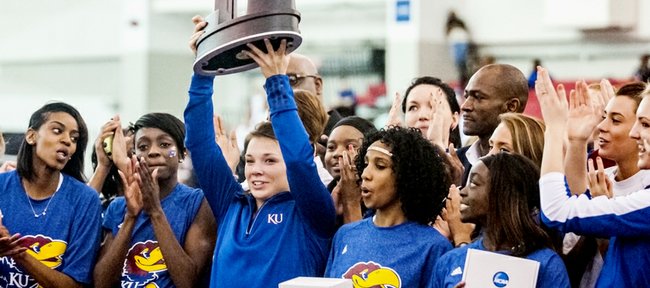 The last time Andrea Geubelle was at an NCAA Track and Field Championships, she thought she had won another individual title but later learned she hadn't.
Friday, she thought she hadn't won and later learned she had.
"In the (long-jump) finals, a girl tied me, and I was confused about what was going on," Geubelle said Monday, just a couple of days removed from winning two national titles — long jump on Friday, triple jump Saturday — at the NCAA Indoor in Fayetteville, Ark. "I actually thought I was in second. At the end of the competition, I had to ask an official who won. They told me I had won. It was a weird feeling. I had won, but I didn't know I had won."
At last spring's NCAA Outdoor in Des Moines, Iowa, she thought she had won the triple jump and had been announced as the winner, but her winning jump was ruled a foul — after the event — following an appeal from a rival's coach, and Geubelle was relegated to third.
Though the event and venues were different and would seem to bring the karma back into balance, don't think for a minute the sting of last year's Outdoor triple didn't carry over into this season.
"When I found out I hadn't won, at first I was really bitter," Geubelle said. "I was really mad. I knew I had the capability of winning. I knew I wanted to win more than anything, and it becomes a game of proving people wrong. I fouled at 46-11. A lot of people took that away from me because I fouled by a centimeter. Not many Americans are jumping over 46 feet indoors. So that's been my goal all season.
"I won with 46-6, just shy of the American record. That's a bigger accomplishment for me more than winning the event, just showing I can do it."
Geubelle indeed won with a leap of 14.18 meters, or 46 feet, 61⁄4 inches, the fourth-longest in NCAA history and just two inches behind the indoor American record.
Strangely, she won on a bad wheel.
On her penultimate long jump Friday, Geubelle bruised a heel.
Though she won the event, she was in pain, and it affected her triple-jumping the next day.
"I was having trouble walking," Geubelle said. "I had horrible warm-ups for the triple jump. I was babying (the heel). I didn't want to put pressure on it. The girl in second was right on my butt. I taped it up a little and put a cushion in my shoe. I thought, I'm in the finals, and I have a once-in-a-lifetime opportunity. My foot's only going to keep hurting worse, so I put one out there — 46-6 — and I had a pretty good feeling I was going to win the competition.
"It's also a mental game, and when somebody jumps that far … in the triple jump, when you start pressing, you're not going to jump that far. Once I knew I had won, I was relieved."
She won the long-jump title with a leap of 6.55 meters, or 21-6. She actually tied with runner-up Christabel Netty of Arizona State, but Geubelle won by virtue of her second-best jump — hence the confusion, at least in Geubelle's mind.
Geubelle, a senior and 10-time first-team All-American (indoor and outdoor), is only the fourth woman in the 30-year history of the Indoor to win both jump titles at the same Indoor.
"It's a huge surprise," she said. "Knowing me, I went in thinking I'd win both, because I never set standards lower than winning, even though there might be a little doubt in my head. When I won the long jump, I was shocked. But after the long jump, I knew if I didn't win the triple, I wouldn't be satisfied."
Geubelle wasn't the only national champion in Fayetteville.
Junior Natalia Bartnovskaya won the pole vault Saturday at 4.45 meters, or 14-73⁄4. That's the eighth-best mark in NCAA history.
Not bad for a woman in her first year of Div. I competition.
Bartnovskaya, from Krasnoyarsk, Russia, was a two-time NJCAA national champion at Vincennes (Ind.) University. She quickly found there's a vast difference in the two levels.
"Practice is much more difficult," she said with a laugh. "It's tough to practice. The process is much more difficult than in junior college, but I … survived."
Though she had had success for KU in Fayetteville before, Bartnovskaya was ranked third in the country going in and didn't expect to finish much higher at the Indoor.
"I wanted to do my best, but I wasn't feeling confident," she said. "There was a lot of strong competition. But I just focused very well and tried to make the bar on the first attempt, and it worked. I got the lead on the competition and decided there's no way I was going to give it up at the end.
"But, yeah, it was kind of a surprise. I didn't expect that for myself."
The three national championships helped Kansas — which earlier had won its first Big 12 Indoor team title — score a program-best 44 points and repeat as national runner-up. Oregon won with 56 points.
"Of course, it's good to place second at nationals as a team," Bartnovskaya said, "but first place is always better."
"I'm happy," Geubelle said. "You can't not be happy with a second-place finish. We had a team meeting about it today. We have so much potential to finish first. We did so much work and came out with second place, which we deserve, but … second place becomes bitter when you think about it.
"I have so much confidence we can be a No. 1 team. Today we went back to practice. Today we went back to work. We're going to pull together and hopefully we'll surprise some people."