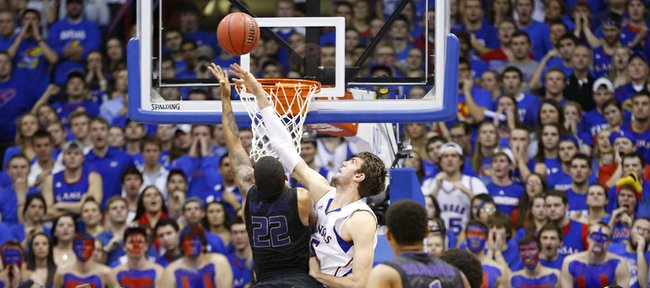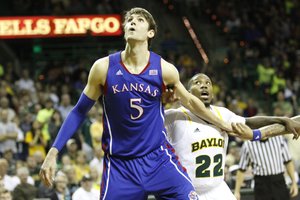 Kansas University senior center Jeff Withey on Sunday was named Big 12 defensive player of the year for the second straight season in a vote of league coaches.
Withey, a 7-footer from San Diego who is the all-time KU and Big 12 leader in blocked shots (289), also was named first-team all-conference with KU freshman Ben McLemore, Oklahoma State's Marcus Smart, Kansas State's Rodney McGruder and Oklahoma's Romero Osby. Smart was tapped the league's player of the year and unanimous pick for freshman of the year.
"This is a big honor to be named the defensive player of the year for two straight years in such a tough conference," Withey, a unanimous pick, said Sunday. "These are prestigious honors from the coaches, and to have my other teammates listed throughout those awards shows how much of a team we have been (this season)."
KU senior Travis Releford was named second-team all conference with Baylor's Pierre Jackson, Iowa State's Will Clyburn, KSU's Angel Rodriguez and OSU's Markel Brown. KU senior Elijah Johnson was honorable mention.
Releford and Withey made the all-defensive team and McLemore the all-rookie team.
"I'm happy for all of them," KU coach Bill Self said. "We knew Ben and Jeff would be on the first team, but I feel sometimes when you have guys on the first team it could split the vote for player of the year.
"Marcus Smart is a very deserving player of the year in leading Oklahoma State to a good finish in the league and an NCAA Tournament bid. Any of those four — Ben, Jeff, McGruder and Smart — could have been player of the year.
"Travis and Jeff both deserve to be on the all-defensive team, and it's great for Jeff being named the defensive player of the year for the second straight season," Self said. "I'm glad Elijah is honorable mention. I am so pleased for Travis to make second team. He's put so much time into this program. He's the rock nobody talks about."
Withey is the first player in Big 12 history to win the defensive award outright in back-to-back seasons. Cole Aldrich won the award in 2009-10 after sharing it with Missouri's J.T. Tiller in 2008-09.
Withey has 124 blocked shots this year, a total that ranks fourth on the single-season Big 12 chart after he set the record with 140 in 2011-12.
Also, Kansas State's Bruce Weber was named coach of the year, Iowa State's Will Clyburn newcomer of the year, ISU's Tyrus McGee sixth man award winner and ISU's Melvin Ejim scholar-athlete of the year.
McLemore, who on Saturday passed Danny Manning as KU's all-time leading freshman scorer, has nine games of 20 or more points, including three 30-point efforts against Big 12 competition. Releford and Johnson are appearing on All-Big 12 squads for the first time in their careers. Releford leads KU with 37 steals, while Johnson has a team-high 149 assists.
"I'm happy for all those guys," Self said. "They are all very deserving. Individual awards are terrific, but I know our guys are focused on team achievements, which mean much more."
KU tied K-State in winning its ninth straight Big 12 crown — the Jayhawks' 13th Big 12 title and NCAA-leading 56th overall regular-season conference championship. Kansas had two players on the All-Big 12 first team for the second straight year and the sixth time in the last seven seasons. The Jayhawks have had two first-teamers nine times in the 17-year history of the Big 12, which began in 1996-97.
KU (26-5, 14-4) will meet the winner of Wednesday's West Virginia-Texas Tech game at 2 p.m. Thursday in Sprint Center in Kansas City, Mo.
Nine in a row: Self on Sunday praised his team for winning a ninth straight Big 12 title. "The regular season is over. It was an exceptional regular season," Self said on his weekly TV show. "To go 26-5 after losing Tyshawn (Taylor), Thomas (Robinson) and Conner (Teahan) and have them play as well as they have for the most part all year long …
"We had a rough eight-day stretch (losing three in a row), which has been well documented. We played poorly yesterday (in 23-point loss at Baylor). We also ran into a team that probably played the best anybody has played against us in a long, long time. That's a talented team. They put it on us pretty good even though we cut it to six late. We didn't play well down the stretch.
"I'm proud of this team," he added. "Nine in a row for these guys ... five for Travis, four for Jeff, four for Elijah and two for Kevin (Young). Whatever it is, they all maxed out. I'm happy for them and proud of them."
Wiggins finishes campus tours: Andrew Wiggins, a 6-7 senior forward from Huntington (W.Va.) Prep, visited North Carolina last weekend and has completed all his campus visits. The country's No. 1-rated player will choose between KU, UNC, Kentucky and Florida State at a yet-to-be determined date.
KSU party tonight: K-State, which tied KU for the Big 12 title, will hold a Big 12 title celebration at 6 tonight in Bramlage Coliseum. The celebration will include a net-cutting ceremony and remarks from university president Kirk Schulz, athletic director John Currie, coach Bruce Weber and seniors Jordan Henriquez, Martavious Irving and Rodney McGruder.
2012-13 PHILLIPS 66 ALL-BIG 12 MEN'S BASKETBALL AWARDS
PLAYER OF THE YEAR
Marcus Smart, Oklahoma State, G
DEFENSIVE PLAYER OF THE YEAR
Jeff Withey, Kansas, C
NEWCOMER OF THE YEAR
Will Clyburn, Iowa State, G
FRESHMAN OF THE YEAR
Marcus Smart, Oklahoma State, G
SIXTH MAN AWARD
Tyrus McGee, Iowa State, G
SCHOLAR-ATHLETE OF THE YEAR
Melvin Ejim, Iowa State, F
COACH OF THE YEAR
Bruce Weber, Kansas State
All-Big 12 First Team
Ben McLemore, Kansas G
Jeff Withey, Kansas C
Rodney McGruder, Kansas State G
Romero Osby, Oklahoma F
Marcus Smart, Oklahoma State G
All-Big 12 Second Team
Pierre Jackson, Baylor G
Will Clyburn, Iowa State G
Travis Releford, Kansas G
Angel Rodriguez, Kansas State G
Markel Brown, Oklahoma State G
All-Big 12 Third Team
Isaiah Austin, Baylor C
Melvin Ejim, Iowa State F
Amath M'Baye, Oklahoma F
Steven Pledger, Oklahoma G
Le'Bryan Nash, Oklahoma State G/F
All-Big 12 Honorable Mention (Listed alphabetically by school)
Cory Jefferson (Baylor), Korie Lucious (Iowa State), Tyrus McGee (Iowa State), Elijah Johnson (Kansas), Shane Southwell (Kansas State), Michael Cobbins (Oklahoma State), Jaye Crockett (Texas Tech), Eron Harris (West Virginia), Deniz Kilicli (West Virginia)
Big 12 All-Defensive Team
Chris Babb, Iowa State G
Travis Releford, Kansas G
Jeff Withey, Kansas C
Angel Rodriguez, Kansas State G
Michael Cobbins, Oklahoma State F
Marcus Smart, Oklahoma State G
Big 12 All-Rookie Team
Isaiah Austin, Baylor C
Will Clyburn, Iowa State G
Georges Niang, Iowa State F
Ben McLemore, Kansas G
Amath M'Baye, Oklahoma F
Marcus Smart, Oklahoma State G