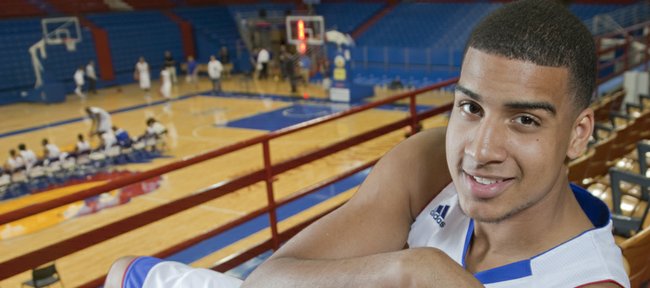 So far, Kansas University basketball coach Bill Self has signed five high school basketball players in the recruiting Class of 2013 — guards Conner Frankamp, Frank Mason and Wayne Selden, forward Brannen Greene and center Joel Embiid.
Scholarship offers also have been extended to forwards Julius Randle and Andrew Wiggins.
In Self's perfect world, those seven players would be making their KU debuts in 2013-14 with another newcomer — red-shirt freshman power forward Landen Lucas — who has practiced but not played in games this season.
"He's doing great. He's becoming more explosive," Self said of Lucas on Tuesday's "Hawk Talk" radio show. "He's probably the toughest kid we have inside without question. He is a presence. He needs to get a little more athletic, quicker twitch in some areas, but he's really gained on that. I think he'll be a load. I think he's going to be a really nice player."
The 6-10, 240-pound Lucas averaged 21.0 points, 14.0 rebounds and 4.0 blocks a game his senior year at Westview High in Portland, Ore.
Routine works: Self on his radio show was asked about his habit of blowing air into his hands as he walks through the northwest tunnel to the home team's bench before games in Allen Fieldhouse.
"Before it (fieldhouse) was renovated, your hands would get cold. The doors had to be open," Self said. "It's worked pretty well over the years, so I kept doing it. I'm not superstitious, (but) certain routines work better than others."
Long hair: Self joked about Kevin Young's ever-expanding afro hairdo.
"I think he worries about his hair a little too much. Did you see his brother's hair?" Self said of Free State High freshman Donovan Young, who also has an afro. "I told Kevin, 'Your brother is kicking your butt (in hair-growing contest).'
"I don't know if you've noticed, but we have no headbands. I haven't had to say anything about it, since nobody's asked me (permission to wear them), but Kevin ... oh my gosh, he's tested my patience with growing his hair out. You see it when it's combed. I see it every day when it's not (at practice).
"He is absolutely great," Self added. "He loosens things up around the locker room."
Randle in burger game: Randle, a 6-9 forward from Prestonwood Christian Academy in Plano, Texas, on Wednesday was added to the East roster of the McDonald's All-America Game (April 3, Chicago's United Center).
Rivals.com's No. 2 rated player will announce his college choice on March 20 on ESPNU. He is considering KU, Kentucky, Florida, Texas, N.C. State and Oklahoma.
"I'm not sure where I want to go," Randle told USA Today. "But this can be a stressful thing, and I set the date to give myself a cutoff for a decision. I don't want it to linger on. I feel like I'm confident enough in myself that by that time I'll feel 100 percent about where I'll go. For now, I'm just enjoying being a McDonald's All American. I'm so happy right now, it's a great feeling because this is something that I've always dreamed of. I wasn't sure if it was gonna happen or not, but now that it has I'm just so blessed. It's an honor."
Player of year: ESPN's Jay Bilas on Monday selected KU's Ben McLemore as his Big 12 player of the year. Jason King of ESPN chose KU's Jeff Withey. Sporting News' Mike DeCourcy lists Oklahoma State's Marcus Smart as one of four finalists for national player of the year, with Trey Burke of Michigan, Victor Oladipo of Indiana and Otto Porter of Georgetown.
This, that: Former KU coach Larry Brown's SMU team defeated former Jayhawk player Danny Manning's Tulsa team, 71-65, Wednesday in Tulsa. Earlier this season Tulsa defeated SMU in Dallas. Tulsa is 15-14 (7-8); SMU is 15-15 (5-10) ... Frankamp's Wichita North team fell to Blue Valley West, 41-35, in the first round of the Class 6A state tournament. The Wichita Eagle reports that Frankamp had 11 points off 4-of-13 shooting. He was 3-of-11 from three.