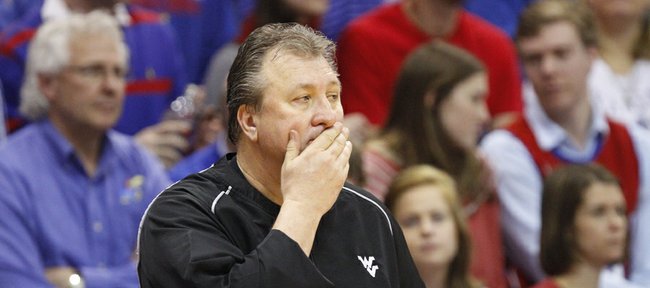 Photo Gallery
Kansas basketball v. West Virginia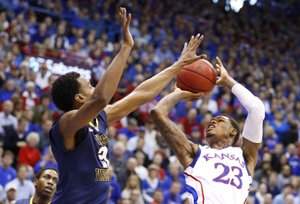 Images from Saturday's game against West Virginia at Allen Fieldhouse.
Podcast episode
Kansas coach Bill Self talks after his team's 91-65 victory over West Virginia on March 2, 2013.
Podcast episode
Kansas players Ben McLemore, Elijah Johnson and Jeff Withey talk to reporters following the Jayhawks' 91-65 victory over West Virginia on March 2, 2013.
Podcast episode
West Virginia coach Bob Huggins talks after KU's 91-65 victory on March 2, 2013.
A few minutes after watching his team get drubbed by Kansas University's men's basketball team, 91-65, at Allen Fieldhouse, West Virginia coach Bob Huggins offered up a tennis analogy to explain what went wrong.
"We committed unforced errors," Huggins said.
While that certainly was the case, particularly during the decisive run that turned a one-point WVU lead into a 14-point KU edge at halftime, there were a few more tennis terms that might have better described this one.
Lob. Smash. Game-Set-Match.
Behind a handful of high-flying alley-oops and more than a dozen back-breaking plays on both offense and defense, the Jayhawks (25-4 overall, 13-3 Big 12) ran the Mountaineers out of the gym during WVU's first trip to Lawrence as members of the Big 12.
"We're not good enough to get down by 10 or 12 or 14 to a team as good as they are," Huggins said. "We don't have enough offensive firepower to be able to come back."
Of all the things that went wrong for West Virginia, the Jayhawks' second-half onslaught of alley-oops was what really stuck in the minds of the dejected Mountaineers. Whether it was Ben McLemore, Travis Releford, Kevin Young or Elijah Johnson on the finishing end, KU's successful lobs added insult to injury for the visitors.
"It's still just two points, but it did a lot for their momentum," said forward Dominique Rutledge, whose team was out-dunked 8-1. "We can live with a team that's making shots, but if they're getting to the basket and getting alley-oops that easily, it's only gonna go downhill from there."
It's fitting that many of KU's alley-oops came in transition because that was the other area in which the Mountaineers (13-16, 6-10) said the game got away from them.
"They kind of sped us up," Rutledge said. "And I felt like they did a good job of hitting shots in transition. That hurt us a lot and kind of took us out of our element: slow, physical play."
McLemore had a lot to do with that. En route to scoring a career-high 36 points, which broke KU's single-game scoring record for freshman previously held by Danny Manning (35), McLemore had a lot of room to work and plenty of choices.
"He had a good shooting night," said freshman guard Terry Henderson, who actually outdid McLemore's 5-of-6 showing from three-point range by hitting six of nine. "Great players are gonna have good nights. We didn't get into him like we wanted to, like we were supposed to."
Asked how they had planned to guard McLemore, Henderson described the complete opposite of what unfolded.
"Just pressure him," he said. "Make him uncomfortable. We really didn't do a good job of that with anybody on the court."