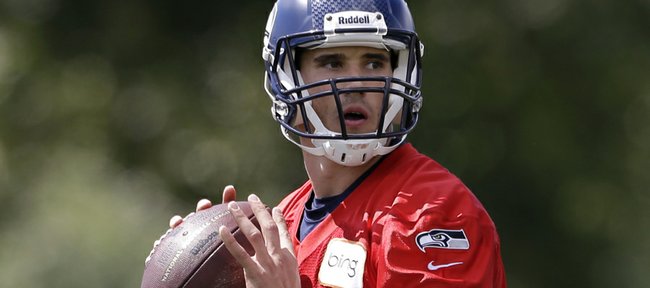 Last year, during his first season in charge of Kansas University's football program, coach Charlie Weis often was asked about the talents and career of former pupil Brady Quinn, who spent the 2012 season down the road with the Kansas City Chiefs.
Each time Quinn's name came up, Weis would, without hesitation, express a sincere belief that Quinn had the chops to play quarterback in the NFL, even suggesting the seventh-year pro would win a lot of games if Weis were coaching him again.
It's hard to argue with their track record together. During his two seasons under Weis at Notre Dame, from 2005-06, Quinn led the Irish to a 19-6 record, threw for more than 7,000 yards and added 69 touchdowns and just 14 interceptions.
Although Quinn and Weis are no longer working together, Quinn has traveled to Lawrence to seek Weis' advice, and last week he was in Kansas again to help Weis and his family celebrate the 10th anniversary of their Hannah & Friends charity.
"I thoroughly enjoyed my time with him," said Quinn during the dinner-and-auction portion of the weekend. "And I'll come back to visit and work out and ask him questions or have him look at things just to see what he thinks or get his advice on things because I really respect his opinion and overall thought process."
Quinn, who signed with Seattle in the offseason, said Weis' brutally honest feedback always brought out the best in him. He also said the fact that his former coach still has faith in him has kept his spirits up during an otherwise disappointing start to his pro career.
"I think it means the world," said Quinn, the No. 22 overall pick in the 2007 NFL Draft. "Any time you have the confidence of someone like him who's been successful and done the things he's been able to do in this profession (is great). For me, it was just the relationship we had and the things we were able to accomplish. I always say I wish I would've had two more years with him or just been two years younger."
Although he has not been around him much during the past seven years, Quinn remains a bit of an authority on what it takes to play quarterback for a coach as demanding as Weis. Asked to explain what the current KU starter, junior Jake Heaps, could expect during the next two seasons, Quinn, like his former coach, offered up the hard truth.
"Look, I guess the best way to put it is, there's not gonna be anything on his plate that's gonna be too much for him to handle," Quinn said of Heaps. "A lot of times, the best want to come play (for Weis), and they're talented guys for a reason. They want to be put in this situation and scenario. It's a challenge, but at the same time it's gonna help the quarterback and, really, the rest of the team flourish in a system like this and with a coach like coach Weis."
As for his own situation, Quinn is competing to be the back-up to rookie phenom Russell Wilson, who led the Seahawks to the playoffs in 2012. Whether he gets the chance to play, Quinn seems thrilled to be a part of a group that many believe is one of the best young teams in all of football.
"I feel like it's a great situation," he said. "Obviously, it's a tremendously talented team, and I feel very blessed I have the opportunity to play there. It's a great system, a great group of guys and one of the most talented teams I've ever been a part of."