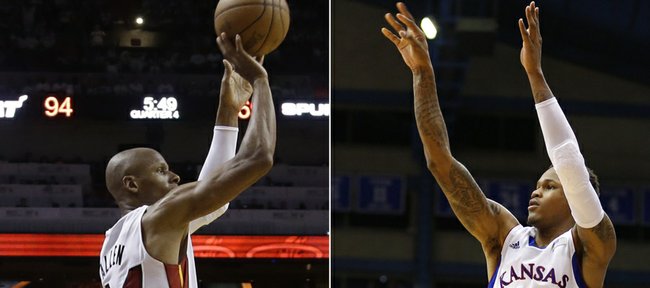 New York — For the past few weeks, and, really, the past several months, former Kansas University basketball star Ben McLemore has heard hundreds of times how he compares favorably to 10-time NBA All-Star and two-time NBA champion Ray Allen of the Miami Heat.
McLemore, they say, is about the same height as Allen — both are listed at 6-foot-5 — possesses a similar, sweet shooting stroke with unlimited range, and is a long and lean, mild-mannered wing, too.
The comparisons are kind, and McLemore, who was selected seventh overall by Sacramento in Thursday's NBA Draft, told the Journal-World earlier this week that he was flattered every time he heard his name used alongside Allen's.
But McLemore himself is far from an authority on how he measures up to Allen. Luckily, on Thursday night at the Barclays Center in Brooklyn, there were a few people in the building who could speak with more confidence about McLemore's resemblance to Allen.
"That's a great comparison," 2013 NBA champion and Allen's Miami Heat teammate, Shane Battier, told the Journal-World at the draft. "That's a great comparison. But there's only one Ray Allen."
Battier, a Duke grad who said he saw McLemore play a few times during the 2012-13 season, said he liked McLemore's game.
"I think Ben has a chance to be a special player because of all of his physical gifts," Battier said. "But it's up to him. A lot of guys have come into the league with great physical gifts and not done anything with them."
Another player to whom McLemore has been compared of late was at the draft on Thursday. Second-year Golden State forward Harrison Barnes spoke with the Journal-World on his way out of the arena and said he thought comparing anybody to a player as accomplished as Allen, the NBA's all-time leading three-point shooter, was tough to justify.
"What I've seen of him, he's obviously a great two-way player," Barnes said of McLemore. "He can defend, he's athletic, he can shoot and I think that going to Sacramento will give him a lot of opportunity to play early and learn and get better. But to say he's Ray Allen and that's the benchmark, I think is unfair."
Barnes, who was drafted seventh by Golden State during last year's draft in New Jersey, said he drew comparisons to Chicago's Luol Deng when he entered the draft but never really saw it.