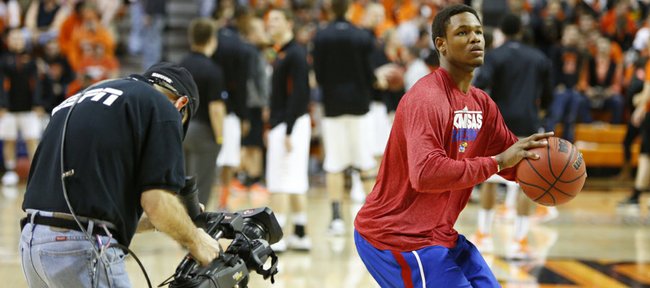 Tuesday's announcement of a seven-year deal between Kansas Athletics and ESPN did little to squash the concerns of Kansas University basketball fans nationwide about six games at the beginning of the upcoming season.
The deal makes it possible for KU fans across the nation to watch a minimum of 70 KU events annually on the multiscreen ESPN3 service and comes on the heels of last week's announcement of a partnership between KU and Time Warner Cable and Kansas City channel Metro Sports.
While the new Tier-3 deals will put KU athletics in more homes than Texas' more highly publicized Longhorn Network, they leave in question the availability of six early-season men's basketball games that KU fans across Kansas have become accustomed to seeing: two exhibition games and four regular-season, non-conference games.
As things stand today — and KU officials were careful to point out that there are a lot of moving parts still associated with this situation — fans without Time Warner or ESPN3 may miss those six games. Even those who have the subscription-based ESPN Full Court service, which only includes regular-season college basketball contests, will miss the two exhibition games.
All other games — basketball and football normally broadcast through KU and Big 12 Tier-1 and Tier-2 partners on ESPN, ESPN 2, CBS, Fox and others — will be unaffected.
Here's a quick breakdown, by region, of what is required to see the four regular-season games in question:
In Lawrence and throughout Kansas — The games will be available for customers who have Metro Sports or Full Court, but will be blacked out on ESPN3.
In Kansas City — The games will be available for customers with Time Warner, Comcast or Full Court, but not ESPN3.
Across the country — The games will be available via ESPN3 and Full Court, as has been the case during the past several years. Because of the Big 12 Conference's television agreement with ESPN and Fox Sports, the live-game broadcasts on Metro Sports will be offered only to viewers in Kansas and the Kansas City metro area, but the new shoulder programing, which includes pre- and post-game content as well as weekly features about KU sports, will be available to Time Warner's millions of customers nationwide.
While those scenarios appear to leave some Kansas cities in the dark, KU officials said today's reality could change in the future. For example, if Cox Cable in Wichita were to broker a deal with Time Warner to bring Metro Sports to its channel lineup, KU fans in Wichita would be able to see the six games in question along with the more than two dozen others on national television each year.
"With this deal and the excitement and the discussion that it's causing, it's possible that developments are going to continue to unfold," said Jim Marchiony, KU's associate athletic director for public affairs. "If it happens that a very small minority of Kansas fans are somehow inconvenienced for two exhibition games and four non-conference basketball games, we think those fans would agree that the national exposure for the entire program is well worth it. And I stress that a small minority of fans may be inconvenienced, because the full story may not have been written yet."
Added KU athletic director Sheahon Zenger: "In the spirit of doing what's best for the student-athletes at the University of Kansas, we will, to the best of our ability, do whatever we can to work with our media partners to bring our fans, wherever they may be, the most access possible.
"This is an incredible deal for KU's student-athletes. For the first time in history, all Kansas sports will have the opportunity to be seen nationwide by Kansas fans."