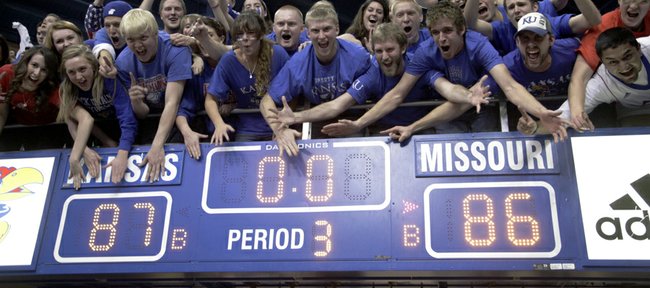 As long as the Big 12/SEC Challenge goes on in men's basketball, Kansas University will not be facing the Missouri Tigers.
KU coach Bill Self reiterated that point Tuesday during a Big 12 teleconference, responding with a simple "No" when asked if he anticipated playing MU in the conference agreement.
Self later was asked if anyone had approached KU about playing MU in the series.
"That would never come up," Self said. "I don't think Texas is going to play (Texas) A&M; either."
The two conferences have not yet determined how many years the Big 12/SEC Challenge will take place.
In the inaugural year, the Jayhawks will play at Florida on Dec. 10, while MU will play host to West Virginia on Dec. 5.
More on Wiggins
Self said he's setting his expectations high for 6-foot-7 wing Andrew Wiggins.
Wiggins, who committed to KU last month, is Rivals' top-ranked player in the class of 2013.
"I would hope that he's as talented as any player in the country, because from a raw, athletic ability standpoint, he can do some things that I've never had a player be able to do physically," Self said. "But the bottom line is, he's still just 18 years old. He's still just going to be a freshman. He's going to go through ups and downs like everybody else.
"But hopefully by midseason, he's totally comfortable and is able to really just play and not think."
Draft talk on McLemore
Self said Tuesday that he believes KU shooting guard Ben McLemore's game will translate well to the next level.
McLemore is expected to be taken somewhere in the first seven picks of Thursday's NBA Draft.
"Ben is one of those elite, elite shooters. The difference is, he's a freak athlete, too," Self said. " ... Now, he's got to get stronger. He's got to be able to put it down (with the dribble). He's got to be able to have a little bit better vision passing the ball, things like that, but those are things he'll grow into."
Self thinks that there might be a several-month adjustment period in the NBA before McLemore starts to show his potential.
"I tell everybody I've talked to, I think by January to February, he could be a guy that's averaging 13 points a game for anybody who picks him," Self said. "I do think he has that type of ability, and I do think he could be a potential All-Star.
"To me, he's the one guy in the draft that — there'll be somebody else emerge — but just looking at it on paper right now, he's the one guy in the draft I think has the highest ceiling."
Self on Withey
KU center Jeff Withey also could be taken with McLemore in the first round, and Self believes the best situation for the big man would be getting drafted by a winning team.
"I've seen San Antonio or Miami, these teams that are really, really good … good gosh, how nice would it be to have a shot-blocker that's 7 foot that can come in and change the game and battle guys around the rim and that kind of stuff?" Self said. "He's not a natural scorer yet. He's not a guy that you can draft and say, 'Well definitely, he's got to give this team 13 points and eight rebounds or he's going to be a flop.' I don't think that's what he's going to be.
"I think he's going to — early in his career — be a very nice complementary guy that can have a role, but kind of find his way and grow into it until hopefully he can be a starter."
Ben signs Blackstock
Former KU guard Ben McLemore has signed with NBA player agent Rodney Blackstock, who just recently was certified to become an agent, Sports Business Journal's Liz Mullen reports. Blackstock is the man who allegedly paid McLemore's former AAU coach, Darius Cobb, $10,000 and travel expenses last year in an attempt to be introduced to the KU player.
He also allegedly paid for a birthday party of McLemore's in Lawrence.
Several outlets have reported that Blackstock's influence in the draft process has caused McLemore's stock to drop.
Last week, ESPN's Chad Ford wrote: "McLemore is in a tug-of-war right now between adviser Rodney Blackstock and his agency, Rivals. It's kept McLemore out of the gym and, for the most part, out of workouts. How much will all of this affect the draft stock? I'm told teams are worried."