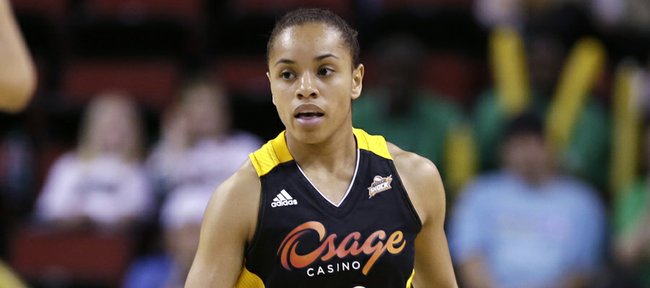 It didn't take Angel Goodrich long to learn the WNBA was a bit more rough-and-tumble than the brand of ball she played at Kansas University.
Just a few weeks into her pro career, Goodrich already has sat out one game nursing a sore knee, then most of a week — of practice, but no games — after suffering a concussion.
"It's a lot faster, and the physicality ... it's a lot more aggressive," Goodrich said, comparing the pro to amateur game. "Everything's bigger and faster and stronger. But these are the top players in the country, and it's great to be one of them, great to be a part of it."
That was no sure thing.
Tapped in the third round of the WNBA Draft (29th overall), Goodrich — an All-Big 12 pick and KU's record-holder for career assists, with 771 — was the second point guard selected by the same team, the Tulsa Shock.
First-rounder Skylar Diggins, of Notre Dame, was penciled in as the starter. Goodrich had to make the team as a backup — the first time, she said, she could recall having to survive tryouts.
"It was definitely a new experience for me," she said. "Camp was great, though. It was great getting that experience in camp.
"It was different for me, but a good difference. I really enjoyed the experience, and making the team was great. I didn't want to look back and regret anything, so I gave it everything."
Goodrich, from Tahlequah, Okla., tore the anterior cruciate ligament in each knee in consecutive seasons at KU.
When one knee began to bother her again, she skipped one Shock game early as a precaution.
Then, on June 2 at Chicago, she was trying to make a layup to beat the halftime buzzer and was clobbered on her way to the basket. She hit her head on the floor and didn't play or practice again for most of a week.
"It was a slight concussion," Goodrich said. "I didn't get to do anything, except ride the bike a little. I did not like sitting out."
Coincidentally, she was cleared to play on June 7 for the Shock's game at Seattle. Thus, Goodrich was able to play against the only other active former Jayhawk in the league: Seattle's Nakia Sanford.
Ex-Jayhawk Danielle McCray will miss the season as she recovers from a torn Achilles tendon.
Ten games into her pro career, Goodrich has made one start. She averages 16.3 minutes, 3.5 points, 1.2 rebounds, 2.4 assists and .9 turnovers per game. She's shooting 50 percent overall, 28.6 percent on three-pointers.
"I'm starting to get into the flow of things," she said. "It was exciting making the team, and my first game, getting to go out there and get on the floor for real ... I had a little bit of nerves, but just getting out there, being part of the team, felt great."