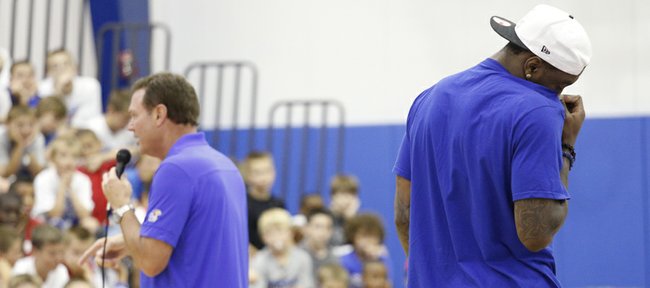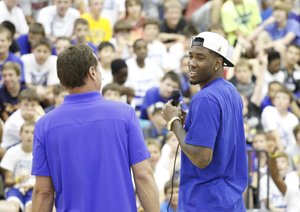 Kansas University sophomore forward Jamari Traylor didn't expect to break down and cry before 800 youths during his appearance as guest speaker at the Bill Self basketball camp on Monday in Horejsi Center.
Yet that's exactly what happened. The 6-foot-8, 220-pounder wiped away tears as his coach used phrases such as "there's not a bigger stud in the world" and "I've never been prouder of a kid I've coached" in reference to the Chicagoan, who survived about a year of homelessness on the cold, mean streets of the Windy City during his freshman and sophomore years of high school.
"Listen," Self exclaimed to the campers, bringing them to attention. "Jamari lived on the streets for almost a year and in homeless shelters and on his own, sleeping in abandoned cars with no heat. The only reason he went to school was to get a free lunch. A bad day for him is a little bit different than us. Try to go three to four days without eating. That's a real bad day. That's why he'll be an unbelievable father and husband, provider and play pro basketball someday — because he cares so much."
Traylor moved out of his house on 27th and State Street, losing his motivation for high school and life after his dad was imprisoned.
With the help of his mom and a caring mentor, he was able to return to school and eventually surface at IMG Academies in Bradenton, Fla., for his senior year. That's where he caught the eye of KU's coaches, who were initially recruiting IMG's DeAndre Daniels. Traylor accepted a scholarship and is now entering his third year in Lawrence.
Revisiting his life path — and listening to the approving words of coach Self — proved emotional for him Monday.
"That's coach Self. He knows me. He's proud of me. It's good for him to share that with the kids, so I understand," Traylor said. "Sometimes I just get emotional in talking about it. It's crazy. Little kids look up to me. My life can inspire other people, so it's a little touching to me."
Self said Traylor's big heart and toughness on the court will enable him to make it big on the court and in the classroom the next three years.
"Some of the things I went through definitely made me a lot tougher, made me a lot smarter, made me appreciative," Traylor said. "Anything I do, I appreciate it. I always say, 'Thank you.' It's made me more humble.
"It was tough," he added of a year roaming the streets at night. "No shoulder to lean on as much. It was pretty much a life lesson, helped me get to where I am today. I'm in a good situation now. What doesn't kill you makes you stronger. It's definitely made me a lot better."
Traylor, who averaged 2.1 points and 2.1 boards while blocking 28 shots in 37 games a year ago, is trying to expand his game in battling the likes of sophomore Perry Ellis, freshmen Joel Embiid and Landen Lucas, senior Tarik Black and others for precious inside minutes. He averaged 9.6 minutes per contest his red-shirt freshman season.
"I can definitely get a lot better. I think I have a lot of potential," Traylor said. "Like coach said (to campers), I haven't been playing that long (since junior year of high school). With a good coach like that teaching me, I know I can do anything.
"I've been working on my jump shot. It's what I've been working on the most. You'll see me putting up a couple jumpers next season," Traylor added.
Of KU's inside players, he said: "Pretty much everybody looks good. We're stacked. We are going to look good, do our thing. We are going to compete. Teams going against us ... we're going to be a force to be reckoned with."
Traylor, who red-shirted his freshman year because of academic reasons, has three years of eligibility remaining.
"It's kind of crazy ... all these guys (eight newcomers) coming in, it's like I'm the oldest person now as opposed to when I came in," Traylor said. "I remember my first workout and (being) dead-tired. Thomas (Robinson) was showing me around, telling me, 'Run this way.' I was following him the whole time. Now I'm giving guys directions, helping other guys out. That's what the crazy thing is this year."
Self has big plans for Traylor.
"Offensively, he has to get where he can score consistently. He can be a great defender and is an exceptional athlete. He's not real big for the position he plays so he has to get a little more skilled where he can step away from the basket and do some things," Self said. "He works hard at it. He has three years left. He's going to be a terrific player."
Wiggins update: KU freshman forward Andrew Wiggins could be in town by Wednesday, Self said.
"He's ready to get here," Self said. "He has some things to tie up from his situation back home with the Canadian National Team. That was a pretty gutsy move to say (Saturday), 'I'm not going to play (for Under 19 team). I want to come here.' That wasn't coerced by us at all. It's something we were hoping he'd come here. We were going to work with the Canadian team to try to make both things work."
Self said Wiggins "will probably still go up there at some point in time this summer and participate in some way. I think it speaks volumes he's trying to get here as soon as he possibly can."
He will enroll in summer-school classes.
"His life has been so much fast-forward right now," Self said of Wiggins, expected to be top pick in the 2014 NBA Draft. "I think he should relish being a kid for as long as he possibly can. If he were going to spend nine weeks with that team and come right in and be intense with us right off the bat that makes for a long year for a kid not used to carrying that kind of pounding. I'm excited he's going to be here and work hard, do what he needs to do but not feel the pressure he has to perform each and every day up until he gets here."