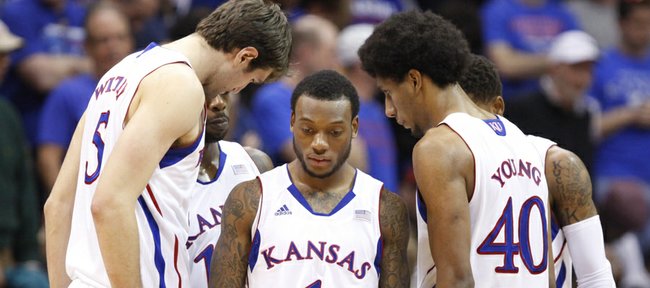 So much for the message board chatter about moving back to Nike.
Thursday afternoon, Kansas University officials announced via press release that Kansas Athletics and adidas have agreed to renew their footwear and apparel partnership — one of the largest such partnerships in college athletics — through 2019. The commitment extends by six years the original eight-year agreement between adidas and KU, which was signed in 2005.
According to the release, the six-year extension is a sponsorship and product-allowance agreement worth in excess of $26 million.
"We have been extremely pleased with our partnership with adidas," KU athletic director Sheahon Zenger said in the release. "Adidas promised quality and dedication to service to all our teams and they have delivered what they promised. The fact that adidas eagerly sought to extend our partnership clearly demonstrates to us their continued understanding of the tremendous value of the entire Kansas Athletics program."
Since the fall of 2005, adidas has provided footwear, uniforms, apparel and accessories to each of the Jayhawks' 18 intercollegiate athletics teams, and KU has achieved great success during that stretch.
• The men's basketball team won the 2008 NCAA Championship and reached the championship game in 2012
• The women's basketball team reached the Sweet 16 two consecutive years, making Kansas the only university in the country whose men's and women's teams reached the NCAA Sweet 16 in both 2012 and 2013
• The football team won a BCS Bowl — the 2008 Orange Bowl
• The women's track and field team has won two Big 12 Conference Championships, several NCAA individual championships and an Olympic Gold medal in 2012
• The volleyball, soccer and softball teams also have reached the NCAA Tournament.
Adidas holds strong partnerships across collegiate athletics, developing high-performance footwear, apparel and accessories for more than 70 collegiate programs including Notre Dame, Michigan, UCLA, Tennessee, Indiana, Nebraska, Texas A&M; and Louisville. In addition, adidas is the official uniform and apparel provider for the National Basketball Association and Major League Soccer and equips some of the best athletes in the world including Derrick Rose, Dwight Howard, Damian Lillard, Lionel Messi, Robert Griffin III, Von Miller, Candace Parker and Heather O'Reilly.
The company appears thrilled to keep its tie to KU for another six years.
"We are proud of our relationship with KU's outstanding athletics program," said adidas Vice President of Sport Performance David Baxter. "We are excited to have KU athletes, coaches and fans wear adidas and look forward to continuing our successful partnership."