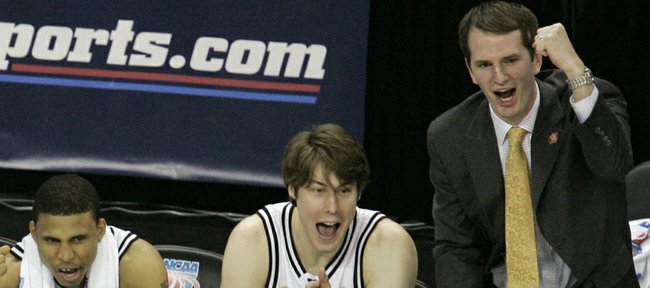 Former Lawrence High basketball standout Brad Frederick, who worked for former Kansas University assistant Kevin Stallings the past 14 years as a full-time aide at Vanderbilt, is headed to North Carolina to serve as director of basketball operations for former KU coach Roy Williams.
Frederick, 36, replaces former KU assistant Joe Holladay, who has retired after working 10 years for Williams at KU and 10 at Carolina.
"I've known Brad for 25 years," said Williams, who was hired as KU coach by Brad's dad, Bob Frederick. "He's been like a part of my family going back to our years in Lawrence. The fact he played at and graduated from Carolina (1999) makes it an easy decision to add him to our staff. He knows he has big shoes to fill, but I am confident our players, coaches and staff will truly enjoy working with him."
Brad, who led LHS to the 1995 state championship, said his dad, who died in 2009, would have been proud to see him go to work for Williams. Brad's mom, Margey, lives in Lawrence.
"He'd be excited for me," Brad said. "He was not only fond of coach Williams but all the guys on the staff — C.B. (McGrath), coach Holladay, coach (Steve) Robinson and of course coach Stallings (at Vandy). I obviously had a great experience here in college (two Final Fours playing at UNC). The opportunity to be back at such a great school and such a great program ... to work with coach Williams makes it hard to believe."
Brad Frederick said his goals remain becoming a head coach someday.
"The biggest change will be I won't be recruiting and coaching on the floor," Frederick said of his director of operations role. "Hopefully I'll have the opportunity to coach some point down the line. At the same time I'm excited to be at Carolina and work with these guys. I had a great experience at Vanderbilt. Coach Stallings was great to me and my family (wife, two children). I learned a great deal from coach Stallings."
Meanwhile, Holladay retires at the age of 65.
"I am ecstatic for Joe and know that I have been extremely fortunate to have him as part of our staff for these 20 years," Williams said. "He is one of the best coaches and finest human beings I have ever been around. He was a security blanket for me in good times and bad. It will be a huge challenge for us to replace all that Joe did for our program and the university. Kansas, UNC and all the players and coaches at both universities are so fortunate that he was part of their lives for so long. I will miss him tremendously both professionally and personally, although I know he is looking forward to watching the Tar Heels for many years to come."
Holladay said: "It's hard to put into words how much I have enjoyed the young men and their families who have played for us. I have also enjoyed working with the other assistant coaches, the basketball office staff, university administration and the staff at the Smith Center. I am looking forward to spending more time with my kids, grandkids and wife, Roi, who has been such an important part of my career the last 44 years."
NBA looking at Larry?: The Brooklyn Nets and the Philadelphia 76ers have both contacted SMU coach Larry Brown about their coaching openings, Zagsblog.com reports. Zagsblog said a third team, possibly the Los Angeles Clippers, has also contacted the 72-year-old Brown. Zagsblog said Brown is happy at SMU and "excited" because his son, L.J., is an incoming SMU freshman who will study filmmaking. ESPN's Chris Broussard tweeted that the Nets' top three choices are Phil Jackson, Brown and Brian Shaw.