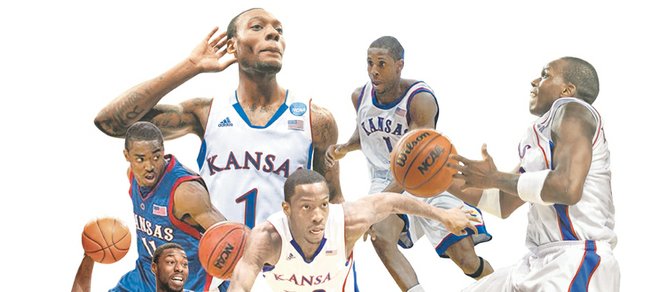 For the past few summers, those of us at the Journal-World and KUSports.com who cover Kansas University teams and athletes have taken part in a variety of summer series projects designed to provide a deeper look at the Jayhawks and a quick peek inside our minds.
With another summer now upon us, it's time to dive into this year's series of Monday features. Rather than picking arbitrary or abstract categories or breaking down various teams or position battles, we've decided to use this summer to look back at the Bill Self era.
Last season capped Self's first decade as the head coach at KU, and during that time all kinds of highlight players, moments and memories have made their way into Kansas basketball lore.
For the next 10 weeks, we'll look back at several of them, through the eyes of those of us who had the best seats in the house. KU basketball beat writer Gary Bedore has been there every step of the way and put his stamp on every one of these athletes and events. Sports editor Tom Keegan arrived in town two years into Self's stint at Kansas and has provided unique insight into all the ups and downs of the past eight years. And Matt Tait and Jesse Newell, in one way or another, also have been around for most of the fun and viewed things in a slightly different way than the staff's upperclassmen.
We'll kick off the series with five straight weeks of the top players of the Self era. We'll start with point guards today and move through all five positions in the weeks that follow. Then we'll dive into a few more team-oriented topics, such as best game, best comeback, best bench players and more.
Gary Bedore
Sherron Collins: The Chicago native was a bit undersized — meaning too short — to make it in the NBA, but he was great in college. He could hit the deep jumper and drive to the hole. He still could make some money in Europe if he commits himself to getting and staying in shape. He's just carrying too much weight to be effective again.
Aaron Miles: Miles would rather set somebody else up for a shot than take the shot himself. He was an extremely unselfish player and one of the nicest guys in the Self era as well.
Russell Robinson: He was ornery enough to turn down a chance to enter a game for mop-up minutes his freshman season at Baylor, later emerging as the heart and soul of an NCAA championship team. I also liked the "New York, New York" pregame intro of Robinson at home games.
Tyshawn Taylor: I especially enjoyed the way he embraced his senior year, relishing every minute of it and choosing to be the unofficial team spokesman. He never hid from doing interviews, just enjoyed his final campaign, which, frankly, all seniors should do.
Jeff Hawkins: The defensive whiz from Kansas City, Kan., could stick a deep three-pointer when needed. He never became a star but was a fine role player. I loved talking to his mom during the recruiting process and loved seeing Hawkins mature to the point he's now Perry-Lecompton's outstanding boys basketball coach.
Tom Keegan
Sherron Collins: Was too smart for Baylor's zone defense and too relentless to let the hot-shooting Bears win in Allen Fieldhouse in a memorable 100-90 shootout. Overtime victory in Manhattan also comes to mind. Amazingly skilled basketball player who loved to compete.
Tyshawn Taylor: Quicker than Cool Papa Bell and cooler than Hot Rod Hundley, Taylor sometimes was too quick for his own good and wasn't a gifted passer. Still, he was a defense's biggest nightmare because he consistently blew by his man.
Aaron Miles: Pure point guard knew the ball needed to get into Wayne Simien's hands and knew how to get it there.
Russell Robinson: Tremendous defender who learned to let better scorers take the majority of the shots.
Elijah Johnson: We never will know whether Kansas could have defeated Michigan had the refs done the right thing and ejected him in the opening minutes.
Matt Tait
Tyshawn Taylor: Few players have been as loved and hated during their time at KU as Taylor, the four-year starter who showed flashes of brilliance and moments of madness throughout his Kansas career. The one thing that never wavered with Taylor was his effort. Whether he made an outstanding play or one that drove people crazy, both were born from tremendous effort and I always respected that about him.
Aaron Miles: For my money, he's the best pure passer ever to play at KU. His career assist total (954, tops in KU and Big 12 history) certainly backs up that claim, but it was not just the fact that Miles racked up stats that always impressed me. It was the way he did it: calm, poised and with a smirk.
Sherron Collins: One of the top competitors in college basketball history. Collins' will to win, especially at the end of games and in crunch time, was unmatched by anybody in the Self era.
Naadir Tharpe: As president and founder of the #TharpeFanClub, I couldn't overlook the KU junior, and two years from now I'm betting you'll understand why. I've liked Tharpe's demeanor from Day One. He's a confident and capable point guard and a born leader.
Russell Robinson: I always thought his role as the "glue guy" on the 2008 national championship team was mentioned way too much and way too often. As proven by his long and solid pro career overseas, Robinson is talented enough to do it all yet smart enough to know that team didn't need him to.
Jesse Newell
Sherron Collins: The best point guard on the 2008 national title team, even if he didn't start. The fact that he later became a consensus first-team All-American only seals his spot on the top of this list.
Tyshawn Taylor: Four-year starter whose accomplishments on the court more than made up for a few off-the-court struggles. The second half of his senior year was — I believe — the best that any point guard has played under Self at KU.
Russell Robinson: The fact he was the starting point guard on the 2008 title team boosts him up to third. His offensive stats were never special, but his on-ball defense was.
Aaron Miles: Had advanced stats been more prevalent in his day, Aaron Miles might not have gotten as much national love because of a high turnover count. He still was a great distributor and also worked to make himself into a 50-percent three-point shooter his senior year (40 of 80).
Elijah Johnson: Fair or not, he will be remembered for three games: saving KU against Purdue in the NCAA Tournament his junior year; going for 39 points against Iowa State his senior year; and committing costly late turnovers in the loss to Michigan in his final game. His senior season, statistically, was one of the worst of any player in Self's KU tenure.