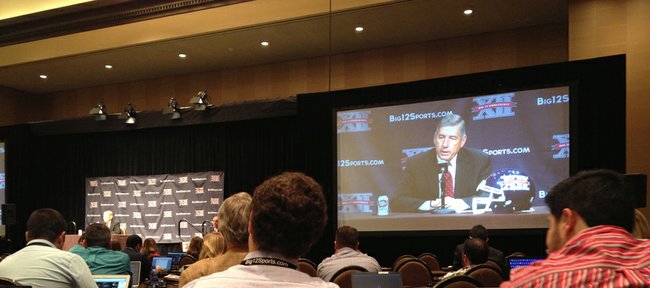 Dallas — Big 12 commissioner Bob Bowlsby, now in his second year on the job, kicked off Big 12 Media Days by addressing the media for 20 minutes and then fielding questions for another 20.
Bowlsby, who has been instrumental in both strengthening and growing the Big 12 in the post conference-realignment era, addressed a number of topics ranging from the business side of college athletics to the on-the-field fun that lies ahead.
Here's a quick look at some of the highlights:
• Bowlsby on the negativity surrounding the NCAA as a governing body and what steps he and others believe the NCAA need to take to make sure that things improve before they get worse.
"There is a lot that's right about intercollegiate athletics. There isn't any two ways about that. It gets lost in the process sometimes.
"I have not heard a single administrator say they believe an organization other than the NCAA is the right approach for us.
"I really do think we need to reconfigure the leadership of the organization."
Bowlsby said that there are 70 schools that win 90 percent of the championships in the NCAA and, "We have a bunch of others that don't look like the others yet are trying to compete." He added that he believed it was time to think about federation by size and scope and perhaps by sport.
"There's plenty of work to do and one of the reasons I took the commissioner job is because I'd like to have more to say about the national agenda and see the best parts of the business enhanced and the other parts improved. I think we will make progress."
"I think (NCAA) President (Mark) Emmert recognizes that changes need to take place.
"We haven't wanted to put the threat of secession on the table and, in all honesty, there aren't many who think it's a legitimate threat. I haven't spoken with anyone in the business that things we should go look for another organization. So I don't see secession as a point of leverage except as a last resort."
• Bowlsby on general state of the Big 12:
"Last year, there were a lot of questions marks, but his year, I think we can look back and say we've got exclamation marks. It's been a very productive year for us and it's been a year that has delivered a growing level of trust."
• Bowlsby on conference realignment:
"I've been in the building about 30 minutes and I haven't had a realignment question yet.
"As we've said before, we're intentionally at 10 members. I think there are advantages at 10."
Those advantages include: keeping rivalries strong, benefits of round-robin
play, strong multimedia packages, better revenue sharing and no divisional play.
"Divisional, by its very title, has a divisive nature to it."
• Bowlsby on changes to Big 12 Stadium experience this season:
During television timeouts this year, Big 12 stadiums will show highlights from around the league. The move is designed to entice more fans to come out to the stadiums and not feel like they're missing what else is going on around the league.
"I really think it's going to be a terrific thing for our fans and it will be one item that will keep fans from staying at home."
• Bowlsby on Big 12 initiative to put RF chips in player shoulder pads, which will be done in partner with Sports Vision and will allow coaches to track velocity and player location in real-time basis, which will also help in concussion study:
"We think it's a very interesting innovation that other areas outside of sports have accommodated and it ought to be interesting to see how it develops."
Pac-12, SEC and Big 12 are only conferences doing this.
• Bowlsby on the Big 12 using an experimental eighth official this season:
"We have experimented with it during the spring and we've even experimented with a helmet cam on the eighth official. The eighth official will line up in the offensive backfield, opposite the referee, and will put ball in play.
"This is really in response to pace of play as much as anything. We'll be the only league experimenting with an eighth official."
• Bowlsby and the Big 12 believe in taking a strong look concussion prevention and KU trainer Murphy Grant has played a key role in helping the league take major strides forward in this department:
"We are working on a partnership with USA Football (NFL) that is intended to teach young people how to play the game properly and safely. Player safety is a very important initiative in what we're doing.
"This is not an attempt to 'sissify' college football. We need to have the rules reflect the right way to play the game and make sure it's a game you can play safely."
Bowlsby on the 2013 football season in the Big 12:
"We think we can play with anybody in the country but it's impossible to call yourself the best league in college football unless you can win the national championship.
"We've been first nationally in offense for a while and yet I think we have several excellent defenses. It's defense that often wins championships."