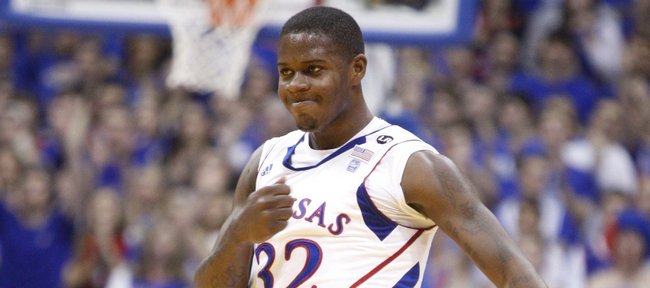 Former Kansas University basketball combo guard Josh Selby will play for the Los Angeles Lakers in the 2013 Las Vegas Summer League, Friday through July 22.
The 6-foot-2 Selby was co-MVP (with Portland's Damian Lillard) in Vegas last summer as a member of the Memphis Grizzlies. His performance didn't translate to success during the NBA regular season. He played sparingly in 10 games for Memphis before being traded to the Cleveland Cavaliers, where he was cut without playing in a game.
Selby, a second-round pick in the 2011 NBA Draft, did average 17 points a game for three NBADL teams in 2012-13.
"We have a pretty good group of guys," Selby told ESPN Los Angeles, referring to a Lakers roster that includes Chris Douglas-Roberts and Robert Sacre. "We have a great coaching staff (led by Laker assistant Dan D'Antoni) that's willing to teach you the game. I think this is an opportunity for me to showcase my talents and better myself."
Selby has spent the offseason working on his game and also donating to charity. The 22-year-old Baltimore native recently hosted the "Walk-Away Campaign at Margaret Brent Elementary-Middle," which has a goal of stopping youth violence in his hometown.
"I try to give them (youths) a story about how my past was, because they think that people in the NBA always had a good life," Selby told the Baltimore Sun. "It isn't like that for some guys. I tell them to always try to work hard, stay humble, stay out of trouble."
Selby has also collected 250 blankets for the homeless, donated 200 shoes to needy children and provided food for Thanksgiving meals to families.
One of Selby's former NBADL coaches — Alex Jensen, of Canton Ohio — told the Sun that "the potential (for Selby) is definitely there. It's hard, I think, for a kid to leave college early (after one season). College is a much better time for a kid to improve and concentrate on a certain skill set. It's just a matter of honing in and having game minutes.
"A lot of times in the NBA, you have to fit in with a handful of superstars, and you have to find your niche," Jensen added of Selby, who averaged 2.2 points and 0.9 assists in 38 career games with Memphis. "Find those skills that make you fit. He has the skills, but he has to find out what those are."
Henry a free agent: The NBA's New Orleans Pelicans on Wednesday renounced their rights to former KU guard Xavier Henry. Henry, 22, who was selected 12th overall by Memphis in the 2010 NBA Draft, averaged 3.9 points in 50 games for New Orleans last season. He's free to sign with any team or head overseas to continue his career.
Robinson trade in books: The Portland Trail Blazers on Wednesday officially announced the acquisition of former KU forward Thomas Robinson from the Houston Rockets for the NBA rights to Kostas Papnikolaou and Marko Todorovic plus two future second round draft picks.
Robinson, 22, averaged 4.8 points, 4.1 rebounds and 15.1 minutes in 70 games with Sacramento (51 games) and Houston (19 games) his rookie season.
"Thomas is a dynamic young big man with tremendous upside," Blazers' general manager Neil Olshey said of the No. 5 pick in the 2012 NBA Draft. "He is an elite athlete and brings a unique set of physical tools to our roster. He has the potential to be one of the best young power forwards in the league and his development will be a priority for us."
Adams in Ohio: Former KU guard Anrio Adams, who recently announced plans to transfer to Ohio University, spoke with the Athens Messenger about his decision to become a Bobcat and his one year at KU.
Adams, who had been recruited by Ohio coach Jim Christian when Christian was an assistant at TCU, has an uncle who knows Christian.
Seattle native Adams also has family on his mother's side living in Youngstown, Ohio.
"(Christian) told me to take my time with it and see all my options. And that I had a home here if I wanted to get better as a student and an athlete," Adams told the Messenger. "That kind of stuck with me. I came down here for a visit, saw a lot of the film and met a couple of the guys. I loved it."
Adams will sit out next season and will have three years of eligibility remaining starting in 2014-15.
"This program (Ohio) is big in one sense, but small in being able to focus on that individual person. I just feel more comfortable with the coaches here and the coaches know a little bit more about me than they did when I was at Kansas. That's the big difference," Adams said. "I know I'm going to get better here, that and the fact that I had a group of men who really wanted to make me better as a person."
Adams voiced complaints about playing time last year on social media Facebook and Twitter.
"At the end of the day, there's really not much more to say. It's kind of show, then tell," he said of being mature enough to sit out a season. "I'm definitely working and working harder than before. I can handle it. That's all that has to be said."
Taylor scores 10: Former KU guard Tyshawn Taylor had 10 points off 5-of-13 shooting with six turnovers and three assists in the Brooklyn Nets' 98-69 loss to Utah on Wednesday in the Orlando Pro Summer League.