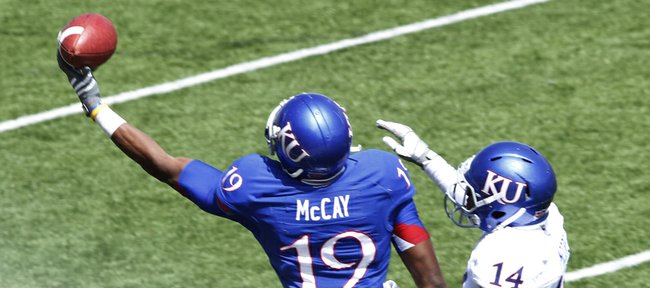 Nobody hands out bowl bids based on most improved this or that, but turnstiles do tend to spin a little faster for football teams that field explosive offenses packed with flashy skill-position players.
For the first time since Mark Mangino, Kansas University's first winning football coach since Jack Mitchell, was pressured to resign, KU has a shot to flood the field with potent playmakers.
Senior running back James Sims remains the most valuable member of the team. For a change, KU might be able to surround him with a skilled passer and a fleet of talented pass-catchers. Quarterback Jake Heaps, all-purpose burner Tony Pierson, rugged receiver Justin McCay, tight end Jimmay Mundine and possible wide receiver addition Nick Harwell all have big-play potential.
Kansas has a legitimate shot to have the most improved offense in the Big 12, and not only because it by far had the worst one in the conference in 2012, Dayne Crist's one and only half-season as starting quarterback and Charlie Weis' one and only half-season (the other half) as a triple-option offensive coordinator.
But the impact of that impending improvement on ticket sales probably hasn't kicked in yet because Weis' aggressive recruiting efforts included acquiring players who either haven't played for a while or are not yet cleared to play in 2013.
Sure, there are question marks:
Will the offensive line supplly ample pass protection?
Can Heaps show he's a gamer and not just a practice sensation?
Can Pierson make a smooth transition to being used 80 percent of the time at receiver?
Will Miami (Ohio) allow Harwell to take the classes necessary to earn his degree so he can make his family proud, mount his framed diploma on the wall and become immediately eligible to play at KU?
If the answers are yes, yes, yes and yes, somebody else will take the place of the Jayhawks in the position they have occupied since Mangino, Todd Reesing and Kerry Meier hit the road.
With Jordan Webb at quarterback for Turner Gill's 2010 team, Kansas ranked 111th out of 120 Football Bowl Subdivision teams with an average of 17.1 points per game. They finished last in the Big 12 with a 14.5 average.
In 2011, Webb's offense placed 95th of 120 with 22.3 points a game and last in the Big 12 with a 17.4 average.
In 2012, Crist and Michael Cummings shared QB duties and the Jayhawks ranked 118th of 124 in the FBS with 18.3 points a game, last in the conference with a 15.7 average. At least the run-heavy offense of a year ago ate clock and cut back on the time the defense spent on the field, but an offense isn't supposed to be so defensive.
The key to improvement, as always, lies with the quarterback and all signs point to Heaps qualifying as a significant upgrade.
Weis' decision to use Pierson the way West Virginia used Tavon Austin should occupy a good deal of the defense's attention. That won't hurt Sims, who did such great work with the D concentrating on him almost every play.
If the spring game accurately captured his talent level, McCay will make Heaps look good by pulling passes out of big crowds. Mundine gets more focused, smarter, with every year.
The one thing Kansas lacked on paper coming out of 2012 was a player who combined game experience as a go-to receiver who also breaks game-changing plays. Harwell, if he gains instant eligibility and isn't required to sit out a year, fits the profile perfectly. His longest receptions as a freshman (82 yards), sophomore (71) and junior (68) hint at his big-play ability. As a sophomore, he had 97 receptions for 1,425 yards and nine touchdowns. He'll make a huge difference, if Miami allows him to get on with his life.
If the answers to the four pressing questions regarding the line, the quarterback, the hybrid sprinter and the superstar transfer receiver are yes, yes, yes and yes, will the Kansas football team have an offense that will keep the town buzzing and the turnstiles spinning? YES!