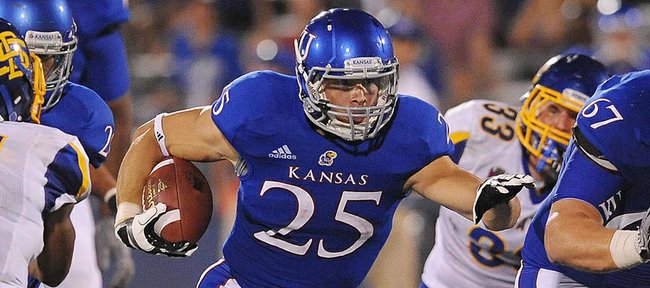 When Kansas University running back Brandon Bourbon showed up for spring practice a couple of months ago, he knew right where the locker room was, needed no help finding the training room and even had a pretty good idea of what the schedule would look like for those 15 practices in March that often mean so much to a college football team.
Not bad for a fourth-year player who had yet to go through a full spring before.
"You know what, it really does seem weird considering my first one I got knocked out early and last year they didn't let me do any contact," said Bourbon reflecting on the start of his injury-riddled KU career. "So it kind of is my first one."
From the day he arrived in Lawrence as a four-star prospect from Potosi, Mo., who chose the Jayhawks over an offer from Stanford, Bourbon has had trouble cracking the lineup and staying healthy. Despite the injuries and setbacks and the frustration that came with both, Bourbon enters his fourth season as a Jayhawk with perhaps his brightest outlook yet.
"My mindset? I just have to believe that I'm the best back on the team," Bourbon said. "Even though it hasn't looked like it from the amount of time I've played, I have to think like that and play like that when I get my chances and try to increase my role."
That's easier said that done, especially when he has watched teammates James Sims, Tony Pierson, Taylor Cox and the returning Darrian Miller do a bang-up job on the field in his place. Bourbon knows that. But self-confidence has never been an issue for the 6-foot-1, 225-pound back.
"I don't think it is hard," said Bourbon of continuing to believe he can compete. "Maybe when you're sitting out and not involved. But when you're actually getting in there and having some success, you're like, 'OK, I'm the guy. Let's just convince everybody else and we'll be good.' A lot of that is beyond my control, obviously. I can't do anything about my ankle getting stuck in the turf. I just have to stay positive, which I believe I've done, and keep the confidence level as high as I can so when I get that chance and I get my reps in practice, I can show 'em what I can do."
There have been moments when Bourbon has done just that. Highlight touchdown runs in each of the past two seasons — both against Texas Tech, coincidently — have put his rare blend of power and speed on display, but injuries have kept those moments from becoming the norm. Despite the disappointments and missed opportunities, Bourbon enters 2013 brimming with the belief that the best is still ahead for him.
"I know exactly what I'm doing so I can play fast and not really have to think," he said.
As luck would have it, Bourbon said sitting out may be the biggest factor in having his confidence level at an all-time high.
"I feel like I'm at least right with everybody else," he said. "I feel confident that I know everything the most. Part of it was sitting out in the spring. I'm not doing it so I'm sitting there watching everybody doing it, watching every mistake and every correction. And then part of it is just the time that I've put into studying it."
With his mental edge sharp and ready, Bourbon knows he must conquer his physical challenges before any of the rest matters. For that he leans on strength coach Scott Holsopple and, together, the two are making progress.
"I feel better than I've ever felt," Bourbon said toward the end of spring drills. "I feel strong. I feel fast. Credit to Holsopple. He will get you right."