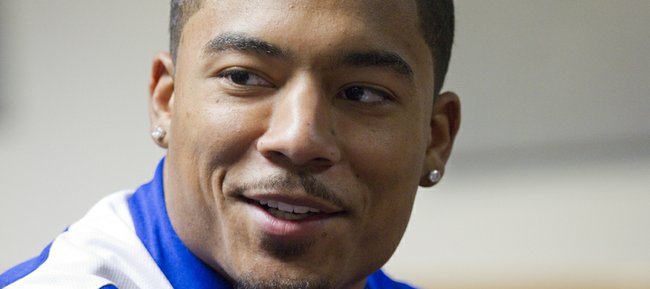 The Big 12 Conference football office on Tuesday released the names of the 34 players who will represent their schools at the annual Big 12 media days later this month in Dallas.
For the past several weeks, it was believed that Kansas University was sending senior running back James Sims, junior quarterback Jake Heaps and junior linebacker Ben Heeney as its player reps.
However, when the official list surfaced Tuesday, it included those three names and one more — junior-college transfer Cassius Sendish, a cornerback from Arizona Western who arrived at KU in January.
Sendish's inclusion becomes the latest positive step in a career that has taken major strides during the past few years. Once an undersized 5-foot-2, 92-pound high school freshman, Sendish has blossomed into a 6-foot, 187-pound projected starter at Kansas. More impressive than his physical growth, however, may be that in just a few months he has earned enough respect and trust from KU coach Charlie Weis to be added to a list for which some players wait their entire careers.
Although Sendish arrived at Kansas as a cornerback, Tuesday's Big 12 release listed him as a safety, which may indicate that the junior-college transfer has changed positions. Sendish began the spring as a first-string cornerback, but appears to have moved to the middle of the field, where his intelligence, frame and physicality should serve him well.
During an interview with the Journal-World this spring, Sendish said he was thrilled to be at KU, even more pleased to top the depth chart, but was not planning on getting ahead of himself.
"You gotta take things one step at a time so that's what we're doing," he said. "We're not rushing for the season to come. It's definitely a big thing just to be able to come in and join the family as quick as possible, especially in the offseason because everything you do in the offseason is reflected once you get into the season."
From the beginning of his recruitment to this day, Sendish has come across as deeply focused and more interested in taking advantage of his one shot to play Division I football than living the college lifestyle. His words have been all business and his focus only on getting better and helping KU turn things around.

"I feel like I know what's at stake," Sendish said. "Just being weathered through the (juco) process has really humbled me."
Asked this spring if he had taken a moment to celebrate reaching the Division I level, Sendish wasted no time in explaining that he was far from finished working.
"It hasn't hit me yet," he said. "I can't give you a date. It'll just be one day when I'm sitting around and I go, 'I'm here.' But I can't be content with just that."
If nothing else, the ticket to Dallas proves Sendish has not been satisfied thus far and that his coaches and teammates have recognized that.
Big 12 media days will run July 22-23 in Dallas. KU is one of five teams slated to take its turn with the media on Day 1. The Jayhawks will be joined by Kansas State, Oklahoma State, TCU and Texas Tech. Baylor, Iowa State, Oklahoma, Texas and West Virginia will round out this year's event on Day 2.