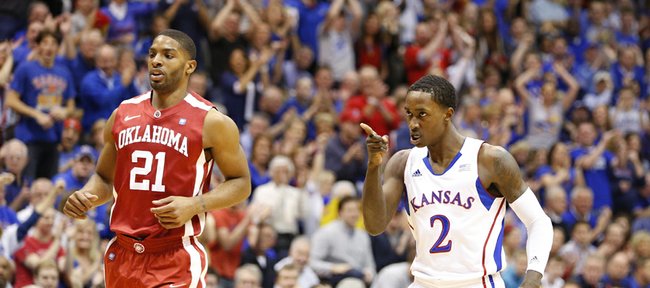 One of the most enthusiastic cheerleaders on Kansas University's basketball bench, Rio Adams is attempting to take that same spirit onto the court during games.
"I'm trying to be the best I can be ... for my teammates, keep that energy going," said Adams, KU's 6-foot-3 freshman combo guard from Seattle.
He played two minutes in Monday's 61-56 victory at West Virginia, three in Saturday's 67-54 home win over Oklahoma and two minutes the game before that — a 59-55 win over Kansas State on Jan. 22 in Manhattan.
"Giving my all is what I'm trying to do for my team when I'm out there. That's what I'm doing," said Adams, who was spotted on camera dancing on the KU bench after Jayhawk threes in both the OU and KSU games.
Adams — he averaged 21.0 points, 6.0 assists and 5.0 rebounds per game his senior season at Class 3A state champion Rainier Beach High (he scored 54 points in a game as a sophomore) — obviously knows his role is not to be a prolific scorer on this year's KU team. He's scored 12 points all season off 5-of-17 shooting and 2-of-2 free throwing.
"Right now I'm in position to give coach (Bill Self) what he needs. (Against Oklahoma) I was there specifically to play defense and keep our point spread spread out. We get a lot of wins because of our defense. That's what we rely on first. Coach didn't really care about the offense — just don't turn it over. We are a defensive team for sure, first."
Adams was able to run the team on a couple possessions during the OU game.
"I'm not going to lie. I wasn't prepared for that at all," Adams said of being point guard versus the Sooners. "Mainly in practice I play a lot of defense. When I was out there to get the opportunity I took full advantage of it, but just wasn't ready. I enjoyed it a lot. I was very excited. I work for my minutes and earned those minutes I got."
Adams said he's grateful for any time he gets during games.
"When I do (get minutes) I'm going to take full advantage of them every time," he said. "I appreciate coach getting more comfortable with me day to day. I'm working on being the best I can be. I'm just staying focused, working hard every day for coach. I'm trying to get my minutes that I deserve because I'm working."
Adams indicated there's a big difference between high school and college basketball.
"It's a very difficult transition," he said. "The guys are a lot more physical. It has to do with your focus and the effort you want to put in at times. They (coaches) watch that a lot. When I first got here, that wasn't my focus at all. I wasn't as focused as I should have been. My mind was somewhere else. Now I'm here and it's the right time for me to catch my focus. I'm giving my all. Any time coach puts me out there when my number is called I will give my all."
Adams said it's not difficult to be ready to enter games when called upon.
"Thinking positive, letting stuff roll off my back," he said are keys. "You are going to make mistakes. It's basketball. I treat it like I did when growing up. I would say all the veterans help me. They let me know what I didn't know when I first came here, to let it (criticism) roll off my back and keep playing hard."
Of Adams, KU coach Self said: "I think Rio could potentially be a good defender. He does some things on the ball that's really good, not as good off the ball. He is young and figuring things out, also. I want him to be a guy we can play and trust and do all that stuff 10 minutes a game. The reality is and he knows this, I've got to get where I trust him, not to do what we don't teach. He'll get there."
Halfcourt mania: Kansas Athletics uploaded a video to YouTube which shows KU's Naadir Tharpe and Ben McLemore hitting halfcourt shots at the end of a shootaround on Monday at WVU Coliseum in Morgantown, W.Va.
Oh yes ... KU director of operations Doc Sadler also hit a halfcourt shot in the video.
"It was definitely skill. It was not luck at all. For the right amount of money I could probably teach some of you how to do that," Sadler joked to the audience at Tuesday's weekly "Hawk Talk" radio show. "They're not talking about the dunk that I had. That's what everybody was more surprised about."
Seriously folks ... "I said, 'Let me have one shot at it and I'll show you how to do it,'" Sadler said, joking with Jayhawk players who had trouble converting from halfcourt. "It took me one shot. It didn't take 20. Again ... the dunk nobody has seen was probably a bit more impressive."
Recruiting Wiggins: KU coach Self visited Huntington (W.Va.) Prep on Tuesday to check in on Andrew Wiggins, a 6-7 small forward, JayhawkSlant.com reported. Wiggins, who is the No. 1 rated player in the Class of 2013, lists KU, Kentucky, Florida State, North Carolina and others. KU is also pursuing the No. 2 player in the class, Julius Randle, 6-9 power forward from Prestonwood Christian Academy in Plano, Texas.
Future: KU coach Self on Tuesday discussed his future with ESPN's Andy Katz. He was asked the question, "What would be your next move and who would you lean on for advice?" Self's answer: "If we're ever going to move again, which I certainly don't see, want or anticipate because we love it here, I would lean on my dad and my wife. And then maybe some experts in the field. I haven't looked at another situation seriously since I've been here. A lot was made of the Oklahoma State situation five years ago, but that was one that the timing was not right and I don't see the timing being right any time in the near future."
About possibly coaching in the NBA, he said: "I don't feel it. I can't say never because there have been a lot of people tell me that it would be an unbelievable situation to get into, and coaches yearn for that, but I think I've got a better job than a lot of guys in the league."
All-star game: KU signee Joel Embiid, 7-foot center from The Rock School in Gainesville, Fla., has been invited to play in the Jordan Brand Classic on April 13 in New York, The Rock School announced on Twitter.