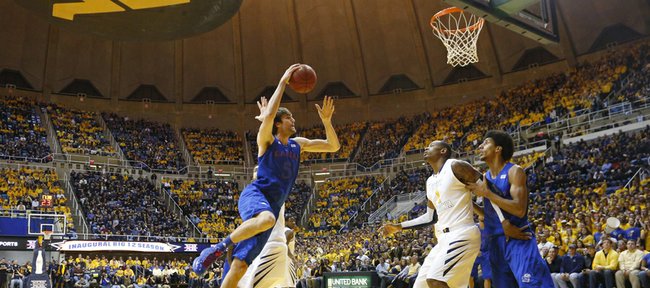 Photo Gallery
KU basketball v. West Virginia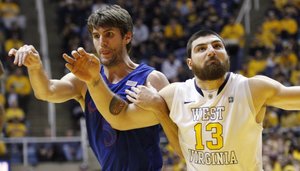 Photos from the Kansas men's basketball team's road game against West Virginia.
Podcast episode
Kansas coach Bill Self talks after his team's 61-56 win over West Virginia on Jan. 28, 2013.
Morgantown, W.Va. — Kansas University's new "monochromatic" men's basketball jerseys, created by adidas, will live to see another day.
"We don't have to burn 'em since we won," KU coach Bill Self said after the Jayhawks' 61-56 victory over West Virginia on Monday night in WVU Coliseum.
"But I don't know if we'll wear 'em again," Self added after a somewhat-scary game in which KU saw a 15-point first half lead dip to two in the second half.
Wearing blue tops and blue shorts and blue shoes with just a splash of red, the Jayhawks (19-1, 7-0) extended their winning streak to 18 games.
And they did it on a day they improved to No. 1 in one of the two national polls (USA Today). The Associated Press has KU at No. 2 behind Michigan.
"I like 'em," KU center Jeff Withey said of the new jerseys, which all adidas schools have agreed to wear at least once. "It's nice to have a little change now and then."
Withey scored 13 points the first half in his new duds, helping KU to a 38-30 halftime advantage. He also had two of his game-high four blocks in the last 24 seconds, single-handedly making sure West Virginia didn't cut into KU's narrow 61-56 margin.
"My teammates did a good job getting me the ball early," said Withey, who had 10 points as KU jumped to a 22-7 lead. "We didn't want them to score late. Their guards decided the first time all game really to go inside, and I was able to get a couple blocks."
Withey missed four of seven free throws on a night KU made 18 of 34.
"My free throws ... I've got to work on them more," Withey said. "I don't know if I'm rushing it or what. I've got to get in the gym and shoot 200 free throws and get it right."
Self realizes missed free throws can lead to teams' blowing 15-point leads on the road.
"If you make your free throws," Self said, "it turns out at least visually to be a much better game. If we make our free throws the first half (instead of going 10 of 19), we probably could have scored 44, 45 points."
KU freshman Ben McLemore scored six points (13 for the game) to increase a 46-44 lead to 52-46 at 9:04. Travis Releford hit a three, and the Jayhawks had rebuilt the lead to nine, 55-46, at 7:35. Of course, West Virginia (9-11, 2-5) never quit, cutting the margin to four points (60-56) at :24.5.
Kevin Young (seven points, 5-for-8 from line) hit one of two free throws at :24.4, making it necessary for Withey to play defense on the Mountaineers' final possession. Withey also tapped the ball out after the second of the two blocks, and KU ran out the clock.
"We got off to a great start. We were really locked in ready to play," Self said. "Probably as ready to play as we've been on the road at any time this year. We're up 16-4 or whatever (at 12:28), and it should have been 22-4.
"I mean, missing a couple of layups and free throws … and then we don't finish the half great, but it wasn't really because of poor play, it was because of missed free throws or just turnovers that led to baskets.
"You can never finish a half the way we finished it (on Elijah Johnson turnover and bucket to beat the buzzer by Jabarie Hinds). We didn't shoot the ball well from the free-throw line in the second half (8-of-15). We had some veterans play not very smart, then don't make free throws and made just some awful, awful turnovers. But, we kept them from scoring and did a good job defensively."
Self singled out Releford, who had 15 points off 7-of-9 shooting.
"Travis was terrific the whole game," Self said. "He guards their leading scorer in Big 12 play, he gets a goose egg from the field, and he (Travis) scores 15 points on eight shots. So he was by far our best player."
Releford held Eron Harris to two points off 0-for-5 shooting in 25 minutes.
"But we've got to be a lot tougher and do some things. But, hey, if you go 22 of 34 if you just shoot your free throws awful, we're still going to win by 10 or 12. And we would have taken that before the game. We just didn't shoot them awful tonight," Self said.
KU will meet Oklahoma State at 3 p.m. Saturday in Allen Fieldhouse.
White plays in front of family: Andrew White III, who is from Chester, Va., played six minutes in front of about 15 family members, including Andrew White I and II. He missed two shots and three of four free throws but had four boards.
This, that: Withey had four blocks and is seven shy of Greg Ostertag's school record 258. ... Prior to Monday, West Virginia had an 80.7 winning percentage against teams making their first visit to WVU Coliseum (126-31). ... KU grabbed 36 rebounds to West Virginia's 27, tying the Mountaineers season-low. KU has outrebounded 17 of 20 opponents. ... KU shot 54.1 percent (20-for-37), the ninth time KU has shot over 50 percent. ... KU held the Mountaineers without a field goal for more than seven minutes to start the game, jumping out to a 14-2 lead. WVU hit its first bucket at 12:36. .. KU hit 18-of-34 free throws (52.9 percent), most misses from the line this season (previously 11 at Ohio State and vs. Iowa State). ... Releford has contributed double-digit points in 15-straight games. His 15 points were his most in Big 12 play this season and his most in a league game since scoring a career-high 28 points at Oklahoma (1/7/12).