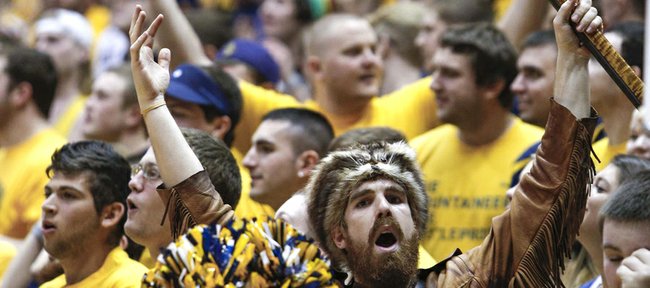 Morgantown, W.Va. — Someday, Kansas and West Virginia may become fierce Big 12 Conference basketball rivals.
As of today, however, the teams coached by Bill Self (two Final Fours, one NCAA title) and Bob Huggins (two Final Fours) classify as strangers preparing to meet for the first time in the history of the two proud programs.
"We've never made the trip to Morgantown. I hear it's a great home-court advantage they have," KU coach Self said of the atmosphere in 14,000-seat WVU Coliseum, site of today's 8 p.m. ESPN Big Monday clash between KU (18-1, 6-0) and WVU (9-10, 2-4).
"We've probably got to remind our guys about shooting the musket off and scaring them," Self added with a laugh.
It's a tradition for the Mountaineer mascot to fire a rifle while leading the players onto the field for West Virginia's home football games.
Who knows? Huggins may put in a request to blast the musket to wake up his struggling Mountaineers, who are in jeopardy of not making the NCAAs for the first time in Huggins' six years at his alma mater.
"I guess, in all honesty, winning has become expected. Losing is excruciatingly painful," Huggins said.
The former Kansas State, Cincinnati and Akron coach opened the season with a 709-268 career coaching record.
"My dad (Charlie, long-time high school coach in Gnadenhutten, Ohio) quit because the losing affected him so much," Huggins said. "If you go back, they played an 18-game regular-season schedule. He averaged over 20 wins for his career, so he didn't lose much.
"It's hard. It's like Saturday (in 79-52 loss at Purdue on Jan. 19). They take us off CBS (cut away late in game). We've done things I've never had anybody do. I've never had a team not compete like that.
"We've got guys jogging down the floor. At this time of year, I've never had to do that before (get on his players for lack of hustle). It was always ingrained. It's been a struggle to ingrain how hard you have to compete. When you are the 21st-worst shooting team in America (39.5 percent), you've got to play hard. We've got guys, they lose, it doesn't bother them."
Huggins, whose team has lost at home to Oklahoma and Kansas State and on the road to Iowa State and Oklahoma State (80-66 on Saturday), explained the hustle issue.
"I believe you get out of this game what you put into it. I think Kevin Noreen is a good example," Huggins said of the 6-foot-10 sophomore from Minneapolis. "Kevin physically is not near as gifted as anybody else on our team, but he puts so much into it. The truth is, he's getting a heck of a lot out of it. He's realizing his dream of playing big-time major-college basketball on television. He'll have three majors and a masters (degree) coming out of here. He'll get a great job coming out of here. He's invested in it. If you don't invest anything, why would you expect to get anything out?
"You can't win the lottery unless you buy a ticket. You can't get in the stock market unless you invest. If you don't invest ... obviously the more you invest the more you get out of it."
Some practices have been good this season, some bad.
"We should be in a stance snapping our head, slapping the floor. Instead, you go down, stand up and let guys go where they want," Huggins said of his defenders. "They (Mountaineers) know better. You put them in a drill, they know not to do that. They'd wear that treadmill out. You get in a game, it doesn't transfer for whatever reasons. A lot of that is personality."
The Mountaineers, who average 67.2 points a game, have a balanced attack. Aaric Murray (6-10 junior), Juwan Staten (6-1 sophomore), Terry Henderson (6-3 freshman) and Jabarie Hinds (5-11 sophomore) average 9.6, 9.6, 8.0 and 7.9 ppg respectively.
"We don't have aggressive people by nature. We have a whole bunch of laid-back, nice guys," Huggins said. "They'll do anything in the world for you. The reality is, a good portion of them ... this is not the most important thing to them. I am talking God, family and basketball, or like (Vince) Lombardi said, 'God, family and the Green Bay Packers.' That's the way it has to be.
"It's not that you don't have fun. I tell them, 'College is the greatest time of your life. Enjoy it, but take care of your business first.' You'd be dumbfounded. When guys come in, they're like, 'Gosh, I've got no time, man. I've got class, study hall, lifting (weights).' Let's think about this, 'You've got class three hours a day, study hall at the max two hours a day and lifting an hour. That's six (hours). That's 18 hours (free). I don't know what's wrong putting another hour or so in and maybe work on your game. You should have enough time to have some fun and get some sleep, you'd think."
The colorful Huggins has a huge fan in Self.
"Huggs back in the league gives it an unbelievable element," Self said.
"He has a typical Huggs team," Self said. "They play fast (and) drive it, drive it, drive it. You've got to be able to guard the ball in transition. They'll rebound it. It'll be a very physical game, probably one of the more physical games we've played this year. We'll have to play better, going on the road."
Uncommon foe: KU's Travis Releford on playing West Virginia for the first time in history: "At first, it's not going to feel like a Big 12 game because we haven't played in that building."
How will they look?: The Jayhawks tonight will wear special jerseys provided by adidas. The "tone-out" jerseys have been described as featuring a "more aggressive Crimson and Blue." They will only be worn during the West Virginia game. KU also will wear "tone-out" warm-ups and shoes.
Hinds due: West Virginia's Hinds, a 5-11 sophomore from Mount Vernon, N.Y., has hit 33.3 percent of his shots (58 of 174). He has made 16 of 62 threes for 25.8 percent. He has 33 assists against 33 turnovers.
Last year, Hinds averaged 7.4 ppg off 41.9 percent shooting. He made 25 of 78 threes for 32.1 percent.
"I went 4-for-18 at Texas. I've got to find a groove, and I'll be OK," Hinds said. "My numbers have been down. It's a mind thing, confidence. If I keep shooting, it'll eventually go in. I'll keep working on it and get comfortable.
"We stick together on and off the court. If we keep doing that, we should be fine," Hinds added.