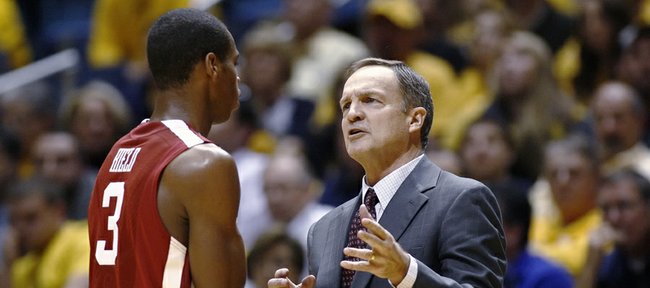 Some might consider it shocking that Kansas University and Oklahoma will be playing for first place in the Big 12 Conference today.
Lon Kruger's second OU team (13-4 overall), which was picked to finish seventh in the Big 12 preseason basketball coaches poll after placing eighth in 2011-12, enters a 3 p.m. battle in Allen Fieldhouse with a 4-1 record in league play.
The Sooners are tied with Baylor and Kansas State and just a game behind preseason-favorite KU (17-1, 5-0), winner of eight-straight league crowns.
"Every game in conference is a battle for first place. That's how we are taking it," said KU senior forward Travis Releford. He scored 12 points in Tuesday's 59-55 victory at Kansas State, which also was billed as a battle for the top spot in the league. "Oklahoma is a good team. They are very athletic. It's going to be a tough game," Releford added.
The Sooners — they went 15-16 overall and 5-13 in the league last season — are back on track under the direction of 60-year-old Kruger, who is trying to become the first coach in history to lead five schools (Kansas State, Florida, Illinois, UNLV, Oklahoma) to the NCAA Tournament.
"Consistency ... he's the same all the time, at least from the outside looking in," KU coach Bill Self said, asked what makes his predecessor at Illinois so effective.
"He is cool on the bench, which I'm sure translates to practices. His players know that he cares about them and he has a great way with people. He's not an emotional roller coaster like I can be sometimes. He's pretty low key and stable. He's a terrific coach," Self added.
Silver Lake native Kruger, who has a 507-323 record in 27 seasons, also is a stellar recruiter.
"When I went to Illinois in 2000, they had only won two Big 10 titles since the 60s or early 70s — 1984 and '98 — and that was one of Lon's teams," Self said. "The guys he left behind ... he left us guys," Self exclaimed, rattling off the names of McDonald's All-Americans Marcus Griffin, Frank Williams, Brian Cook, Sergio McClain as well as Robert Archibald and Lucas Johnson among others.
"It was a perfectly built Big 10 type team. I never once said a negative word about inheriting that situation at all because it was all positive," Self added. "He loved those kids and was 100 percent supportive of us."
This year's OU team has double-digit scorers in Romero Osby, a 6-8 senior from Meridian, Miss., who averages 14.5 points and 6.5 rebounds; Steven Pledger, a 6-4 senior who averages 11.0 ppg and Amath M'Baye, a 6-9 junior who averages 10.2 points and 5.6 rebounds.
"They've recruited well. Guys who have given us fits like Fitzgerald (Andrew, 6-8, senior, 5.6 ppg) are coming off the bench. They are more athletic, deeper and they are young and have energy and really guard," Self said. "They are sound defensively."
KU, which is 17-4 versus OU since the formation of the Big 12, has won 11 straight against the Sooners in Allen Fieldhouse. OU's last victory here came as an unranked team in 1993 — an 80-77 win over the No. 6 Jayhawks. KU overall has won nine in a row in the series.
"The (No. 3-ranked) Jayhawks are very good — a top-three or four team in the country right now," said Kruger, who is 5-12 versus KU, including 0-2 while at OU; Self is 10-3 against OU, 10-1 while at KU. "They've got a lot of very good players and Allen Fieldhouse is a great atmosphere. We'll have to do things better on both ends of the floor; maintain our composure, move the ball, try to limit them to one shot each time down and do a good job taking care of it on our end."
M'Baye, a transfer from Wyoming who hails from Bordeaux, France and was named Big 12 preseason newcomer of the year, said KU is, "a very, very, very tough team. They had many consecutive home wins (32), but I'm definitely confident in our team. It's going to be a big test for us, but it's also going to be a lot of fun. That's what the Big 12 is all about. Hopefully we can pull off an upset."
Osby, who is ranked second in league games in scoring (19.2 ppg), said: "They're a top-three team in the country and they're not rated there by mistake. We've just got to come out and play as hard as we can possibly play, take care of the ball, rebound the ball and just get some things to go in our favor."
115 years: KU will host its 115 years of basketball celebration during the KU-TCU game on Feb. 23 in Allen. Former KU coaches, players and managers will be recognized at halftime. In honor of the 25th anniversary of the 1988 national championship, the 2012-13 Jayhawks will wear retro '88 uniforms and warmups. Former KU/NBA great JoJo White will autograph his book "Make It Count" before the game in the Booth Family Hall of Athletics.
Following the game, there will be an invitation-only dinner for the former KU coaches, players and managers. 
No. 800 is today: Today's game will be the 800th regular-season KU men's basketball game contested in Allen. KU is 692-107 in the building. Self's teams are 155-7 in Allen for a 95.7 winning percentage. The Jayhawks are 101-1 in the last 102 games. Self has won more conference titles (eight) than lost home games (seven) while at KU. KU has won 63 consecutive games in Allen Fieldhouse against non-conference foes.
Coaches wear sneakers: Both coaching staffs will wear sneakers with their suits in honor of the Coaches vs. Cancer program sponsored by the National Association of Basketball Coaches (NABC).
All kind of ways to win: KU sophomore Naadir Tharpe on KU scoring — and winning — in the 50s and 60s the last four games:
"We will not always score in the 70s. We'll score in the 50s. We have to take it how the game goes," Tharpe said. "It shows we can do it a majority of ways. We don't have to score a lot of points every game. Points do not win the game. Defense is what everybody cares about."
Of OU, he said: "I anticipate them coming in ready to play. I feel they will come in feeling they can win this game, which everybody comes in thinking. We can't let them gain confidence, especially in our building. We have to come at them first."
Jackson to China: Former KU forward Darnell Jackson has signed to play for the Xinjiang Flying Tigers in the Chinese Basketball Association, sportando.net reports. Jackson had been playing for Reno in the NBA Development League.