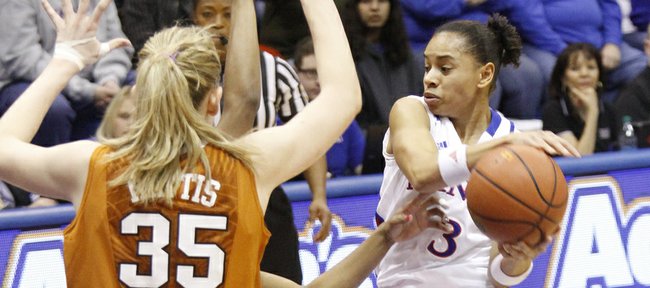 When the Kansas University women's basketball team welcomes No. 12 Oklahoma State to Allen Fieldhouse for an 8 p.m. tipoff tonight, it will take the court for the first time with three players in the 1,000-point club in the starting lineup.
The trio became complete last Wednesday when senior point guard Angel Goodrich joined fellow seniors Monica Engelman and Carolyn Davis in eclipsing the milestone with a 20-point night in a rout of Texas.
The three Jayhawks have traveled their own paths to get to this point, but all three, along with KU coach Bonnie Henrickson, said finally being in the club together made for a special memory.
"I don't know a lot of teams who can get all their seniors to get to that point," Davis said. "We've all been through so much, Angel with her knee injuries, Moni' with her tough year and then my knee injury. I think that just makes it more special to know that you worked for that 1,000 and it wasn't just something where you came in and dominated."
Henrickson said she thought the one thing that allowed all three players to reach the mark together was the fact that all of them were tossed into action early in their careers. Goodrich was the team's undisputed point guard the minute she set foot on campus, but injuries stole opportunities from the dynamic player during her first couple of seasons. Davis and Engelman cracked the starting lineup as freshmen but only after injuries to upperclassmen helped clear the way.
"When you get on the floor and play significant minutes your freshman year, I think you start to think that quick," said Henrickson when asked if she knew back then that all three could one day join the exclusive club that has just 26 members. "It's really cool. The contribution those three have made to the program throughout their careers, in so many ways, that's pretty special that they're in there."
Although Goodrich was the last of the trio to reach the milestone, the others said they did not put any extra pressure on her or talk any trash about playing catch up. Henrickson may have been the one person in the locker room most eager for it to happen, but only because of a catchy nickname she thought up.
"Coach was calling us '3G' when we came out of the locker room," Goodrich said after Wednesday's victory against Texas. "I know she was thinking about that for a long time."
Davis, Engelman and Goodrich have been a huge part of Henrickson's program during the past few seasons and certainly are the foundation of this year's team, which will be looking to avenge its Jan. 8 loss to Oklahoma State (14-3 overall, 3-3 Big 12) tonight.
While Davis and Engelman reached the milestone first, Henrickson said none of the three would have reached it without the steady play and constant improvement of Goodrich.
"Think about how many points she's involved with," Henrickson said. "I mean she scores 1,000 and is responsible for thousands when you think about the assists and the extra steals."
Even though Goodrich's role was more clearly defined much earlier than the other two 1,000-point scorers, her presence as a pass-first point guard had some wondering if she ever would be much of a scorer. Henrickson, whose team sits 12-5 overall and 3-3 in Big 12 play, was one of those people, but rather than continuing to wonder, the KU coach approached her point guard about looking to score more.
"After her sophomore year, we met in the spring and I said it and she was saying it at the same time," recalled Henrickson of the conversation about Goodrich becoming a bigger part of the Jayhawks' offense.
From that point on, Goodrich went to work in the gym and has not stopped working since. During the summer before her junior season, she transformed herself from a below-average three-point shooter into a bona fide weapon, jumping from 18 to 36 percent. And in the last season and a half she has become one of the top guards in the country. None of it has changed Goodrich one bit, though, even if she did let down her guard to smile about her recent accomplishment.
"It means a lot to have this memory," Goodirch said. "I'm not worried about points, though, I'm just worried about playing for my team and helping us win."
As for their overall legacy, there's still time to work on that, but Davis admitted that she had thought about adding to the three red jerseys that hang in the Allen Fieldhouse rafters.
"That's the goal," said Davis said of joining Lynette Woodard, Tamecka Dixon and Angela Aycock as the only KU women to have their jerseys retired. "But that's not up to us."