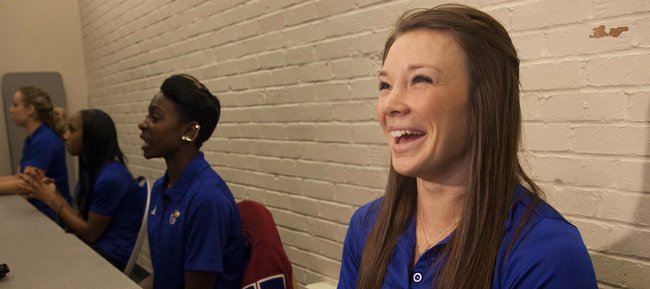 If the Kansas women's track and field team isn't the happiest squad in the history of sports, it at least belongs in the conversation. These athletes stop smiling just long enough to train and compete. Then the smiles jump back onto their faces.
"We're excited about this season," senior All-American horizontal jumper Andrea Geubelle said. "It'll be a good one. We're all having a good time with it."
The sport requires such intense training that burnout often comes into play, but it's nowhere to be found with this group. They really do know how to whistle while they work, a quality that survives the huge expectations they place on themselves.
"We're winning," Geubelle said of the NCAA indoor championship, March 8-9 in Fayetteville, Ark. "Diamond (Dixon) and I have talked about it. We're a national-championship team."
The Kansas women finished second to Oregon at last year's NCAA indoor national championship. Geubelle won the triple jump and placed eighth in the long jump. She thought she had won the outdoor triple jump at the NCAA championship, only to find out well after the event had ended that her winning jump had been ruled a foul. Geubelle finished third at the U.S. Olympic trials.
She tends to talk about the strength of the team before getting around to talking about her individual goals.
"We should win a national championship," Geubelle reiterated. "I know Clemson's ahead of us right now (in the rankings). And (Texas) A&M; has a huge recruiting class. We may not have gotten the No. 1 recruits out of high school, but we got a ton of recruits who have the chance to score little points at NCAAs and also big points at NCAAs."
Geubelle and friends will compete today in Anschutz Pavilion in the fourth annual Jayhawk Classic, which features more than 40 teams and gets under way at 9 a.m.
Key recruits include sprinter Alisha Adair, Kentucky's reigning girls track and field athlete of the year and the daughter of Christian Adair, a record-breaking sprinter at Lawrence High who attended Kentucky on a track scholarship.
As with any successful program in any sport, the veterans forever have an eye on bringing the stars of tomorrow along, pushing and encouraging them every step of the way.
"We didn't lose by that much last year, so I think if the other seniors and I and Diamond and the juniors can pick up the freshmen and sophomores, there should be no doubt we should be contending for a national championship this year," Geubelle said. "We took nine girls to indoors and 15 to outdoors. That's nothing. That's no comparison to what we should take this year. We were beating teams that took double that to NCAAs, so we have some great talent and fierce competitors."
Geubelle is both and she sets individual goals every bit as aggressively as her team ones.
"I'm going for the American records," Geubelle said. "Funny thing about me, I'm still not jumping right. I'm 21 years old. A triple-jumper doesn't peak until she's 26, 27 (in terms of) just body maturity."
Track and Field News ranked Geubelle third in the country in the triple jump in 2012. Amanda Smack, 30, was ranked first, Sheena Gordon, 29, second. The top three in the world rankings are 28, 28 and 29.
It wasn't long ago, Geubelle said, that her KU jumps coach Wayne Pate told her, "You're jumping 45, 46 feet and you still haven't fixed anything that I've told you to fix. You're still jumping off speed and strength."
She is beginning to apply Pate's lessons, which gives her confidence she soon will be the indoor and outdoor American record holder in the triple jump.
"Technically, I'm starting to figure it out," she said. "My body's starting to remember it at meets."
Even cooler than that, her soul never forgets to smile.