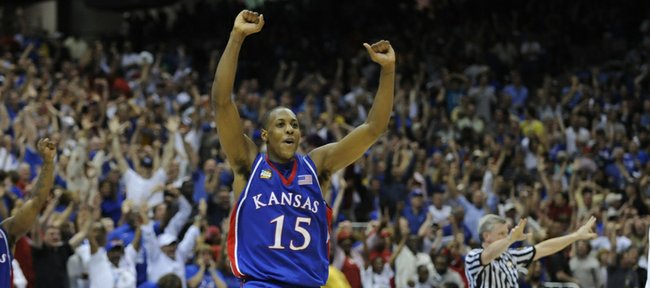 Former Kansas University basketball guard Mario Chalmers, whose three-pointer against Memphis sent the 2008 NCAA championship game into overtime, on Feb. 16 will become the first member of the title team to have his jersey hung in the Allen Fieldhouse rafters.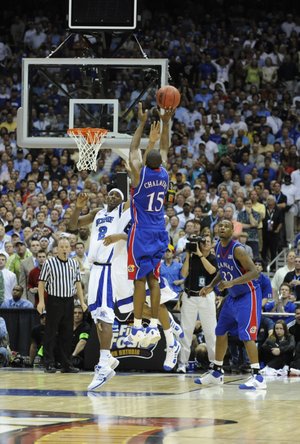 "I have seen the shot more than you guys (media) have, believe it or not, and it still gives me goosebumps," KU coach Bill Self said Thursday in announcing jersey No. 15 will be unfurled at halftime of the KU-Texas game.
"I think he is probably liked or loved as much as anybody in large part because of who he is, but also the shot obviously didn't hurt at all," Self added. "I'd say he, moreso than anybody because of that moment, probably is more recognized.
"We've had more dogs and first-borns named 'Mario' or 'Rio' than probably anybody else we've had here," 10th-year coach Self added, smiling.
Self said Chalmers, the Most Outstanding Player of the 2008 NCAA Final Four, is the most clutch player he's coached at KU.
"Absolutely," Self said. "I would put Sherron (Collins) probably second. Hopefully we can have somebody else step up and be like him in late-game situations, but he made a lot of big plays for us."
The 6-foot-2, 190-pounder, who earned an NBA title ring with the Miami Heat last season, is also "best" in another KU category.
"He was the best stealer of the ball I've seen in my life," Self said of Chalmers, who ranks second on KU's all-time steals list (283 from 2006-08), trailing only Darnell Valentine, who had 336 thefts from 1978-81.
His 1,341 three-year Kansas point total ranks 27th on KU's scoring list and he also is among the school career records in three-pointers made (seventh, 180) and assists (14th, 420).
"He was great defensively and he anticipated as well as anybody. He had an orneriness and toughness that a lot people didn't see because they saw the smile. He was an assassin on the court," Self noted.
Chalmers, a McDonald's All-American out of Anchorage's Bartlett High, said this honor classifies as a dream come true.
"One of my goals when I first came to KU was to make a name and make sure my name lasts forever in Kansas history," Chalmers said. "It means a lot to me, being up there in the rafters with guys like Paul Pierce, Drew Gooden, Wilt Chamberlain. It's a great accomplishment and makes me proud to be a Jayhawk."
He remembers gazing into the south rafters as a recruit.
"The first time would probably be Late Night 2004. Just being there for the first time, experiencing the atmosphere, just seeing what KU was all about," he said of thinking about becoming a KU great.
As to how he accomplished the feat ... "Just by working hard every day," Chalmers said. "I had great teammates. We had a family atmosphere, great coaching. It was a great system at KU."
As far as future members of the 2008 team who may also be honored, Self said: "He (Chalmers) is a special kid. We had so many special guys on that team. He'll be the first one off that team that has his jersey retired. We'll see if there are any others after that. I'm certainly very proud of him."
Former KU consensus All-America honoree Wayne Simien (2002-05) was the last Jayhawk to have his jersey hung in the 2010-11 season.
Guidelines: Here are jersey retirement guidelines as stated in KU's 2012-13 media guide:
"The concept of retiring the jerseys of outstanding Jayhawk basketball players was initiated prior to the 1991-92 season, when banners honoring Clyde Lovellette, Danny Manning, B.H. Born, Charlie Black, Paul Endacott, Wilt Chamberlain and Charlie Black were unveiled in the south end of Allen Fieldhouse. The original criteria for a retired jersey included KU players named college basketball player of the year, most valuable player of the NCAA Tournament or being named a four-time All-American. The list was expanded in 1997 to include Ray Evans, who holds the distinction of being an All-American in both football and basketball.
Kansas Men's Basketball Retired Jerseys
Tus Ackerman • 1923-25
Charlie B. Black • 1942-43, 1946-47
Charlie T. Black • 1922-24
B.H. Born • 1952-54
Bill Bridges • 1959-61
Wilt Chamberlain • 1957-58
Nick Collison • 2000-03
Paul Endacott • 1921-23
Howard Engleman • 1939-41
Ray Evans • 1942-43, 1946-47
Max Falkenstien • 1946-2006
Drew Gooden • 2000-02
Gale Gordon • 1925-27
Kirk Hinrich • 2000-03
Raef LaFrentz • 1995-98
Clyde Lovellette • 1950-52
Danny Manning • 1985-88
Al Peterson • 1925-27
Paul Pierce • 1996-98
Fred Pralle • 1936-38
David Robisch • 1969-71
Wayne Simien • 2002-05
Bud Stallworth • 1970-72
Darnell Valentine • 1978-81
Jacque Vaughn • 1994-97
Walter Wesley • 1964-66
Jo Jo White • 1966-69
Kansas Women's Basketball Retired Jerseys
Angela Aycock • 1992-95
Tamecka Dixon • 1994-97
Lynette Woodard • 1978-81
"The criteria were expanded prior to the 2002-03 season to include consensus first-team All-Americans, two-time first-team All-America selections and Academic All-Americans of the Year."
KU officials said Thursday that the athletic director has the authority to adjust the criteria in special circumstances. In other words, a Jayhawk great can have his jersey retired without meeting one of the above guidelines.
"Mario definitely deserves to have his jersey hung," Self stated. "He was the most outstanding player in a 2008 Final Four, which featured four No. 1 seeds. He was a guy that seemed like the bigger the stage, the brighter he shined. Mario cares about winning. Points are great and steals are great and he was the best stealer of the ball we've ever had here, but he cares about winning.
"Guys that play here understand that winning trumps everything and he understood that. Brandon (Rush) understood that, Shady (Darrell Arthur), Sherron (Collins), Sasha (Kaun), Darnell (Jackson), Russell (Robinson), they all understood that. That is what made that (2008) team so cool. There were games when Mario would take four shots in a game and I'd say, 'Shoot the ball' and he'd say, 'Why? Everybody else is making shots.' It was such a fun team to be around, but he was clutch. Everybody throughout his tenure here would ask me who's our go-to guy and in our players' minds there was never a doubt who our go-to guy was. There are not many guys out there, regardless of the school, that have held that distinction.
"I'm proud of the career he has had since he left here. Being a world champion and a national champion, there's not too many people that could have that distinction. He was an absolute treat to coach. He had great teammates and they all liked each other. It was such a fun time to be around. We're all so proud of what he accomplished," Self added.
Winning's the ultimate goal: Self is amused there's been some discussion of the fact his team (17-1 overall, 5-0 Big 12) has scored in the 50s or 60s four straight games.
"I think so many times we get hung up on maybe not looking great and winning on the road and people think that's a big deal. Really, any win on the road is a big deal," said Self, whose Jayhawks next meet Oklahoma (13-4, 4-1) at 3 p.m., Saturday, in Allen. "Everything is so distorted when you look at it statistically. I'm watching TV the other day and they are talking about how great Georgetown's offense is against Notre Dame, (that it is) great, hard to guard and they score 65 points. Then you talk about us, how lame our offense is and we score 65 points. ... I love to rip and run and play fast and do all those things, but seems to me sometimes that's not the best formula to win on the road because if those possessions go awry all it does is give the home team the advantage."
No. 1 coming?: Considering No. 1 Duke lost, No. 3 KU could move to No. 1 in the polls next week. Michigan is No. 2.
"No, no, no," Self said if it is a goal to be No. 1 during the season. "We were on the bus, on the plane the other night and you had young kids that said, 'Why couldn't we be No. 1 when Louisville lost?' And you had a fifth-year guy, Travis Releford, say, 'Hey guys, we're right where we need to be.' So I think that's fine to be where we're at. It would not disappoint me or thrill me either way to be really honest."
Noted Releford: "I've been on No. 1 teams for the whole year and end up losing first round. Being No. 1 this early in the season doesn't mean much. The standings are where they are right now. We are just going to continue to play how we are."
This, that: Saturday's game will be the 800th regular-season contest played in Allen Fieldhouse. KU is 692-107 in the building. ... A member of KU's coaching staff on Thursday attended a game of Leron Black, a 6-7, 215-pound power forward from Memphis' White Station High, jayhawkslant.com reported. He is ranked No. 15 in the Class of 2014.