Photo Gallery
KU basketball v. Kansas State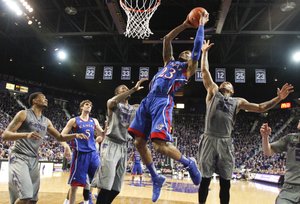 Images from Tuesday night's game against Kansas State in Manhattan.
Podcast episode
Kansas coach Bill Self talks after the Jayhawks' 59-55 victory over Kansas State on Jan. 22, 2013.
Podcast episode
Kansas seniors Travis Releford and Jeff Withey talk to reporters following the Jayhawks' 59-55 victory over Kansas State on Jan. 22, 2013.
Podcast episode
Kansas State coach Bruce Weber and guard Rodney McGruder talk after the Wildcats' 59-55 loss to Kansas on Jan. 22, 2013.
Manhattan — Naadir Tharpe stepped to the free-throw line with 22 seconds left and Kansas University nursing a 56-53 lead over Kansas State on Tuesday night in Bramlage Coliseum.
Was the sophomore backup point guard nervous at all as he toed the line, the fans shaking the building while trying to distract him?
"Not at all. I just knew I had to go and take my time and make the free throws," said Tharpe, who hit both to give KU a 58-53 advantage down the stretch. The Jayhawks went on to win, 59-55.
He desperately wanted to make up for a bad experience at the line.
"I just thought about the time in AAU ... my last year in AAU we were in Las Vegas. I missed two free throws to go to the championship," Tharpe said. "That's all I think about every time I go to the free-throw line. That's something I thought about, definitely. I finally had another chance to make it happen again. I was focused and knocked 'em down."
Tharpe finished with six points off 2-of-7 shooting (0-for-4 from three) with two assists, a turnover and steal in 18 minutes.
It was a pass
Kevin Young banged a lob pass to Jeff Withey off the backboard with five minutes left and KU up, 54-49.
"It was a pass, a horrible pass," Young said, asked if it was a pass or a shot. "I threw it too hard, and Jeff didn't have a chance to get it.
"They called it a shot," Young added of statkeepers, smiling. "That's fine with me. I didn't get a turnover."
Young had a stickback of his own inside miss to beat the halftime buzzer and give KU a 31-27 lead at halftime.
"Perry (Ellis) gets credit for that," Young said. "He tipped the ball and kept it alive, and I was able to put it back in. It gave us energy."
Ellis finished with eight points and four boards in 18 minutes. He did miss four of six free throws, but hit three of four floor shots; Young had three points off 1-of-6 shooting with six rebounds, two assists and a turnover in 30 minutes.
Big game for flu-ridden big man
Withey scored 11 points off 3-of-6 shooting and grabbed 10 rebounds. He also hit five of six free throws and played 31 minutes, showing no effects of the flu bug that bit him at the team hotel Monday night.
Small world
KU teammates Justin Wesley and Rio Adams recently found out they were related. Rio is a second cousin to Brittany Langford, wife of Wesley's brother, former KU guard Keith Langford. Brittany's grandfather and Rio's grandmother are brother and sister.
Jinx over
KU entered the game with an 0-3 record on Jan. 22 during the Bill Self era. KU lost on that date to Richmond, Villanova and Texas.
Winter goes to shootaround
Former KSU coach Tex Winter, 90, stopped by the Jayhawks' shootaround and was introduced to KU's team.
Stats, facts
KU is 5-0 in Big 12 play for the second-straight season and the sixth time under Self. ... KU has won 45 of the last 48 meetings with KSU dating to the 1994 season. The Jayhawks have won 10 of the last 11. KU is 184-91 all-time against KSU, including 75-45 in Manhattan (23-2 in Bramlage Coliseum). ... KU scored a season-low 59 points, its lowest scoring output since scoring 59 points in the 2012 national championship game (59 vs. Kentucky). ... KU shot 44.4 percent (12-for-27) in the first half, its highest shooting start in a Big 12 road game and the second-highest in conference play (48.3 percent vs. Iowa State). ... KU outrebounded KSU 35-28. ... KU has held KSU to 55 points or fewer in the last three meetings. ... For the first time in 28 games, Withey was not credited with a block. ... Despite feeling the effects of the flu, Withey recorded his 13th career double-double and his seventh on the season, second only to Melvin Ejim of Iowa State's eight in 2012-13. ... Ellis had seven points by halftime — his highest output since scoring 11 vs. American (12/29). He finished with eight points. ... Ben McLemore was whistled for two offensive fouls in a less than 90-second span (10:35, 9:22) and was benched for the remainder of the first half. After scoring two points in the first half, he scored nine in the second. Self said he considered putting McLemore back in the game the first half with two fouls, but at the suggestion of assistant Kurtis Townsend, waited to see if McLemore was needed the rest of the half. ... Tharpe is 4-for-4 in free throws in the last five minutes of games this season.
Trade
Former KU guard Josh Selby was traded by Memphis to Cleveland on Tuesday. The full deal sent Selby, Marreese Speights and Wayne Ellington to the Cavs for Jon Leuer and a trade exception. Selby, a second-year pro, was picked in the second round by the Grizzlies in the 2011 draft. He has appeared in 10 games in this season and also played in the NBA Developmental League.