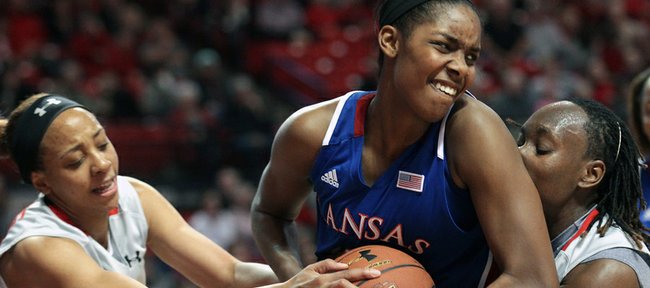 Document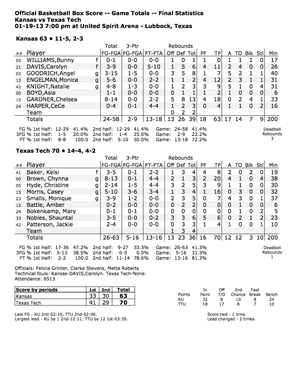 Lubbock, Texas — The 23rd-ranked Kansas University women's basketball team lost its third straight game Saturday night, 70-63 to Texas Tech at United Spirit Arena.
Sophomore forward Chelsea Gardner led the Jayhawks (11-5 overall, 2-3 Big 12) with 18 points and 13 rebounds off the bench. Kansas fell behind, 9-2, in the first three minutes and trailed 41-33 at the half before mounting a second-half comeback. Gardner filled in for senior Carolyn Davis (11 points, six rebounds), who played just eight minutes in the first half after picking up two personal fouls and a technical with 11:57 remaining.
Senior guard Angel Goodrich was scoreless at intermission but combined with Gardner to score 11 of KU's next 15 points to give the Jayhawks their only lead of the game, 48-47, with 12:11 remaining. The Red Raiders (14-4, 4-2) responded with a run of their own as Chynna Brown (game-high 20 points) put Texas Tech ahead for good.
The Jayhawks pulled within 65-63 on a Davis free throw with 1:20 to play, but Kansas wouldn't score again. Texas Tech sealed the victory with five free throws in the final minute.
Goodrich finished with seven points on 3-of-15 shooting, eight rebounds and five assists. Monica Engelman added 12 points and Natalie Knight had nine for the Jayhawks, who return home to host Texas at 7 p.m. Wednesday.