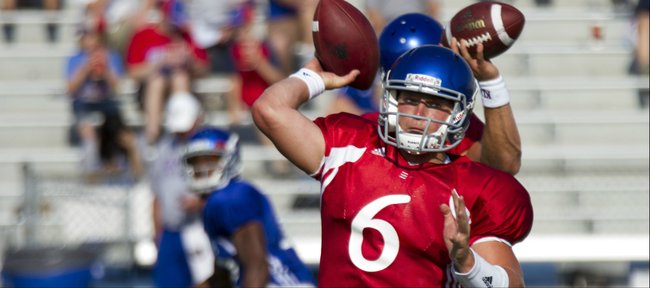 Kansas University quarterback Turner Baty, a 6-foot-2, 215-pound sophomore who joined the Jayhawks before the 2012 season after transferring from City College of San Francisco, has decided to return to CCSF.
"With Jake Heaps and Michael Cummings both competing for time at the quarterback position, I have decided it would be in my best interest to go back to City College of San Francisco and get some game experience," said Baty of the school he helped lead to a juco national championship in 2011. "I have not ruled out the idea of returning to Kansas after getting a season of play under my belt. I love it here and I want to thank everyone in the Jayhawk community for their support."
Despite KU's persistent struggles at quarterback during 2012, Baty never was able to work his way into the mix and spent most of his red-shirt season working with the scout team.
Throughout his one year in town, Baty was very outspoken about his fondness for his new home.
"This decision was really tough because I truly love KU and love Lawrence and, most of all, my teammates," Baty said.
In the same news release, KU coach Charlie Weis referred to Baty's talk of a possible return in the future.
"We would like to thank Turner for his participation in our program this year," Weis said. "We wish him well upon his return to junior college. After meeting (Saturday) we agreed that a return to KU is a possibility."
Baty played just one season at CCSF before transferring to KU and, therefore, has three years of eligibility remaining and three years to use them.
His absence leaves KU with just two quarterbacks with college playing experience. Heaps, a junior-to-be, played a season at BYU before sitting out after transferring last year, and Cummings, who will be a sophomore in 2013, started five games — and played in eight — for the Jayhawks last fall.
High school QB commitments Jordan Darling and Montell Cozart will bring added depth to the position when they make their commitments to KU official on national signing day, Feb. 6.