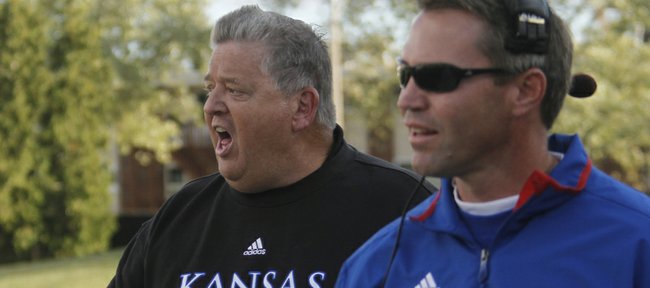 Kansas University football special-teams coordinator Clint Bowen will take over as the Jayhawks' linebackers coach and will replace DeMontie Cross, who is heading to TCU to take a similar job with the Horned Frogs.
Sources confirmed Cross' departure to the Journal-World on Friday morning, and, a few hours later, the school released a statement that outlined Bowen's new role.
The shift leaves one spot open on head coach Charlie Weis' coaching staff, but KU officials did not give any indication of how or when the opening would be filled.
The KU football office already has fielded calls about the opening, and a reasonable guess as to when the vacancy might be filled suggests sometime after national signing day (Feb. 6) but before the start of spring practice (March 5).
Cross, who played college football at Missouri and later coached at MU, Iowa State, Wisconsin and with the NFL's Buffalo Bills before coming to Kansas, was hired by Weis a year ago today.
Bowen, who coached the Kansas safeties last season and was KU's defensive coordinator from 2007-09 under Mark Mangino, has experience working with linebackers during his nearly two decades in coaching.
All-star action
Seven former Jayhawks will don KU helmets one final time today in a pair of postseason all-star games played on opposite coasts.
Bradley McDougald and Tanner Hawkinson will play in the 88th Annual East-West Shrine Game at 3 p.m. today at Tropicana Field in St. Petersburg, Fla.
The game, which features some of college football's top talent, is the main event in a weeklong adventure that mixes football and philanthropy in the St. Pete area and benefits more than 20 Shriners Hospitals nationwide.
McDougald and Hawkinson are the ninth and 10th Jayhawks to compete in the Shrine Game all-time. The game will be shown live on NFL Network.
A little later, on the West Coast, five former Jayhawks will participate in the NFLPA Collegiate Bowl in Carson, Calif.
Quarterback Dayne Crist, offensive lineman Trevor Marrongelli and defensive end Toben Opurum will suit up for the National team, while defensive end Josh Williams and offensive lineman Duane Zlatnik will play for the American Squad.
The five former Jayhawks spent the past week near Los Angeles going through practice and learning the ins and outs of life in the NFL from former coaches and players, including former Kansas City Chiefs coaches Herm Edwards and Dick Vermeil.
Kickoff is scheduled for 5 p.m., and the game will be televised live on ESPN2.
Walk-on tryouts
KU officials announced Friday that the football program would host walk-on tryouts on Jan. 31 for any full-time KU students with a 2.75 grade-point average or higher.
Anyone interested is encouraged to contact Scott Vestal, KU's assistant director or football operations via email at svestal72@ku.edu.