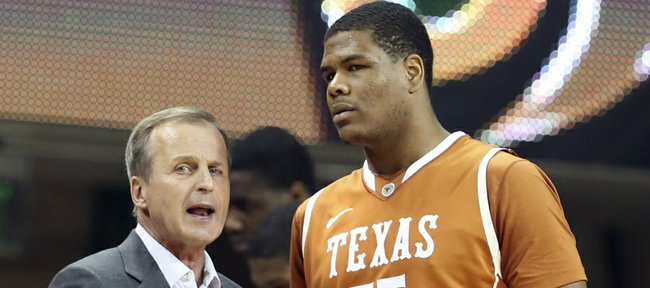 Austin, Texas — Kansas University basketball coach Bill Self has a message for those who have buried the 2012-13 Texas Longhorns three games into the conference season.
"It's early. It's early," Self said. "North Carolina started 0-2 in the league (ACC) in 2009 and won the national championship. It's not uncommon to see good teams or good programs get off to rough starts. This isn't indicative of how great their program has been. They'll get it back. Rick will get it back. I just hope it doesn't happen Saturday."
Coach Rick Barnes' Longhorns (8-8 overall, 0-3 Big 12) occupy ninth place in the Big 12 standings. They will play host to first-place KU (15-1, 3-0) at 1 p.m. today in Erwin Center. The traditionally tough Longhorns are 0-3 in the league for the first time in the 15-year Barnes era. It's the first time a Barnes team has had a losing record after three games. Texas has been 3-0 in the conference nine times and 2-1 five times.
"I think any time you lose a quality player like Kabongo, it'd hurt any team," Self said of sophomore point guard Myck Kabongo, who is suspended until Feb. 13.
"They are arguably right there among the younger teams in the country (with seven freshmen, five sophomores). They are very capable of beating folks, as evidenced of what they did to Carolina (85-67 home victory on Dec. 19)."
Still, Texas must start winning — and winning big — or see its string of 14 consecutive NCAA Tournament bids snapped.
The Jayhawks lead the country in consecutive NCAA Tournament appearances (23), followed by Duke (17), Michigan State (15), Texas (14), Gonzaga (14) and Wisconsin (14).
Barnes' 17 consecutive trips to the tournament (including three straight bids at Clemson) tie Duke's Mike Krzyzewski for longest streak of all active coaches. KU's Bill Self's streak is 14 years and counting — nine NCAA Tourney berths at KU, three at Illinois and two at Tulsa.
"If they aren't going to do what we ask them to do, we aren't going to win," Barnes said. His squad, which lost to Chaminade at the Maui Invitational, in conference play has fallen at Baylor (86-79, OT), at home to West Virginia (57-53, OT) and at Iowa State (82-62).
"We don't have a big margin of error. If we continue to give up second shots and not do the things that are going to make us more precise on the offense, we aren't going to win. Our (defensive) numbers are pretty impressive, but when you look at it from a coach's standpoint, we aren't nearly where we should be. It takes all five guys. I would say Sheldon (McClellan, 14.3 ppg) and Javan (point guard Felix, 9.4 ppg, 6.3 assists per game) are the two guys that have to take it to a different level defensively as far as getting out of their comfort zone."
McClellan, a 6-foot-4 sophomore from Houston, and Felix, a 5-10 freshman from New Orleans, faced the wrath of Barnes on Saturday at Iowa State. McClellan played just one minute total. Felix played 34 minutes but received a loud chewing out during a timeout after a defensive lapse.
"We have a group of guys who want to be good," Barnes told the Austin American-Statesman. "They are willing to work. I'm not worried about ever losing them."
Texas ranks second nationally in field-goal-percentage defense (34.3 percent), trailing only KU (34.2 percent). KU's opponents have hit 324 of 946 shots, Texas' foes 321 of 937.
"We are right there neck-and-neck," Self said, "but they are kicking our butt in three-point-field-goal-percentage defense."
Texas leads the country in that category (24.8 percent), while KU is tied for 90th (31.2 percent).
"That's a big difference," Self said. "I think they do a much better job of guarding the arc. It's hard to get easy baskets on them. He (Barnes) has always had good defensive teams, then they'll sprinkle in and play some 2-3 zone like he has in the past. Statistically, they've always been good defensively."
KU point guard Elijah Johnson isn't stressing over the defensive stats.
"The key to taking care of that is just playing," Johnson said. "I don't feel like we should pay that any mind. We play. We do what we do. We take the shots that are open. We make 'em. We miss 'em. We just keep playing."
The Jayhawks hold a 20-7 lead in the all-time series and have won six of the past seven meetings versus UT. Texas has won three of the past five at Erwin Center.
"It's never easy going to Texas. Why would it be different now?" Johnson said. KU is 5-5 all-time in Austin. "They are going to fight ... 0-4 doesn't sound good to them. I'm pretty sure they are not going to sit back and just let it happen. Four-and-oh sounds good to us. So go out and handle business, do what we're supposed to do. I expect a good game."
Texas coach talks: UT has averaged 10,128 fans in eight games in 16,540-seat Erwin Center. As of Friday, today's game was not a sellout.
"I don't think players should allow the atmosphere to dictate how they are going to play. We would love to have great crowds, and we have fans at Texas that are never going to give up on these guys, but the fact is, regardless of the situation, you have to play," Barnes said Friday. "That would be on my list of excuses column. We all like having a great crowd. We won't deny that."
Barnes believes the fans will see an elite team in KU.
"I think that any time of the year, when you are not playing the way you want to, you want to play against the best teams. We look at it is as an opportunity to get better. Kansas is an outstanding team. You look at the older guys on their team, and they have been through it all," Barnes said.
Of KU's building a strong roster, Barnes said: "I don't know what the players' plans were coming in to Kansas, but the fact is, they stayed there and they have gotten better. When you have older guys (four senior starters), and you can keep a consistency where the older guys set the tone, they show the younger players what it is all about."
Ben's back: There was no change in Ben McLemore's status Friday for today's game. He returned to practice this week and is expected to play versus the Longhorns.
Praise: Barnes lauded the play of UT freshmen Demarcus Holland and Ioannis Papapetrou after last Saturday's Iowa State loss. Holland, 6-2, had six points and four assists in 25 minutes. Papapetrou, a 6-8 forward who chose UT over KU in recruiting, had 13 points and seven rebounds in 21 minutes.
"That's what we've lacked from the (wing) position — offensive rebounding," Barnes told the American-Statesman. "Papi did an excellent job getting five of them."
Criticism: Barnes had a colorful quote recently regarding his team: "Nothing hurts more than when you watch the other team want the game more than you," Barnes told the American-Statesman. "That is a killer. I told them after the Baylor game, if I were a businessman, I'd fire them all."