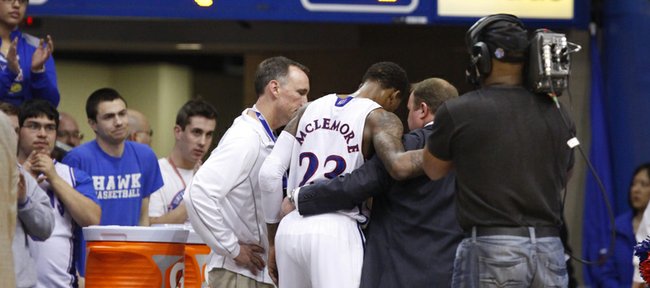 Kansas freshman guard Ben McLemore has a Grade One sprained right ankle and should only miss a few days, KU coach Bill Self said following the Jayhawks' 61-44 victory against Baylor on Monday night.
"I think it scared him as much as anything else," Self said. "He said he heard a pop, but (KU athletic trainer) Bill (Cowgill) said he checked it out, and he probably just has a sprained ankle and with a few days off, he should be OK."
McLemore banged the floor with his hand a few times while rolling in pain at the 2:44 mark of the second half. He walked gingerly under his own power to the locker room.
"I think he's fine ... he's not fine, but he twisted his ankle," Self said. "If we were going to practice tomorrow, I wouldn't let him practice. But I don't know how severe it is. It's probably something that, depending on swelling or whatnot ... I can't make a prediction on how many days he's going to be out, but we're certainly hopeful that it's not more than two or three (days)."