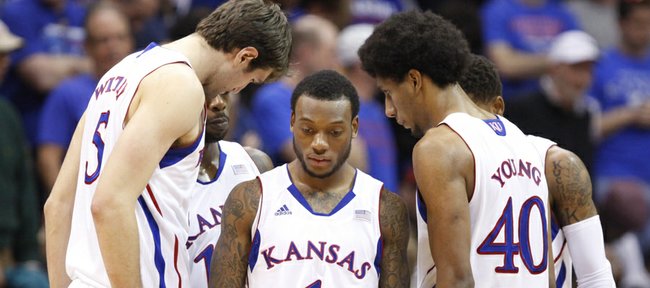 Kansas University's basketball players and coaches tonight begin their two-month quest for a ninth straight Big 12 Conference regular-season title.
If successful once again, the Jayhawks, who went 12-1 in the nonconference season, will not only be elated, but, yes, relieved.
"Everybody always talks about not being 'that team,' the one that messed up the streak. How would that look?" KU sophomore backup point guard Naadir Tharpe said Tuesday.
"The dudes I played with last year ... that's all they talked about, 'It can't be us. We've got to get focused. We've got to make sure this, that.' That's all Tyshawn (Taylor) and Thomas (Robinson) talked about. They always said, 'We can't be the ones.'
"It's that way this year. Elijah (Johnson), Travis (Releford) and those older dudes are all saying the same thing. We have to make sure we all help them out the best we can," Tharpe added.
KU coach Bill Self acknowledges his squad, which meets Iowa State (10-3) at 6 tonight in Allen Fieldhouse in the Big 12 opener for both teams, views winning the league as more of a "responsibility" than an "opportunity."
"Everybody wants to motivate from an opportunity standpoint," Self said. "We have a chance to do something special. There is also responsibility we don't want to get our butts beaten and certainly be the team that doesn't do it. I think we're motivated both ways."
KU's school-record streak of eight straight conference titles ties for the seventh longest string in NCAA history.
UCLA won 13 conference titles in a row in the Pac-8 and Pac-10 from 1967-79. Gonzaga won 11 straight West Coast Conference titles (2001-11); UConn (1951-60) and UNLV (1983-92) 10 straight Yankee and Big West Conference crowns respectively; and Idaho State (1953-61) and Kentucky (1944-52) nine straight Rocky Mountain and SEC titles.
As far as current streaks ... just three teams enter league play having won as many as three titles in a row.
Belmont, Ohio State and Murray State have won or tied for titles in the Atlantic Sun, Big Ten and Ohio Valley the past three campaigns.
"I didn't start it, but I'd like to continue it, go out there and work hard and help my teammates win," freshman guard Ben McLemore said. "Eight in a row is great. I want to keep that going. Nine in a row would sound great."
Tenth-year KU coach Self acknowledged that eight straight league titles, "is pretty good. We're proud of it. We don't have nine, we've got eight. The ninth would be certainly as difficult to win as any of the others."
KU has won 55 regular-season conference titles throughout history. Kentucky is second with 51 and Penn third at 37.
"If you want to talk impressive," Self said, "watch what Alabama is doing in football. That humbles you a little bit. To win three (national championships) in four years is a remarkable feat. No matter what we've done here locally, on the national scene there is a lot more to be done if we want to be considered elite like what they're doing in football."
Self senses no complacency in his team.
"It was kind of neat watching tape yesterday," Self said. After we watched Temple tape (69-62 win on Sunday), the guys were really excited about talking about what lies ahead in starting the second season."
Self, whose Jayhawks went 16-2 in the conference last year, said he has no idea how many victories it would take to win No. 9 in a row.
"Between 11 and 16," he said, smiling. "You know you're going to have to win a lot of games to win the league. Not everybody is going to go .500. You're going to have to probably win 14 or 15 I would think to have a reasonable shot at it. We're 0-0, so we're getting way ahead of ourselves. We haven't played a game yet."
Tharpe added: "It's what everybody talks about — that KU is the favorite to win. How can we be the favorite to win? We've not even played a game in the Big 12. We just have to come out and show it."
Self said the Big 12 winner annually can expect to be a national title contender.
"If we're not the best in our league we don't deserve to be considered the best in the country is the way I look at it," Self said. "I don't think our players are ever satisfied, overconfident or relaxed based on the Big 12. That's a stepping stone to where you want to go. It's a big step, important step, one we take great pride in."
Tonight, KU opens against an Iowa State team that has played just one game in the last three weeks. The Cyclones, whose only losses have come to Cincinnati, UNLV and Iowa, rank first in the Big 12 and seventh nationally in scoring at 82 points a game. The Cyclones also lead the conference in rebounding at 43.4 boards per game and rebound margin at +10.8.
Senior guard Will Clyburn averages a team-leading 14.1 points and is second on the team in rebounding at 7.4. Junior forward Melvin Ejim averages 10.5 points and 9.4 rebounds. Senior guard Korie Lucious averages 9.7 points and 5.4 assists. Senior guard Tyrus McGee, who averages 13.4 ppg off the bench, has hit 48.1 percent of his threes.
"They score easier than anybody in our league," said Self, whose team averages 77.7 ppg while allowing 59.2. "They shoot a ton of threes (118 of 330 for 35.8 percent to KU's 84 of 223 for 37.7 percent). They are a terrific rebounding team.
"There really are no guys that you can play off of. That puts pressure on your defense and other areas. They are probably the best offensive team in our league, I would say, watching tape."
Hoiberg on 'Hawks: ISU coach Fred Hoiberg was 4-5 versus KU as a player and is 1-3 as a head coach.
"It's a fun place to play. I've never won there in six chances as a player and coach, but it's a great experience for the players to go experience that atmosphere," Hoiberg said. "We are in a stretch we played one game in 21 days. Our guys are sick of each other right now. We're ready to start playing some other people."
Of KU's team, he said: "It is impossible to simulate Kansas' pressure in the way they get after you, especially the first six, seven minutes. It's almost like playing eight guys on the floor. The big thing is you have to play with effort. If you don't match their intensity the first five minutes, a lot of times it's over by the first media timeout. We are going to go down there, lay it out there and see what happens."
Of KU senior center Jeff Withey, Hoiberg said: "I was thinking of putting paddles on our big guys' hands playing the scout team (at practice to simulate Withey's blocking ability). You've got to be so selective as far as taking the ball to the basket. When he blocks a shot, it's a dunk on the other end. The kid has a chance to be a terrific player for a long time (NBA)."
Familiar foes: KU's Tharpe and ISU's Ejim were teammates at Brewster Academy in New Hampshire (2009-10).
"We won our conference and national championship together," Tharpe said. "He's a good player, a good guy who works real hard. He rebounds. He can step out and shoot the ball well."
This, that: ISU is the only team in the country to score 70 points in every game this season. ... KU leads the all-time series, 171-59, dating to 1908 and has won 12 of the last 13 meetings. KU is 47-9 vs. Iowa State in Allen Fieldhouse. KU has won seven in a row vs. ISU in Allen. The Jayhawks have won 99 of their last 100 games at home.