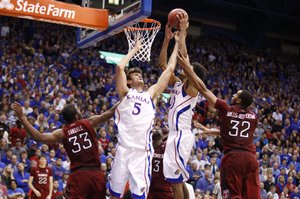 There are some striking similarities between 2012 Naismith Player of the Year/Wooden Award winner/NABC Defensive Player of the Year Anthony Davis and current Kansas University senior center Jeff Withey, who has positioned himself to at least be in the conversation for those honors following a productive 2012-13 nonconference season.
The 7-foot Withey, as reddit.com pointed out Monday, actually has had a better nonconference campaign than former Kentucky phenom Davis did a year ago. Through 13 games last season, Davis had 58 blocks and 29 fouls. Through 13 games in 2012-13, Withey has 68 blocks and 16 fouls.
By last season's end, Davis totaled 186 blocks, or 4.7 per game.
Withey is averaging 5.23 blocks a game.
KU's anchor from San Diego enters the upcoming Big 12 season as a rival to Davis, No. 1 pick in the 2012 NBA Draft, on the offensive end as well.
Davis last season averaged 14.2 points a game off 62.3 percent shooting.
Withey currently averages 13.4 points per game (second on team to Ben McLemore's 15.6) off 55.8 percent marksmanship. Withey has made 71.4 percent of his free throws; Davis hit 70.9 percent his only season at UK. Withey averages 8.2 rebounds; Davis averaged 10.4 a year ago.
"Cole (Aldrich, Houston Rockets) was the best shot-blocker we've had since I've been here up until Jeff. I bet you Cole averaged less than three blocks a game. He's the best, and Jeff is averaging 5, almost double of the best we've had. Jeff is really good at it," KU coach Bill Self said.
Aldrich, who is second on KU's all-time block charts with 253 compared to Greg Ostertag's 258, averaged 3.5 blocks a game in 2009-10.

Withey has 233 career blocks, which is fifth all-time at KU. If he stays healthy, of course, he's a lock to become the school's all-time leader.
If KU's single-season blocks leader (140 last year, compared to Aldrich's 125 in 2009-10) wants to dream big, he can shoot for David Robinson's single-season NCAA-record total of 207 rejections, set in 1985-86.
"Jeff can block it almost flat-footed or from a rotation standpoint. He's just so long," Self said Monday on his "Hawk Talk" radio show. "Jeff chooses his spots pretty well. I don't know if his shot blocks (total) does justice to his defensive ability because he changes the game. He changes how people think. He changes scouting report just because he is effective and has an unbelievable knack for blocking shots and keeping it in play where we can retrieve it.
"From a defensive standpoint, we don't win the game (69-62 Sunday vs. Temple) without him back there blocking and altering," Self added.
ESPN.com noticed Withey's effort in Sunday's victory over the Owls.
"Withey is having an insane defensive season," Eamonn Brennan wrote Monday in a blog under the headline, "Jeff Withey is having a crazy season."
"Through 13 games, Withey is making Davis look like an amateur," Brennan added.
Withey, by the way, isn't the country's only shot-blocker deluxe. St. John's freshman Chris Obekpa actually has 71 blocks — three more than Withey — while playing one more game. Arizona State junior Jordan Bachynski has 69 blocks — one more than Withey — while playing two additional games. St. John's, however, is 9-5 and unranked, and ASU 13-2 and unranked. KU is 12-1 and the sixth-rated team in the country.
In-game interviews: In a strange twist, CBS' sideline reporter interviewed KU coach Self during a second-half timeout Sunday. Temple's Fran Dunphy was interviewed during a first-half timeout.
"I think that's probably enough in-game discussion we'll have with interviewers," Self said on "Hawk Talk." Obviously, he'd prefer meeting with his team during entire timeouts and not spending time with reporters.
"It's something they are experimenting with. I think we are the first group they have done it with. They got Fran to do it. Naturally, I'm the bad guy if I don't. I did it. I feel we've done what they asked now we can get back to being snobbish and doing everything on our own," Self added, jokingly.
Bench: Self was asked by a caller if freshmen Rio Adams and Andrew White III "could help us" in games during the Big 12 season.
"I do. I told our team today, this is very blunt but very true, I doubt both of them will. The reason I say that is, I don't see any reason why we'd play six perimeter players unless there are foul problems or injuries," Self said. "Just like there's no need to play five big guys unless we have foul problems or injuries. Unless it's an energy deal and you bring them in and certainly hope they change the pace of the game or change the negative we have going on, give us a positive boost. That could happen. I think they both are capable."
He applauded White for his three minutes of work in the second half of a close game Sunday.
"I thought he did a good job," Self said. "I don't know if we have a lot of games that everybody will get a chance to impact it. Maybe one of the two, but not both."
Danny vs. Larry: KU coach Self watched part of Tulsa's 48-47 victory over SMU on Sunday. Self's mentor, former KU coach Larry Brown, coaches SMU; former KU and Self assistant Danny Manning coaches Tulsa.
"What a finish. It was an unbelievable finish. I was happy for Danny and sad for coach," Self said. Tulsa's Pat Swilling hit a three with 3.8 seconds left to give the Golden Hurricane the win.
"You hate to see either one of them lose. It was about as exciting a finish as we've seen."
Several members of KU's 1988 title team, including Milt Newton, Archie Marshall, Scooter Barry, Kevin Pritchard and Lincoln Minor, attended. Brown coached the Manning-led KU team that won the '88 national title.
"Archie is one of those guys who reminds me so much of Ben (McLemore), or Ben reminds me of him," Self said. "An athletic wing. Archie, of course, had knee issues. I'm sure they had a good time with the exception of the game down there (the fact one had to lose)."
Next: KU (12-1) will meet Iowa State (10-3) at 6 p.m. Wednesday in Allen.