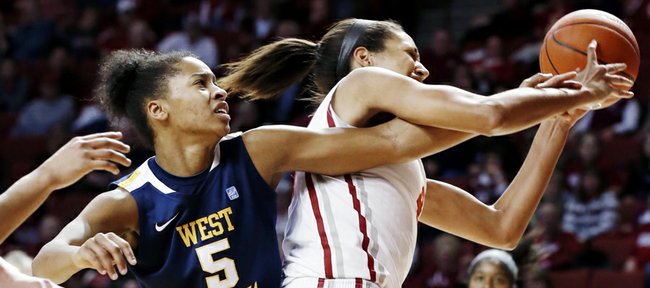 It's been 19 years since the Kansas University women's basketball program faced West Virginia but much less time has passed since KU coach Bonnie Henrickson made her last trip to Morgantown, W.Va.
That came when Henrickson, now in her ninth year at KU, was the head coach at Virginia Tech, and, as the Jayhawks spent the later part of the week preparing for tonight's 6:30 p.m. clash at WVU Coliseum with the newest members of the Big 12 Conference, Henrickson was able to give her team a taste of what to expect.
"For me it won't be (anything new)," said Henrickson shortly after KU's 72-63 victory against Kansas State in last Wednesday's Big 12 opener. "But for everybody else it's a new place to be."
Tonight's match-up, which features the 21st-ranked Jayhawks (10-2 overall, 1-0 Big 12) against a West Virginia team that was picked to finish second in the preseason Big 12 coaches poll, will be the third meeting all-time between the two teams. KU won the previous two match-ups.
Tonight's game figures to be one of the bigger challenges on KU's conference schedule, as the Mountaineers (8-4, 0-1) return all five starters from a team that went 24-10 last season and advanced to the second round of the NCAA Tournament. In addition, KU's only two losses of the season — Arkansas and Cal — came on the road. Despite falling in those games, Henrickson and her players said they believe the tough road tests, along with the recent win against K-State, have them prepared for the tough road that awaits in Big 12 play.
"You're gonna ride your seniors and bank on those guys from a toughness and maturity standpoint," Henrickson said. "The coolest part of (the K-State victory) is how much better we can play. And they know. That's a mature group. They understand."
Added senior guard Monica Engelman, who, with 10 points against K-State became the 25th player in Kansas history to reach the 1,000-point milestone: "We're very excited that we beat K-State, but we're not satisfied entirely and we know we still have a lot we can improve on and we're ready to get better."
Speaking of milestones, KU senior Carolyn Davis sits on 1,499 career points entering tonight's game and is poised to become just the 11th player in school history to reach 1,500 points in a career.
West Virginia, which is coached by 25-year veteran Mike Carey, who has a 235-131 record in 12 seasons at WVU, is led by junior guard Taylor Palmer and her 11.5 points per game average. Two other WVU players (junior guard Christal Caldwell, 11.4, and senior center Ayana Dunning, 10.6) also average double figures in scoring. Dunning, 6-foot-3, also leads the team with 7.3 rebounds per game.
The Mountaineers dropped their Big 12 opener Wednesday at No. 17 Oklahoma, 71-68. WVU held a slim lead almost the entire way until a 7-0 run by the Sooners with five minutes left pushed OU in front for good. In the loss, Palmer scored 30 points for the second time in her career, a feat that included 24 first-half points.