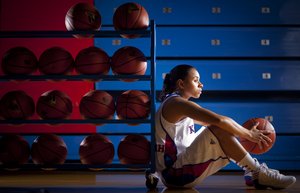 Almost every person of advanced age asked the question, "Any regrets?" has a response that resembles, "I don't regret anything I did, only what I could have done and didn't."
Decades from now, don't be that voice with woulda-shoulda-coulda sadness lamenting, "I wish I had seen Angel Goodrich laser a no-look pass in Allen Fieldhouse."
The planet's most entertaining below-the-rim basketball player, Goodrich leads the Jayhawks into their Big 12 opener today at 7 p.m. against Kansas State. Thousands of tickets are available. Buy one, have a seat, and good luck trying to convince yourself you won't want to return to see her again, because once simply isn't enough.
After tonight, just eight more Allen Fieldhouse opportunities remain to see the athlete who sees more than everyone else on the court.
"It's unpredictable, for sure," center Carolyn Davis said of Goodrich's game. "One minute she's walking it up the court, and the next minute she's running it down your throat. And she can find people in the lane that other point guards can't find."
Goodrich, The First Lady of Basketball Magic, is far from a one-woman act.
Soon, senior classmates Monica Engelman (998 career points) and Goodrich (928) will join Davis (1,485) as 1,000-point scorers. To the best of her recollection, ninth-year Kansas coach Bonnie Henrickson never has had three quadruple-digit scores at the same time. Having so much experience should come in handy in games decided late.
"That's true," Henrickson said. "Angel's hit game-winners, Monica's hit game-winners, and Carolyn's hit game-winners."
On paper, tonight shouldn't come down to a game-winning shot, given that KU (9-2) has the home-court advantage and is ranked No. 21 in the nation. Less experienced, smaller K-State (9-3) is not among those receiving votes.
But so often this rivalry is decided late and usually goes the way of K-State, led by 17th-year coach Deb Patterson. Henrickson is 2-15 versus the Wildcats and has lost the last four.
"A lot of us, especially the upperclassmen, not being able to take them down the last couple of years, we do use that as motivation," Goodrich said. "They're a great team, and they play well together."
The forecast indicates the roads should be clear with no snow falling. In Goodrich and Davis, KU has two players on all the preseason Player of the Year watch lists. Finally, Henrickson has built a Big 12 winner, but will anybody come?
"We don't know what to expect," said Goodrich, the most compelling reason to watch. "Whether it's one person watching or 10,000, you have to be ready to play the game."
And Goodrich's teammates must be ready to catch her passes because they arrive at unpredictable times through lanes only her magical eyes can see.