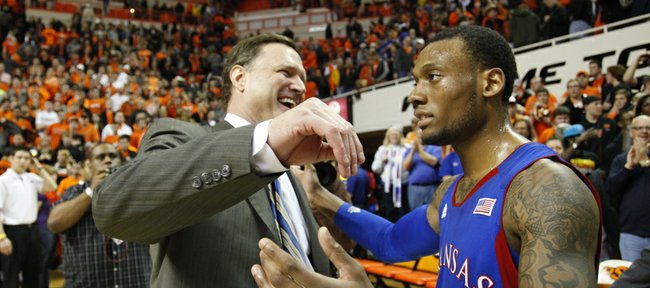 Photo Gallery
Kansas basketball v. Oklahoma State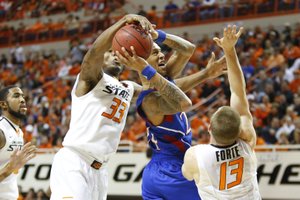 Images from Wednesday night's game against Oklahoma State in Stillwater.
Stillwater, Okla. — Bill Self raced over to the man of the hour, the hero of the game, Naadir Tharpe, and wrapped his arms around the 5-foot-11 point guard, giving him a heck of a hug after Kansas University's 68-67 double-overtime victory over Oklahoma State on Wednesday in Gallagher-Iba Arena.
"Coach just said, 'You hit the game-winner,'" Tharpe said, smiling after his 7-footer in the lane with 16.5 ticks left in double OT pushed the Jayhawks (22-4, 10-3) into a tie for first place in the Big 12 Conference with Kansas State. Oklahoma State, which beat KU, 85-80, on Feb. 2 in Lawrence, fell to 9-4.
"A lot of people don't believe in me. (Self) does," added Tharpe, who ran the show exclusively after Elijah Johnson fouled out in the first overtime.
"Coach called 'flat,' which we call at the end of the (shot) clock. I knew I had to make a play. I was a little disappointed in myself. I let Forte (Phil) hit a shot to tie the game (at 63-63 in first OT). I had some turnovers at the end. I was real thankful for coach doing that (hug) and having confidence in me."
Tharpe, who finished with four points off 2-of-11 shooting (0-for-6 from three), certainly hit the one big shot when it counted.
Self felt he deserved a personal audience as KU had a short celebration following the final horn.
"I said, 'You won the game. It's the biggest play you ever made in your life,'" Self said of a shot that Self said was "well-guarded" by Forte. "He and Ben's shot against Iowa State (three to force overtime in KU victory over Cyclones) are our two biggest shots of the season so far."
Oklahoma State still had a chance to win by converting on its final possession. With Marcus Smart (16 points, 11-for-14 from line and 2-of-14 from the field) having fouled out in the second OT, Markel Brown put up a jumper with 10 seconds left. The ball caromed to the corner, where Travis Releford kept the ball in bounds and tipped it downcourt away from Brown as the clock expired.
"Forte was falling and tried to throw it off Travis. Travis was able to keep that ball in bounds and bat it forward. It really was an unbelievable play by Trav," Self added of the senior who had 18 points off 7-of-10 shooting and 4-for-7 free-throwing.
Regulation ended tied when Smart missed a deep fadeaway from three. The first overtime ended when Releford missed a driving shot with :03 left, and Smart missed a deep heave. Self said he thought Releford was fouled, "But it worked out OK. He made a great move but didn't get the call."
Smart actually heaved a three-quarter-court shot that almost broke the tie after one OT, barely missing.
"That was more like fourth-fifths-court," Self said. "That shocked me. There were three seconds left, and he just shoots it."
Jeff Withey was huge for KU by hitting 11 of 14 free throws, grabbing 14 rebounds and scoring 17 points with four blocks. Also, Kevin Young had 11 rebounds and eight points. Jamari Traylor provided a spark when needed the first half with four points.
"He is a man," KU coach Self said of OSU's Smart. "He goes 2-for-14, we do about the best job we can on him and he makes free throws."
KU will meet TCU at 3 p.m. Saturday in Allen Fieldhouse.