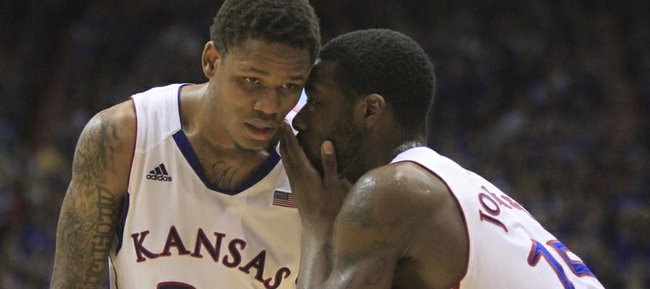 Elijah Johnson realizes that, whether he's making shots or not, he's vitally important to Kansas University's basketball team.
"I personally say that I've got to start the car. We can't drive it until I start it," Johnson, the Jayhawks' senior starting point guard, said after scoring five points off 1-of-6 shooting (0-4 from three, 3-3 from the line) with three assists against four turnovers in Monday's 83-62 victory over Kansas State in Allen Fieldhouse.
"They are sitting in the car waiting," Johnson added of his teammates. "Tonight I started the car and had everybody rolling."
Johnson — he played mostly shooting guard a year ago — can be seen during games encouraging younger players such as Ben McLemore and Perry Ellis while not dwelling on his shooting stats — 19 of 76 marksmanship over the past eight games for 25 percent.
"When Ben sees me smiling, he smiles harder. When Travis (Releford) sees me feeling confident he feels more confident," Johnson said. "When I am doing things the right way, Jeff (Withey) feels better. I feel that domino effect is something people should pay attention to. It shouldn't be underestimated because when I come in not feeling great, that feeds off everybody."
Johnson — he's made just five of 25 threes the last four games with 28 assists against 31 turnovers the last nine games — said he doesn't dwell on the numbers.
"I love my teammates, man," Johnson said. "They tell me, 'You are all right. We are still with you. Whether the fans turn or not, whether the people turn or whether they doubt you, we are still with you because we know on the court stuff is not happening when you are not in the game.' They tell me all the time, 'Your stats don't show what you do for us.' That has helped me get through all of this ... and that means a lot to me."
Johnson — for the year he averages 9.1 ppg off 36.5 percent shooting with 110 assists against 77 turnovers — said he received a wake-up call after the Feb. 2 home loss to Oklahoma State when coach Bill Self said the Jayhawks, "don't have a point guard. We're playing with two guards, which is OK, a lot of people have to do that."
"It opened my eyes. He was right," Johnson said. "The point guard of any team, whether they can shoot it, whether they only pass it, whatever they do, they set the tempo for everybody. When they are walking the ball up, the team is going to play slow. When they are (in) attack mode, the team is going to be in attack mode. I've got to make sure I'm always in control of the game. I can't let the other point guard be in control, because when he's in control his whole team is in control. When I am in control, my team is in control."
Self on Tuesday's Hawk Talk radio show praised Johnson for working overtime on his shooting.
"I watched him shoot 25 threes today. Although he shot way more than that, I stayed and watched him shoot 25 going full speed, game speed. All he did was make 20," Self said. "He's going to have a great last six weeks. I believe it and think you should believe it. The most important thing is he believes it and I think he will be confident moving forward."
Self said Johnson, who is coming off offseason knee surgery, obviously isn't yet 100 percent.
"He hasn't complained once," Self said. "But you know, the kid did have knee surgery. He doesn't have all his bounce back or pop back. He's starting to get it. I see things in practice. He's starting to take some steps. Sometimes your body won't quite cooperate and do what your brain tells it to do. He is used to being more athletic than anybody. He is used to hitting a seam and getting through it. Now he can't quite get through it but is still trying to hit it. It takes a while to get that pop back. I see it coming."
Whenever asked by media about his health, Johnson says he's "100 percent."
"He knows," Self said, "if you are out there, you are not hurt. You have to perform."
Self the past couple games has had sophomore Naadir Tharpe and Johnson in the game at the same time, Tharpe running point and Johnson the 2 spot.
"I can go to the 2 when Naadir is in," Johnson said. "I don't have a problem with it. Today he got a little winded and I came in and got the 1 back. Whatever we've got to do to win, I'm down for it."
Self noted: "People say Naadir can be out there. That's true. So Naadir plays 20 minutes, somebody else has to play 20 at the point," Self said. "I believe in Elijah. He's my guy. I believe in the kid. I feel for Elijah because all he's done since he's been here is win a lot of games.
"Try to picture anybody who is a defense attorney and the next year is told he's a tax attorney. It's still law, but a totally different deal. Elijah goes from 2 guard to point guard. Even though he's still a guard, it's a different deal. He's got to shoot better. He will shoot the ball better. He was like this last year too, and came on (during NCAAs)."
Now that KU's three-game losing streak is history, Johnson sees lots of good days ahead for himself and his (20-4, 8-3) teammates.
"We had fun tonight," he said after the K-State game, played before a loud, supportive crowd. "We needed that. It felt great. I hadn't had that feeling in a while. That felt good," he added of the "love" in the building.
Jordan Classic: KU signees Wayne Selden and Joel Embiid have been selected to play in the Jordan Brand Classic on April 13 at Barclays Center in Brooklyn, N.Y. Selden will play for the East and Embiid the West.
Recruiting: Andrew Wiggins, a 6-7 senior forward from Huntington (W.V.) Prep, will visit KU for the Jayhawks' March 4 Senior Day contest against Texas Tech, Rivals.com reports. Rivals.com's No. 1 prospect also is considering Florida State, North Carolina and Kentucky. ... No. 2-rated Julius Randle, a 6-9 forward from Prestonwood Christian Academy in Plano, Texas, will visit KU for Saturday's game against Texas. He also is considering Texas, Kentucky, N.C. State, Florida and Oklahoma.