Tuesday, February 12, 2013
Photo Gallery
Kansas basketball v. Kansas State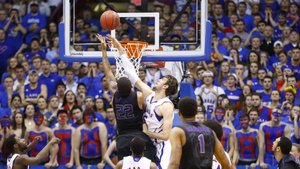 Images from Monday night's game against Kansas State at Allen Fieldhouse.
Podcast episode
KU coach Bill Self talks after his team's 83-62 victory over Kansas State on Feb. 11, 2013.
Podcast episode
Kansas players Jeff Withey, Ben McLemore and Naadir Tharpe talk to reporters following the Jayhawks' 83-62 victory over Kansas State on Feb. 11, 2013.
Podcast episode
Kansas State coach Bruce Weber, Rodney McGruder and Will Spradling talk after KSU's 83-62 loss to Kansas on Feb. 11, 2013.
Ben McLemore deflected credit about his great Monday night in Allen Fieldhouse the way the teammate seated to his right, Jeff Withey, rejected shots all night. And when he shared the credit, McLemore sent the praise in the direction of the man seated to his left, sophomore point guard Naadir Tharpe.
McLemore torched Kansas State for 30 points, making nine of 13 shots and six of 10 three-pointers in helping Kansas to an 83-62 blowout victory.
"Naadir, he helped me out with a lot of passes," McLemore said.
Later, when asked if he felt as if he were "in a zone," McLemore repeated the praise.
"I feel like my teammates definitely got me in a zone, especially Naadir finding me on the wing, just creating offense and getting me open," McLemore said.
Senior Elijah Johnson was limited to 12 first-half minutes because he picked up two fouls, and Tharpe responded by playing the half of his life at both ends of the court. In 14 first-half minutes, Tharpe had six of his eight assists, didn't turn it over and scored all seven of his points.
Tharpe put extraordinary pressure on the defense, sending passes in all directions. He whipped one-handed bounce passes to Kevin Young in the post. He also collapsed the defense with drives to the paint punctuated by his passes to an open McLemore on the wing or corner.
Despite surrendering about a half-foot to him, Tharpe played exceptional first-half defense on K-State's leading scorer, Rodney McGruder, who scored 18 of his 20 points in the second half.
The second half didn't go as well for Tharpe, but by then, the game was well in hand after KU took a 47-29 lead into the break.
"I just tried to create for my teammates," Tharpe said. "Coach has been on me, nagging me about getting in the lane and finding people and Kevin was available a lot of times, so that was someone I was finding as well as Ben, who was knocking down shots."
Kansas still didn't get accurate shooting from the two players who share point-guard duties — Tharpe and Elijah Johnson combined to make four of 15 shots and one of eight three-pointers. Tharpe tends to shoot too often, but on this night, especially in the first half, he did a brilliant job of doing what point guards are supposed to do, which is to bring out the best in the other four players on the floor.
With the ball in Tharpe's hands, McLemore dropping his beautiful jumper in the net and Young and Withey combining for 30 points, 19 rebounds and six blocked shots, Kansas looked more like the No. 5 team it was a week ago and less like the No. 14 team it became after losing three in a row to Oklahoma State, TCU in horrid fashion, and Oklahoma.
Kansas wore cement shoes in the TCU game and strapped on jet packs against K-State.
"Coach has been getting on us about playing fast a lot," Tharpe said. "He's been telling us to just go out there and play. I felt like a lot of times we really weren't running sets, we were just out there playing together and it was flowing. With Ben making shots and everybody else making shots it made us look really good and it helped us out."
Sometimes a low-scoring, grind-it-out victory does as much or more for a team as a pretty blowout. But in this case, after an eight-day month, no tonic could do as much for this team's psyche as a high-scoring blowout that put the crowd in a frenzy.

The world did not end for Kansas when it lost three in a row for the first time in eight seasons. The nightmare did end Monday night, and Tharpe had more than a subtle hand in its passing.