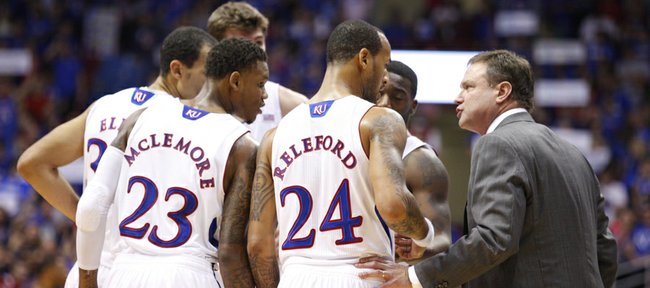 Kansas University basketball coach Bill Self this morning addressed today's 8 p.m., Big Monday battle against Kansas State during the weekly Big 12 coaches teleconference.
"We're playing the hottest team in our league I guess right now without question. They've had a terrific year and I'm sure they are playing with as much confidence as possible so I'd like to see us probably play with freedom if I can answer that," Self said, asked what he hopes for in the early going.
"Play with freedom offensively and let it go (fly) defensively," he added.
Self was asked why a team with four senior starters hasn't been able to "rally" during the current three-game losing streak.
"I'm not sure that's a correct statement that we haven't been able to rally," Self said. "We didn't rally one game. We didn't rally in Fort Worth (in Wednesday's loss to last-place TCU). We actually played pretty hard at OU (Saturday). We just got beat. We played a team that was good that day. They made shots. They certainly made more plays than we did. The guys are trying. We do have more seniors. Three of them have played a lot for us. We should be better in some ways than what we are without question. It's not from a lack of anything. We've hit a rough stretch.
"We've become very bland in many ways from an intangible standpoint that the seniors do have to help us with. But all teams go through it every year. We just picked obviously a very inopportune time to go through it from a league race standpoint. It'll challenge us. I'm really looking forward to tonight. I think it'll make us tougher."
Adversity can help the team in March, Self said.
"If we haven't gone through some crap we wouldn't be tough enough to compete on the highest stage anyway or the biggest stage," Self said. "We'll spin this in a way we'll get better because of it, but nobody likes going through it."
Of point guard Elijah Johnson's play tonight, Self said: "I expect him to play great and I believe he will. Certainly so much of everything is based on making shots. He doesn't have to worry about making shots, just go play and have fun."