Saturday, February 9, 2013
Photo Gallery
Kansas basketball v. Oklahoma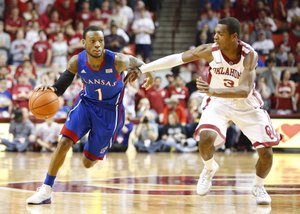 Images from Saturday's game against Oklahoma in Norman, Oklahoma.
Podcast episode
Kansas coach Bill Self talks after his team's 72-66 loss to Oklahoma on Feb. 9, 2013.
Norman, Okla. — The best opponent to face is an intimidated one, the next best an overconfident bunch.
Reviewing the video of Wednesday's Kansas-TCU game was all Oklahoma needed to do to avoid feeling overmatched going into its Saturday game with Kansas.
Overconfident? Oklahoma coach Lon Kruger did his best not to laugh at the question.
"It didn't change our approach at all. We don't change it much from one game to the next regardless. It still comes down to us playing as many good possessions offensively and defensively as we possibly can," Kruger said. "Our guys have so much respect for Kansas it wasn't difficult getting them ready to play, that's for sure. So no, there wasn't anyone overconfident based on Kansas' game (against TCU). We have a lot of respect for them and what Bill (Self) does, one of the best in the country, so there was no problem getting ready to play."
The toughest opponent to play is one equal parts confident its own ability and respectful of the other team's talent. That's the opponent Kansas played in the Noble Center and that figures to fit every opponent for the rest of the season.
In time, it's possible the TCU game could benefit Kansas, but perhaps not as much as KU's opponents.
"I just knew that they were going to try to come out and win," said Oklahoma's talented, versatile big man Romero Osby. "I know that coach Self has been on them and I knew they were going to come out and just play as hard as they could. We try to look at every game the same, so we didn't look at it as, 'Well, they're down,' because we lost (three of previous four) too, so they could have looked at us the same way. We just came out and fought."
And won. And the students stormed the court, aware that their school's 10-game losing streak to Kansas had died.
"The value of those spontaneous celebrations, especially with the students, is hard to determine," Kruger said. "They are important, that's for sure."
The livelier the environment, the better the chance spectators will return.
Oklahoma (15-7 overall, 6-4 in the Big 12) has trouble drawing big crowds for basketball games, but for this one 10,503 were on hand in a building that holds 13,490.
Sooners senior sharp-shooter Steven Pledger called Saturday's environment "the best since I've been here. When they rushed onto the court, I turned around and everybody was jumping, so I started jumping too."
The TCU nightmare didn't dilute the thrill of upsetting Kansas (19-4, 7-3) for Oklahoma fans or players.