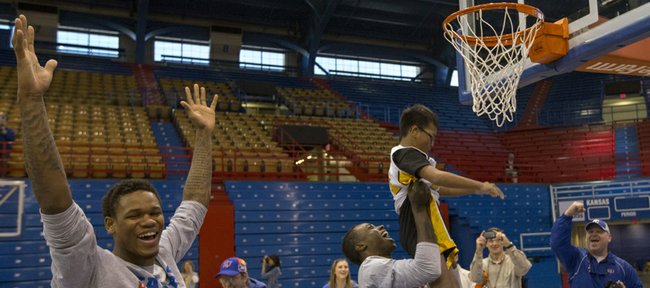 Bill Self asked about 100 Special Olympians from the Sunflower State to do a favor for his Kansas University basketball team on Sunday in Allen Fieldhouse.
"We need to have a good time because we had a bad time yesterday afternoon," Self, KU's 10th-year coach, said before introducing his players to the Olympians at the start of the 29th-annual Wilt Chamberlain Clinic.
"We need you guys to cheer us up. Could you do that for us?" Self asked, to a rousing round of applause from the campers.
The Jayhawks, who were coming off of Saturday's 85-80 home loss to Oklahoma State, did indeed have their spirits boosted by players on teams from Kansas City, Junction City, Lawrence, Salina, Shawnee, Topeka and Wichita.
"It's good to get out of the bedroom," said KU senior center Jeff Withey, who might have been tempted to sleep all day and mope a bit the day after KU had its 33-game homecourt win streak snapped. "This is a great event. Everyone looks forward to this event. Every year it's a lot of fun. Everybody is giving you a hug or a high-five. It's definitely good to give back. It makes you really grateful for everything. It's fun to be part of the Special Olympics community and just to be around the Olympians and show them we care about them just like they care about us."
Asked before the clinic if the Jayhawk players were brooding about the loss, he said: "A little bit. At the same time, we know it's behind us. We can't do anything about it now. It happened yesterday. We have to move forward and learn from it. You have to try to spin it into a positive and work hard."
All of KU's players and coaches took part in the clinic, which included two hours of work on basketball skills and scrimmages. There also was an autograph and picture-taking session.
"It's a great day to have this, particularly this year because we are coming off a loss," Self said. "If I'm not mistaken, it's happened a couple other times where we're coming off a loss. On Sunday, we can kind of re-prioritize and do something that's cool, neat, feel good about ourselves and help some others out. I think we get as much out of it as the Special Olympians do.
"It's always nice to be able to look at people and realize there is totally unconditional love and feelings. You feel that with the Olympians. A lot of these Olympians and families have been dealt a different hand than what we've been dealt. It's great to see love, attention and support, and I know our guys really enjoy the day."
Fun times: Two Special Olympians — Bekah Henderson and Allison Nichols of the Topeka Junior Blues — are global messengers who educate Kansans about Special Olympics to organizations, clubs and groups.
"I'm so excited, and I really love it," Henderson said of the event which she has attended twice.
"I'm a big fan of KU and these players are amazing," Nichols said. "My favorite player is Ben McLemore. He makes threes like no other."
Upon further review: After looking at tape of KU's final possession, Self still believes point guard Elijah Johnson should have hoisted a three-pointer with about five seconds left and KU down three points. Instead, he had the ball stolen by Marcus Smart, who pitched ahead to Phil Forte.
"He had a shot," Self said. "They called timeout (after two Forte free throws), so I thought they'd foul, and they didn't foul.
"We were going to run a little pitchback play, and they guarded Ben (McLemore), face-guarded him in the corner, so that wasn't going to be open. Elijah had a chance to get him (defender Smart) on his heels and didn't. He crossed over in front of him, which wasn't a good play.
"In those situations, when you are down eight with less than a minute left, everything has to go perfect, especially when Oklahoma State makes its free throws. They made their free throws down the stretch. We had to play perfect. We actually did a pretty good job with the exception of not getting a look at the last (play). Even if we got a look, it wouldn't have been a high-percentage (shot). It probably would have been a 20 to 30 percent shot. We've had some guys make some big shots when the game is on the line."
This, that: San Francisco Giants president emeritus Peter Magowan attended Saturdays' KU-OSU game and visited with KU radio play-by-play announcer Bob Davis, who also broadcasts Royals games. ... KU will next meet TCU at 8 p.m. Wednesday in Fort Worth, Texas.