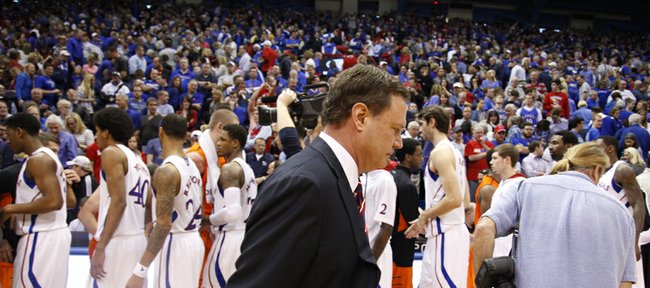 Photo Gallery
Kansas basketball v. Oklahoma State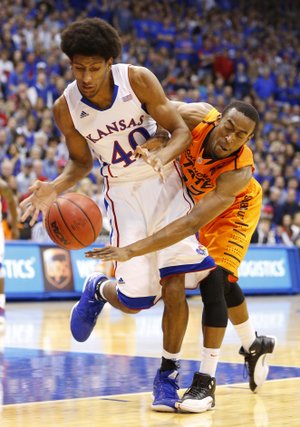 Images from Saturday's game against Oklahoma State at Allen Fieldhouse.
Podcast episode
Kansas coach Bill Self talks after his team's 85-80 loss to Oklahoma State on Feb. 2, 2013.
Podcast episode
Kansas players Kevin Young, Jeff Withey and Ben McLemore talk after the Jayhawks' 85-80 loss to Oklahoma State on Feb. 2, 2013, at Allen Fieldhouse.
Podcast episode
Oklahoma State coach Travis Ford talks to reporters following his team's 85-80 victory over Kansas on Feb. 2, 2013.
Bill Self didn't flip out watching Oklahoma State freshman Marcus Smart perform a backflip after the rarest of rarities — a Kansas University basketball loss in Allen Fieldhouse.
Self instead got in line to shake hands with all the Cowboy players and coaches, while pondering all the reasons for Saturday's 85-80 defeat — KU's first home setback in 34 games, second in the past 104 and just the eighth in the 10-year Self era.
"I'm disappointed because I hate to lose our homecourt streak, but we have been living on borrowed time the last three weeks," said KU coach Self, whose Jayhawks needed overtime to beat Iowa State in Allen on Jan. 9 after barely surviving Temple on Jan. 6, and also squeaked by with recent road wins over Texas (five points), Kansas State (four) and West Virginia (five).
"We have been getting unbelievably poor play from some individuals and we have got to do a better job teaching them. We are better than what we played today, but today the best team did win the game," Self added.
Oklahoma State, which used a 19-3 run to steal a 26-12 lead in the first half, was able to overcome a 66-62 deficit in the final 5:22, thanks to some big-time offensive rebounds and some huge KU turnovers.
"We are just so frustrated with the toughness. Let's just call it like it is ... we are mentally tough in some ways, but physically this is our softest group of all time," Self said of the No. 2-ranked Jayhawks, who fell to 19-2 overall and 7-1 in the league; OSU improved to 15-5, 5-3.
"We have never had a team like this. We get by and fake it sometimes, but we aren't real thick and we aren't real strong. Not to compete at game-point though, is beyond belief, and I'm sure this was an embarrassment — the way they kicked our (butt) in a late-game situation — to everybody that has played here because we didn't compete when we needed to compete."
KU did show some moxie in the final minute ... up until the final possession.
Thanks to six points from Andrew White III, the Jayhawks saw an eight-point deficit (77-69 at 1:01) dip to 80-78 with 24.6 ticks remaining. An Elijah Johnson layup at 18.8 seconds, which followed a Smart free throw, had KU down, 81-80. Two free throws by Phil Forte made it 83-80 at 7.9 seconds.
That's when Johnson turned down what Self deemed an open three pointer and had the ball stolen by Smart, who dished to Forte for a last-second layup that turned the fieldhouse into a morgue.
"Losing at home is bad. We don't lose at home often," said KU freshman Ben McLemore, who scored 23 points, including nine in an 11-2 run that turned a 45-39 deficit into a 50-47 KU lead with 12:27 left.
"I think this loss really got to him (Johnson). Being a senior and losing at home ... I think it definitely kind of hurt him," McLemore added.
Backup point guard Naadir Tharpe (eight points, four assists, one turnover) defended Johnson, who had eight points off 3-of-14 shooting (1-of-7 threes) with six assists and four turnovers.
"That (last possession) didn't do anything about changing the game. The game was on their side from the start because of the way they came out (in grabbing 14-point lead). They threw the first punch," Tharpe said. "That last play by Elijah didn't do anything to turn out (decide) the game. We've done this a couple times already, come out lackadaisical to start. I try to tell the team, 'We are not going to be able to have every miracle game, fellas. We have to figure a way to start stepping on people's throats right away.' That's not what we did tonight."
KU may have lost this one shortly after Kevin Young hit two free throws to give the Jayhawks a 68-67 lead at 3:19. An 10-1 OSU run ensued, highlighted by a Le'Bryan Nash jumper with one second left on the shot clock, a Smart putback of a missed free throw by Markel Brown (28 points), another Smart putback of a Michael Cobbins miss, a pair of Smart free throws after a Johnson miss and two more Smart free throws after Johnson made just one of two. After all that, OSU led 77-69 at 1:01.
"We were awful and they were good," Self said. "They were tougher than us. They beat us to loose balls and they just kicked our (butt) on the glass in the second half (20-12). We didn't compete for loose balls and felt sorry for ourselves and acted like little babies.
"At least when we put Andrew (White III) in there at the end, he got us six points in a minute. Nobody else on the team was doing that. We definitely need to tweak some things. When you are winning it kind of camouflages some things. I've known all along that we haven't played as well as what our record indicated that we were.
"The game today was a primary example of a team coming out and getting comfortable. Oklahoma State hadn't won on the road in a long time (0-4 this season). They came out and got comfortable and they wanted to beat us so bad. We didn't have the same desire to play them."
OSU, which led, 40-34, at halftime was led by Brown, who exploded for 22 of his 28 the first half. Smart finished with 25.
"We didn't have an answer for Brown," Self said, "and Marcus Smart beasted our little guards in the second half."
Though Self loves OSU's talent — he recruited Nash and Smart heavily — a lot of this loss, he said, was on the home team.
"The thing about it is we play so slow. We play with no pace offensively. We don't put any pressure on anybody defensively. I wish we could play without guards to be honest with you, but that would be kind of an ugly game if you have five big guys playing out there at all times," Self said. "But we have got to do something. We are better than what we played today and we will get it back.
"With this league race, all we did was invite everybody right back into it. It's a joke what we did today. Hopefully we can regroup. It's not panic mode or anything like that, but I know our staff feels the same."
KU, which holds a one-game lead over Kansas State (6-2), will next meet TCU at 8 p.m. Wednesday in Fort Worth.