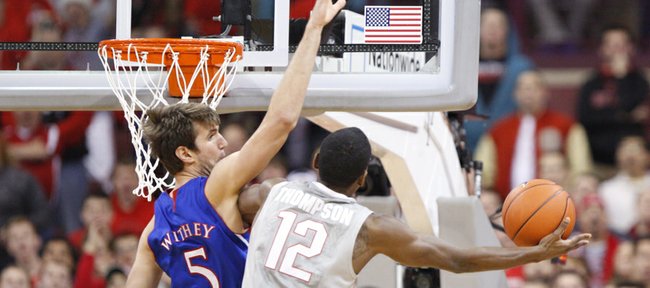 The third-leading shot blocker — soon-to-be No. 1 human eraser in Kansas University basketball history — does not look all that menacing on the court.
"I think people see Jeff, and he's so thin. I think other teams think they are going to push him around, and when they get in games they realize they can't push him around," said KU assistant coach Norm Roberts, who works with the Jayhawk big men at practice every day. "Jeff has done a great job. He's a lot tougher than what people think."
Withey, who is listed 7-foot, 235 pounds, needs seven blocks during today's 3 p.m. home game against Oklahoma State (14-5, 4-3) to tie, eight to pass, Greg Ostertag as KU's all-time blocks leader.
The Withey who starts at center for the Jayhawks (19-1, 7-0) today is a lot stronger and sturdier than the player who arrived as a transfer from the University of Arizona in January of 2009.
"He was thin. He was lean. He needed more muscle mass, obviously," said Andrea Hudy, KU associate athletic director for sports performance, who is head of KU basketball's strength program. "We fine-tuned the type of athlete Jeff has become. All the credit goes to Jeff because of all the hard work he's put in, for sure."
Withey has had three games with seven or more rejections his senior season — and seven games of seven or more blocks his junior campaign. He acknowledges it has taken a lot of sweat to be on the verge of setting the all-time school blocks record.
"It's a ton of work after you get here," said Withey, who has put on 20 pounds since arriving as a 215-pounder. "It (work) is the difference between somebody who will struggle in our program and someone who will excel. Once you get here, it starts. We emphasize to the young guys, it doesn't just happen. It takes time and work to get to be the best and win championships."
Withey still drinks the protein shakes he guzzled with regularity as a freshman.
"My body ... I've been here so long, my metabolism is probably slowing down a little bit," Withey said. "Coach Hudy does a great job in getting us strong. Finally, all the years are starting to pay off."
Hudy acknowledged it has been a long, satisfying process.
"Jeff has become a good worker. I don't think he worked when he got here from high school, but he learned. With the technology we have now, the (strength) numbers are there (for him)," Hudy said. "I think as coaches and athletes, your life is about reps. If you come to Kansas, you will get reps on the basketball court and reps in the weight room. It's consistent reps."
As far as the art of shot blocking, San Diego native Withey — it has been well documented — learned a lot about timing and motion playing volleyball.
Fellow Californian Eric Chenowith, KU's fifth-leading shot-blocker in history with 242 (Withey has 251, Cole Aldrich 253 and Ostertag 258), can see why.
"Volleyball always helps guys develop jumping skills," Chenowith said. "There's a thing called an approach, where you go to spike the volleyball. That same motion is involved in basketball blocking shots. It helps you get off the floor quicker."
Withey has a knack for his ability to keep the blocks in play.
"I think he does that best of all," Roberts said. "He's the best in the country at that. A lot of times, guys block a shot and knock it out of bounds and want to beat their chest and want to feel good about themselves, but the other team is getting the ball back. It doesn't matter with Jeff. He blocks it, keeps it in play and it leads to our fast break."
Withey doesn't think too much about what he's doing when he blocks a shot. A lot of it is just reacting.
"The key? Having long arms helps," said Withey, who averages 13.1 points and 8.3 rebounds a game. "I think I can jump high. It's probably timing, for sure. There's a lot of tall guys out there that can't block shots. It's something you can't really learn. It's something you just have, I guess. It's what I do."
Withey's shot-blocking ability — he has 86 this season in 20 games (just 18 in the last seven games with teams becoming more wary) — has helped him become one of 12 finalists for Oscar Robertson Player of the Year. He figures to be a top-10 candidate for the Wooden Award and Naismith Player of the Year as well.
"I'm starting to think he does," KU coach Bill Self said, asked if Withey gets enough credit nationally. "People are taking notice of what a great year he's having. One of the reasons Jeff's (blocking) numbers are going down blocking shots is because less teams are shooting inside the paint. Teams are really trying to attack us outside the paint, which is OK. But that's one reason why I think his numbers are going down a little bit."
Whether he ties or breaks the record today, if Withey stays healthy, it's coming sooner rather than later.
"I'm proud of him," Self said. "He's worked hard. I'm really excited for him."
About Oklahoma State: OSU is 4-3 in Big 12 play after a 78-76 home victory over Iowa State on Wednesday. OSU is 11-1 at home, 0-4 on the road and 3-0 on neutral courts. The Cowboys average 71.1 points and allow 59.2.
Junior guard Markel Brown averages a team-leading 14.8 points per game. Freshman guard Marcus Smart averages 13.6 points, 5.6 rebounds and a league-leading 2.8 steals. Sophomore guard/forward Le'Bryan Nash averages 13.5 points and 4.4 boards. Freshman guard Phil Forte, son of former KU football player Phil Forte, averages 11.9 ppg.
KU recruited both Smart and Nash.
"They'll both play in the league," Self said. "Markel Brown could too. He is arguably — we've got a guy who's pretty athletic (Ben McLemore) — but arguably, Markel Brown is the best athlete in our league."
Of Smart, Self said: "I thought Marcus Smart could be the national freshman of the year back when he was in high school (Marcus High, Flower Mound, Texas) and he still can. He's terrific. He's got size, but the thing about him that I like so much — and I think everybody likes so much — is that he impacts a program from a personality standpoint as much as anybody can in America. He's a take-charge guy. He's a winner. Certainly, (he's) going to be a pro and I think he's absolutely terrific."
The series: KU leads Oklahoma State, 106-53. KU has won four straight and five of the last six in the series. KU holds a 43-8 record in Allen Fieldhouse where the Jayhawks have won the last 16 meetings. Since the inception of the Big 12 Conference, KU is 16-6 versus OSU (12-4 in regular-season play and 4-2 in the Big 12 Championship). KU coach Bill Self is 10-7 all-time against his alma mater, including 9-4 while at KU. Oklahoma State's Travis Ford is 1-5 versus KU.